News
Students' Union
Notes from Council: Academic Materials Program presented
The proposed plan, which aims to address textbook costs for undergraduate students, is currently undergoing consultation.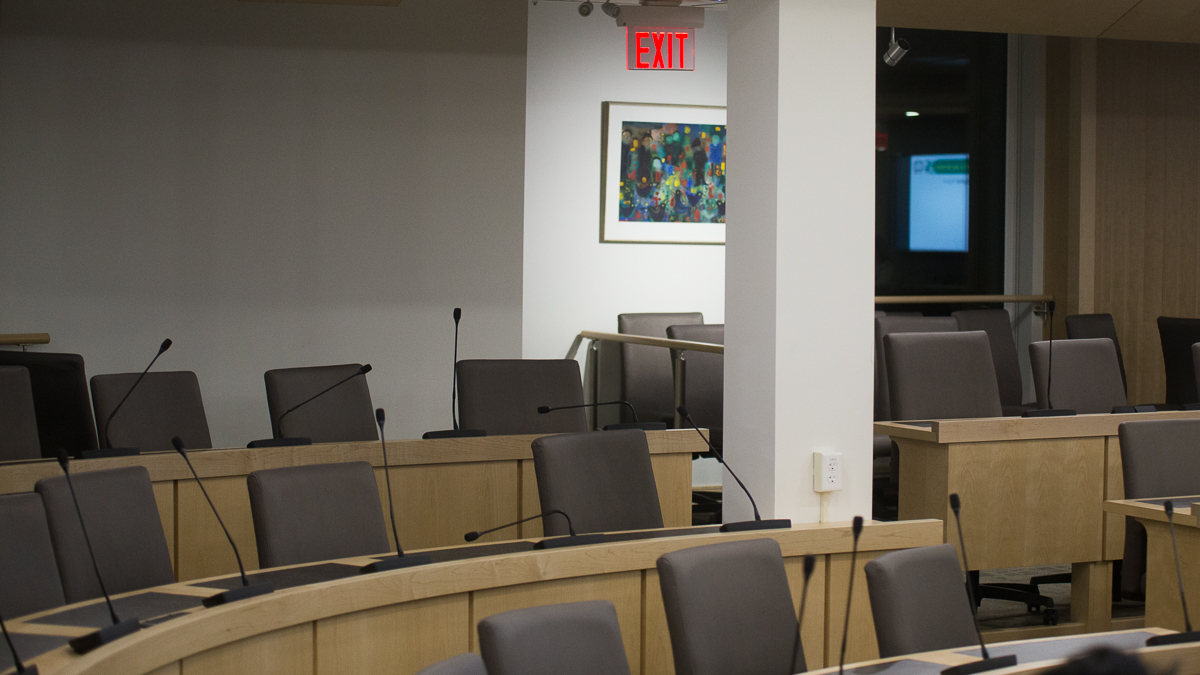 "Notes from Council" is The Gateway's ongoing series of recaps of noteworthy items from Students' Council meetings.
---
At the Students' Council meeting on June 20, council received a presentation on the proposed Academic Materials Program (AMP). Council also welcomed new engineering councillor, Aamir Mohamed, leaving only six vacant councillor seats.
"The primary goal of this program is to increase equity among students," bookstore manager says
AMP, which is currently undergoing consultation, aims to address textbook costs for students. Adam Medaglia, manager and vice-president (facilities and operations) of the University of Alberta Bookstore, made the plan.
AMP would allow undergraduate students to digitally access materials on their first day of class for "one low fee," Medaglia said. The fee would serve in "combatting inequity," as it would be the same for all students regardless of their field of study, the format of materials, or financial aid status.
"The primary goal of this program is to increase equity among students by eliminating course material issues. Costs are predictable and equal for all undergraduate students," Medaglia said. He added that students would have the option to opt-out of the program.
Medaglia emphasized that the program would lower costs, as all undergraduate students would be charged a flat fee for access to materials. By pooling all undergraduate student bodies together, he said that price negotiations with publishers would result in lesser costs. As of now, there is no confirmed pricing model.
"While we may not have been able to determine the pricing model, undergraduates [would] pay one low fee per semester," Medaglia said. Based on universities in the United States that follow a similar program, "it all averages between $200-300 US per semester." In Canadian dollars, that averages from $260-400 per semester.
He added that a flat fee per credit hour is an option as well. As an example, he added that a three hour class would equal three credit hours.
Medaglia said that the program would "remove any confusion and stress." The program would be integrated into eClass, which required materials would be available through. Additionally, he said that course materials would be charged directly to a students' account, and would subsequently be covered by any upcoming students' aid.
Councillors ask further questions about AMP and existing efforts
Councillors were then able to ask Medaglia about AMP. Arts councillor Nathan Thiessen asked about the implementation timeline of the program.
"In a perfect world with good consultation and some agreements, fall 2024 would be the best time to get started," Medaglia replied. "Right now, I don't necessarily have a hard deadline."
Science councillor Megan Garbutt asked if Medaglia has looked into how AMP may affect existing textbook affordability efforts such as used textbook sales, recycling programs, and the Zero Textbook Cost (ZTC) program.
Medaglia replied that AMP is a new affordable textbook option, and that "used textbooks in Canada aren't really a thing."
"There's really only one used textbook company and it's in the states. The problem in Canada is shipping," Medaglia said. He added that due to shipping expenses, used textbooks "were never good business."
Additionally, he said that ZTC is "not truthfully zero," because when the library buys a physical textbook or digital rights, the university pays for it.
"I'm not saying that because I'm the bookstore [manager]. I'm saying that because we also have to remember that there is a cost to ZTC. You just don't see it as a student on your bill."
Nursing councillor Precious Majekodumni asked if students would still have the option of buying physical copies.
Medaglia replied that it depends on the book vendors. If there are no physical options, students "would have to opt-out and find those course materials on their own."
AMP will continue consultation with campus stakeholders, as well as student representative associations and specific faculty associations.