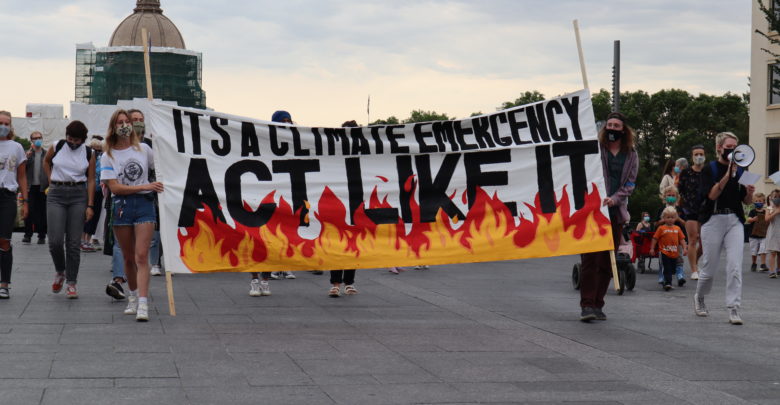 Do you suffer from climate anxiety? If so, you are not alone. 
A recent study revealed that 56 per cent of respondents aged 16-25 felt "afraid, sad, anxious, and powerless" in the face of climate change. Additionally, 78 per cent said that their overall mental health is affected by climate change, while 37 per cent said their worries contributed to diminished their daily functioning.
These startling figures demand attention from our political leaders. The provincial government must commit to evidence-based initiatives to combat the climate crisis, and offer more than words of reassurance designed to highlight small efficiency improvements in the oil patch.
As well, students and young people need to be empowered to channel their climate anxiety into providing real solutions through green jobs. Meaningful action is a powerful antidote to climate anxiety.
The University of Alberta has a reputation of being green, at least on the surface, with many climate action resources for students to get involved in. In 2022, for example, the Times Higher Education Impact Rankings recognized the U of A as one of the top 15 most sustainable universities globally and third in Canada.
The U of A also offers programs such as the Certificate in Sustainability, which can be added to any undergraduate degree, and the Sustainability Scholars program for graduate students.
These programs should be more widely known, and need to be scaled up dramatically to address the magnitude of the climate crisis. However, despite these programs and their best efforts, it is clear that the university has not done enough. They have had a substantial historical role — and maintain a significant present role — in pioneering the extraction of the oil sands.
For example, the breakthrough that first enabled the separation of bitumen from tar sands was perfected by Karl Clark in 1944 at the University of Alberta. His work relied upon research by a chemist named Adolph Lehmann, also from the University of Alberta.
More recently, the university launched the Institute for Oil Sands Innovation in 2005, which is built on a strong partnership with companies such as Imperial Oil (a subsidiary of ExxonMobil) and government organizations. While oil sands research is essential for an effective energy transition in the next few decades, the heavy involvement of corporate interests is a cause for concern. It is not hard to find research projects that are focused primarily on maximizing and speeding up extraction.
Considering these facts, the university must set high climate standards to take responsibility for its past and present. One way the university could do so is to divest from fossil fuels, but it has so far resisted such calls.
In 2022, 10 per cent of a $1.64 billion fund was invested in the S&P Natural Resources Index, which includes oil, gas, and mining companies. In contrast, by 2022, approximately 10 Canadian post-secondary institutions have committed to either full or partial divestment from fossil fuels. If the university genuinely wishes to be recognized as a climate leader, divestment would demonstrate its commitment to sustainability as more than mere rhetoric.
Of course, the U of A also needs sufficient government funding, and it is no secret that its budget has been repeatedly slashed. The government has not reversed any of its cuts for Budget 2023, despite record-breaking tax revenues. For instance, in the fiscal year 2022-23, the Alberta government collected an estimated $27.5 billion in revenue from non-renewable resources, primarily oil and gas. This year, they expect that figure to be $18.4 billion.
The profits above are the highest in Alberta's history. But, oil markets are notoriously volatile. The government must not wait to diversify the province's economy and commit to renewables.
South of the border, Biden's Inflation Reduction Act announced nearly $400 billion as part of an ambitious climate plan. Ultimately, this plan could leave Albertans behind, unless our government acts now. There are likely no more oil pipelines to be built in Canada. The rest of the world is moving to leave oil and gas behind as quickly as they can find alternatives for them, so Alberta must find a way to reinvent itself. Economically and politically, inaction on climate change is inexcusable.
As the upcoming provincial election approaches, political parties can capture young voters' support by pledging ambitious green spending packages that match the scale of the climate crisis. Investments in renewable energy installations, home retrofitting, education, local food security, energy efficiency improvements, and ecosystem restoration can create meaningful employment. And, it would equip the next generation with the skills required for a sustainable future.
Climate change is unfolding before our eyes. We must ask ourselves this: will we stand idly by adhering to business as usual, knowing that we could have made a difference? Or, will we rise to the occasion and fight for the future we all share? Together, we can alleviate climate anxiety through meaningful action and build a greener, more hopeful future for all, especially on campus.