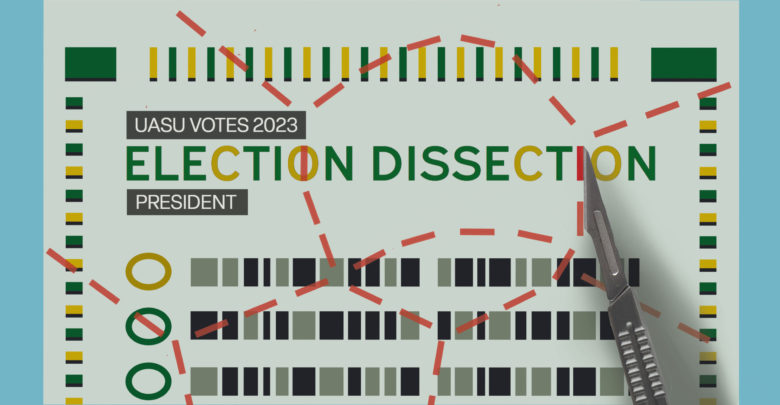 Every year The Gateway hosts a panel to determine who should and who will win in each race for the Students' Union elections to assist those undecided on who to vote for. Our election dissection panel is here with their insights on student politics and their takes on this year's candidates.
Opinions expressed by the panellists do not reflect those of The Gateway.
The Panel
This year's panel for election dissection included: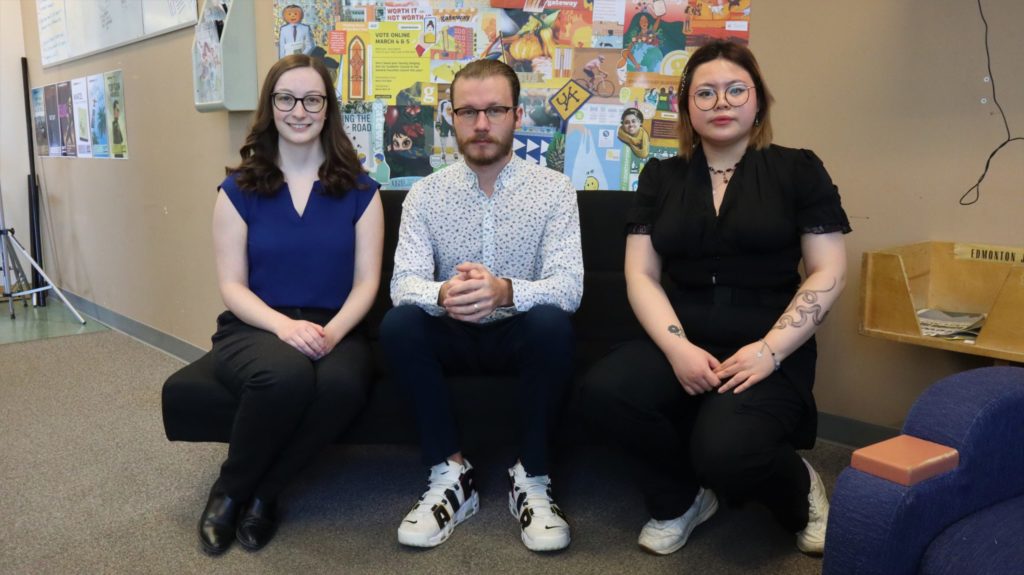 Jin He: first-year pharmacy student at the University of Alberta, former production editor at The Gateway.
Jared Larsen: U of A alumni (BCom '20), former Students' Union vice-president (student life), former Residence Association President
Emily Briand: third-year political science student at the U of A, current president of the University of Alberta Conservative Club.
The Candidates
Haruun Ali, a third-year political science student, and former arts councillor on Students' Council.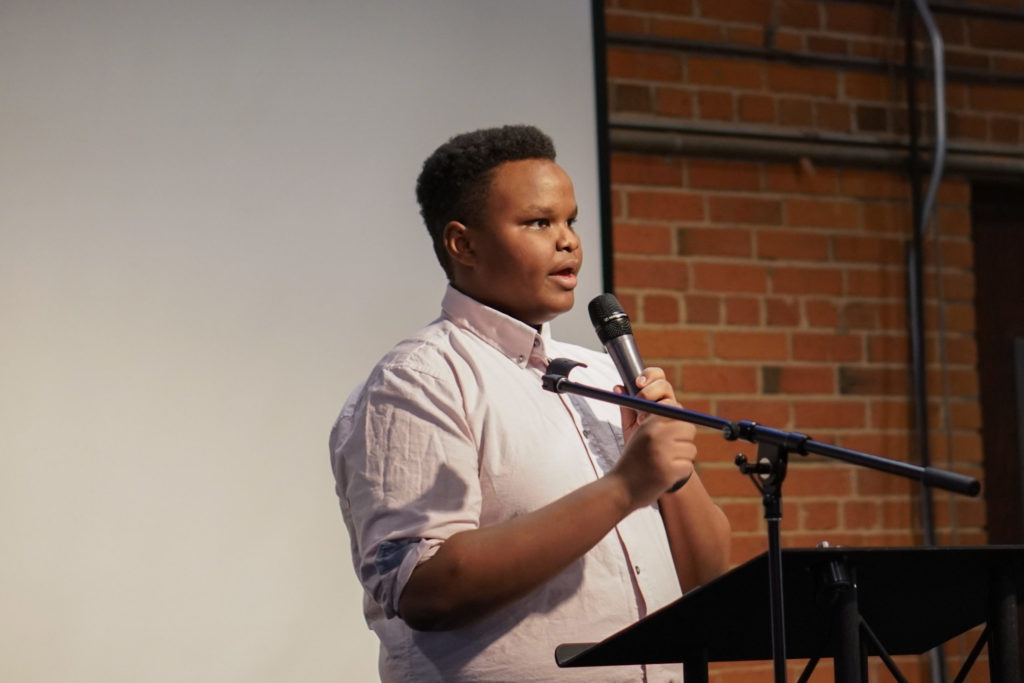 Christian Fotang, a fifth-year biological sciences student and current vice-president (external) on Students' Council.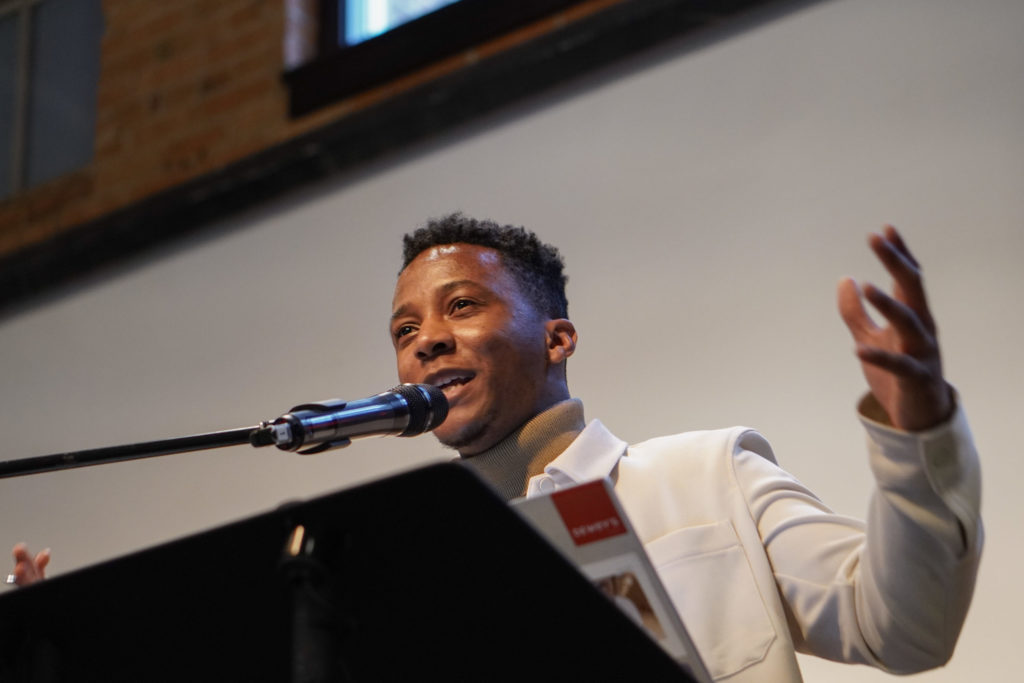 ---
Larsen pointed out that this is not the first time both candidates are running in an election, with Ali's experience as a candidate for UASU president last year and a run for city councillor and Fotang's experience as the incumbent two-term vice-president (external) (VPX).
Despite both candidates' experience in campaigning, all of the panellists agreed that Fotang's reach through social media was more effective than Ali's. Although she did not like Fotang's campaign poster graphics, He complimented Fotang's "catchy" and "recognizable" #FotangsNotFinished campaign on social media. Briand added that Fotang's online approach was "very eye-catching" and a "great way to engage with students."
Larsen mentioned that Fotang's campaign reminded him of successful UASU candidate campaigns in years past.
"It's clear that he has a team behind him that's worked with him in years prior, and he clearly was learning from popular and successful campaigns in years past. Like, I see his videos and I think of Akanksha Bhatnagar and I see his photos and I think of Andre Bourgeois."
In comparison, Briand mentioned that Ali's infographic approach on social media is not accessible to students. "It's a lot to read, and you can't trust that people want to read that."
Larsen mentioned that Ali's slogan resonated with him, from his time at the SU, and he mentioned how established they have been in the Council of Alberta University Students (CAUS) and Canadian Alliance of Student Associations (CASA) for a number of years.
"The UASU is very effective — lesser so in the last couple of years — but I don't think that that's to our advocacy style, and that's primarily to the provincial government's willingness to work with students."
He disagreed with Larsen's view on Ali's slogan, expressing that she was "unexpectedly disappointed" that Ali used his slogan as a catch-all answer to questions that were brought up in forums.
"His answers have not always addressed the question at hand and there's a tendency to go back to his slogan 'a union, not a business.'"
While Ali has "[come] through with passionate heart" throughout the forums, Larsen noticed that his platform was filled with "a lot of visionary promises with little tactical or pragmatic ideas behind them."
He echoed Larsen's sentiment, stating that she was "not the biggest fan" of Ali using STRIDE Campaign School as the only method of getting more women and underrepresented gender minorities involved. This is in light of the lack of gender diversity in this year's candidates.
Briand added that the advertisement and talks about STRIDE Campaign School should have been happened sooner.
"Shouldn't we be doing that further back so that women and gender minorities have time to think about a campaign and put stuff together before the nomination?"
"It's not just something we can say, 'oh man, too bad. I wish there were more women who would run' because it's nice to say those things," Briand said, "but there does need to be some action in inspiring people to believe that they can do the job."
He added to Briand's point, citing how there has been increased reports of transphobia during elections since Rowan Morris' election campaign as a VPSL candidate last year.
"[Morris] had brought up the transphobia they were facing to council who had done nothing all year, and I think that's something that institutionally needs to change within the UASU to encourage more women and people like Rowan who are transgender to run for positions of governance."
Building off of He, Larsen pointed out that STRIDE's success drew from the influence of previous UASU executives like Akanksha Bhatnagar, Marina Banister, and Emma Ripka. "I haven't seen STRIDE grow exponentially since then," Larsen said.
"I think it really does take a strong female leader in a position to inspire other people and we're at a point where we potentially won't have any gender minority people on the [executive] team. It's almost concerning, potentially looking forward — next year is a pretty critical point for them to inspire gender minority leaders."
The panellists were then asked about the candidates' approaches to potential solutions to the cost of living crisis. In particular, panelists touched on the discussion of paid practicums during the Campus Saint-Jean (CSJ) forum.
Briand and He had different perspectives on paid practicums, drawing on their knowledge and experiences with practicums in certain programs. In reference to her arts work experience term during the pandemic, Briand said that she supports the notion of paid practicums.
"I am the biggest supporter of paid practicums and work experience because it is the most effective tool to actually help you get a job when you're done with your degree," Briand said.
Although He said that paid practicums is "a goal that should be reached," she was hesitant that it would be the best case situation for all faculties, citing the potential lack of knowledge for paid rotations in the medicine and pharmacy programs.
Larsen thought that both candidates had "basic answers [that] will advocate for solutions" but knew that Fotang's connections from his time as VPX, as well as CASA and CAUS, gave him a leg up on his opponent Ali.
"I do think that Christian would have the knowledge for exactly which strings to pull to get further in on that initiative. And he has the relationships established with the Minister of Skilled Trades and Professions."
Another affordability topic that was raised during the presidential debate was the Campus Food Bank (CFB), in light of the increase in food demand and CFB's lack of funding.
Larsen pointed out that Ali's solution of removing CFB's rent fees will be a "drop in the bucket." Instead, he suggested increasing SU presence on CFB's board and "prioritizing being there consistently."
While Briand agreed that removing CFB's rent fees is "not an overarching solution that will automatically fix real problems," she suggested a more creative solution to raise awareness through CFB's collaboration with other student groups on campus.
In comparison, He was disappointed to see Fotang's "lack of plan for the food bank besides 'I'm going to advocate to the higher ups at the university to invest more in the food bank.'"
Overall, the panellists agreed that Fotang is students' clear bet for SU president for his engagement with student voters, forum performances, and understanding of what students need. In particular, Briand said that Ali still has "got a lot to learn."
Despite his performance during this year's election season, Larsen sees a lot of promise in Ali's future in governance. "I really want to highlight the heart and passion that Haruun has put into this campaign and into every campaign that [he has done] before," Larsen said.
"I can see him being an elected official at a municipal or provincial level when he's in his 30s or 40s. He has a lot of promise, but he has to reel it in."
Who will win: three votes for Christian Fotang
Who should win: three votes for Christian Fotang