News
Students' Union
SU Elections 2023 Q&A: President
There are two candidates in the 2023 Students' Union presidential race — Christian Fotang, and Haruun Ali.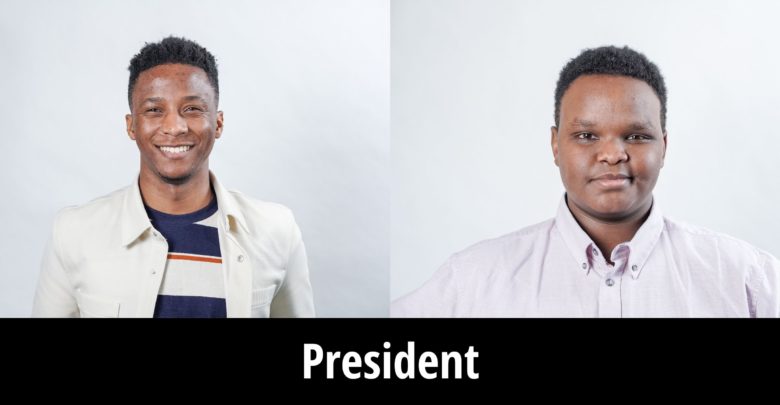 The Students' Union president is the official spokesperson of the Students' Union — they work with the governance bodies such as the Board of Governors (BoG) and General Faculties Council (GFC), and they advocate on behalf of students to all levels of government, and university administration. The Student's Union president is the chief representative of the Students' Union, and all undergraduate students at the University of Alberta.
There are two candidates in the 2023 Students' Union presidential race:
Haruun Ali, a third-year political science student, and former arts councillor on Students' Council.
Christian Fotang, a fifth-year biological sciences student and current vice-president (external) on Students' Council.
The following interviews have been edited for brevity and clarity.
---
Why have you decided to run for president?
Haruun Ali: Last year I ran for Students' Union president, with messaging that was flawed. This time around I'll be able to come back with a platform that is informed by my experience in the Students' Union, that is bold, and I want to shift us from being a business into being a union. I hope we can do better advocacy for students. I want us to be more focused on students and less focused on these business ventures.
Christian Fotang: Affordability is top of mind for students right now. Beyond that, a lot of barriers still continue to exist for students, whether it's academic, student life, or up until the point of convocation. Also, I believe that we need to revitalize our campus culture. I've been the person who's led advocacy at all levels of government, whether it's securing supports for students through the Canada Summer Jobs Program, eliminating interest on federal student loans, or eliminating temporary work hours for international students. I've shown that I can get affordability measures for students.
What would you say are three main takeaways from your platform?
Ali: The three main takeaways from my platform are the creation of an advocacy office, to aid executives and representatives in our advocacy efforts. The second one is about more affordable education. I want to form a general faculty students caucus, with the main goal of shifting tuition discussions from the Academic Planning Committee to GFC, where we're able to change recommendations more. Finally, I want to work with the province to repair student aid, increase need-based grants, and regulate the international differential fee to aid students financially.
Fotang: The three big themes in my platform are advocating for more affordable education, improving more accessible and inclusive student life — so making sure that we're eliminating barriers that exist for students in our campus — but also improving accountability both towards the university, and towards the students. Students have felt that they're not being heard by the university, and they're not being heard by the Students' Union. It's important that we try to reconnect with them, and get back to the heartbeat of students.
Right now, affordability, cost of living, and tuition increases are concerns of students. As Students' Union president, how would you address these concerns?
Ali: As president, I want to work with the registrar and the provosts to speed up the process of obtaining need-based grants, given through the university's bursary program. I want to work with the province, along with all provincial parties, to make sure this upcoming election that they recognize that we also need support here. I think more radical support is needed for students, and I hope to be able to work with the vice-president (external) to advocate for more affordability measures for students.
Fotang: Throughout my platform, there are a couple of measures that I hope to undertake to address affordability for a lot of students. I want to work to promote existing financial aid supports that exist with the university through social media, tabling all the relevant avenues, and working on ways to lobby the provincial government to provide long-term, targeted, sustainable supports for students and programs with mandatory unpaid placements. I want to work with the International Students' Association and the university to re-evaluate how international students' tuition is assessed. I also want to work to provide more affordable food, and make every item that's being purchased at SUBmart, Daily Grind, and Dewey's more affordable, and secure student discounts for local businesses in the greater Edmonton region.
How do you plan on making sure that every student in the student body is represented by the Students' Union?
Ali: Right now, I'm extremely disappointed that only male-identifying candidates are currently running in this race. I want to continue some legacy projects — I want to bring back the pronouns campaign, to make sure that students feel like they can belong in our campus. I also want to make sure that we're continuing the STRIDE campaign, to make sure that we can get more marginalized genders interested in governance. I want to re-instate governance office to be a support for student leaders, specially for marginalized student leaders, to get the support and help that they need to be able to run.
Fotang: Many students feel like they're not heard by the Students' Union, or they don't know what the Students' Union does. I believe it's important that we show our value — especially the advocacy that we do. So something I want to do is organize an annual meeting of students. This meeting will be an opportunity for students to hold us accountable, ask us questions, and also get an update on what we're doing. I also want to better engage the student body through the creation of the 2024-28 Students' Union strategic plan since that opportunity is coming up. I also want to completely update the Student's Union website or, finalize the update of that, so that we're easy to navigate, easy to reach, and easy to find.
With proposed tuition increases and past budget cuts to the university, students have expressed a need for direct-action. How do you plan to address these challenges?
Ali: As councillor, I pushed vice-president (external) Christian Fotang into doing direct action. I was quite disappointed that direct action did not come until many decisions had already been made at BoG. As president, I want to make sure that direct action is a tool that we want to be able to use, but it's about mobilizing campus, it's about building that support. This is a long legacy that's left behind by Rowan Ley. We need to make sure that we're building a campus community that is ready to be able to protest, to build a Students' Union that has the tools necessary to actually be a union — to represent students effectively is my goal.
Fotang: Direct action is most effective when it is strategic, well-organized, and has support from the student body. Right now I'm working with the Graduate Students' Association and other student leaders, to make sure that we fight against current proposed tuition hikes. But for future moments of direct action, I'm really hoping that the opportunity of the annual students meeting with members is where we can flush out these conversations. If there are students who want to have direct action, or there are students who are apprehensive — let's facilitate that discussion, and see where we can address concerns.
---
Every year, The Gateway publishes hundreds of articles like the one you just read that are free for everyone to access. But The Gateway needs your support to continue publishing its award-winning journalism. Please consider donating today, even a small amount can help the University of Alberta's only newspaper continue serving the campus community. Thank you.