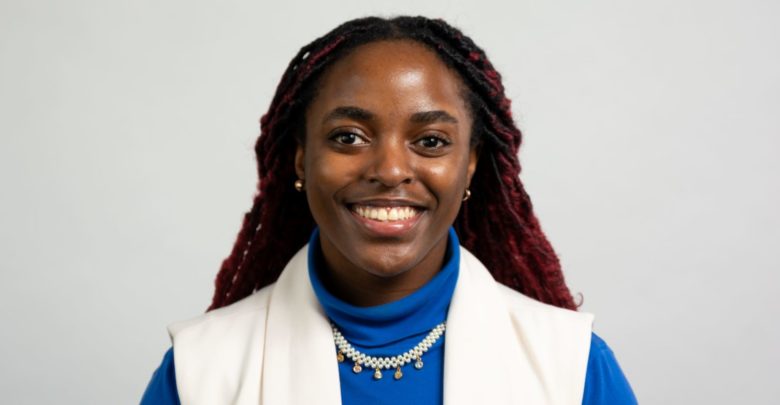 Each year, The Gateway publishes an evaluation of the Students' Union Executive and the Board of Governors representative. It's impossible to discuss every aspect of their tenures, so these reports are largely based on the major components of the platform each executive campaigned on, and the most significant responsibilities of their respective positions.
And if you're short for time, check out our TLDR for a bite-sized breakdown.
---
Joannie Fogue: B+
The University of Alberta's Students' Union (UASU) vice-president (student life) is concerned with non-academic internal advocacy. Their portfolio pertains to residences, student services, mental health supports, and planning events.
Advocating for better mental health supports on campus
As I was writing the report cards, it came out that a complaint was filed against Alpha Psi Sorority for hazing and discrimination. Even though this story is still developing, I felt Fogue's involvement was relevant enough to mention, especially considering her mental health advocacy. The complaint was ruled on by the Student Group Committee (SGC), which Fogue sits on.
When I asked Fogue what she was most proud of achieving, she said her advocacy for mental health supports on campus. She told me that at the start of her term, the UASU conducted a survey to see what students thought about the accessibility of mental health services on campus. The biggest issue students faced when trying to access services was long wait times.
Fogue is clearly passionate about students' access to mental health services, which she's done a lot of advocacy to improve. But, the Alpha Psi Sorority investigation is impossible to ignore.
I felt that the investigation and report were seriously mishandled. Even though Fogue did not have a role in the investigation itself, she was the executive closest to the situation and sat on the committee which made the decision.
SGC ruled that the sorority could remain a recognized student group on provisional status, as they had shown a willingness to change. In response to serious accusations of discrimination, the sorority barely got a slap on the wrist. If that wasn't bad enough, the report was then accidentally published in the public order papers, jeopardizing the confidentiality of all who were involved.
This investigation was a massive screw-up for the various UASU bodies involved, and for me it clouds the successes Fogue had in terms of mental health advocacy on campus.
Expanding Campus Food Bank services to Campus Saint-Jean
As the cost of tuition increases and the cost of living crisis worsens, students are becoming more and more concerned with affordability. Services like the Campus Food Bank (CFB) are grappling with high demand and too few resources.
Last March, demand at the CFB doubled what it had been previous years and the usage has continued to grow to a new high in January. This has required them to be proactive in order to keep providing students these services.
Fogue said that she sits on the CFB's board, and meets with them every two weeks to see what the UASU can do to help mitigate the stressors increased demand has had on them. From there, Fogue worked with the Dean of Students to work towards building the CFB Pantry and expand the Grocery Bus program onto Campus Saint-Jean (CSJ).
Fogue is a French student from CSJ, so she understands the issues they face on a level other executives don't. The services offered at CSJ are often inadequate compared to those on North Campus. Food insecurity has hit CSJ hard, Fogue said. She wanted to support La Centrale, CSJ's support centre, in fighting food insecurity. In our interview, Fogue said the grocery bus service is up and running, but according to the CFB website, it's not quite there yet. If Fogue is able to bring the grocery bus to CSJ, this will not only be a win for her community, but for students as a whole.
Fogue has shown lots of support for the CFB in her advocacy, and has given them much-needed support. It's a step in the right direction for fighting food insecurity on campus.
Changes to the period equity initiative hinder it's success
Coming into her role, Fogue wanted to continue the work done by her predecessor for the period equity initiative. The project has been in motion for years, but has faced several hurdles along the way. Past executives have struggled to keep up with demand, and secure funding for the project. Fogue, alongside vice-president (operations and finance) Julia Villoso, has managed to overcome many of these obstacles. In our interview, Fogue told me she advocated more for funding, and received $5,000 from the Dean of Students to replace current dispensers to single turn dispensers.
While new dispensers are necessary, having them only dispense one period product at a time does a great disservice to students who struggle to afford whole cycles of supplies. To fight this, Fogue told me her and Villoso are working with the Registrar's office to connect with low-income students who are in need of products. Students in need will be able to apply for a semester's worth of period products.
Fogue said they're also working on branding and marketing that will let students know that dispensers are for emergencies only. If students need more products, they need to reach out and apply for them.
These measures are so dispensers don't run out of supplies too quickly, which has been an issue in the past. Unfortunately, adding a bunch of extra steps can make the whole process more inconvenient. Not to mention, having to apply for products may be invasive, adding to the stigma surrounding periods. While Fogue has made great strides in fighting period inequity on campus, removing easily-accessible bulk options is a step back.
Overall, Fogue has great ideas, and is clearly very passionate about the issues students face. She's completed many goals in her platform, and has done great advocacy to improve the student experience.
But I would have liked to see Fogue focus more on those who need these services the most, and more on the bigger picture surrounding her advocacy. Her changes to the period equity initiative will end up restricting students' access to period products, and the Alpha Psi Sorority investigation makes her record on mental health advocacy seem murky.
TLDR: Despite the hiccups in her term, Fogue still made big strides in her advocacy, and should be applauded for her performance overall. She achieved much of her platform, and was able to enact big changes that support students in the long-run. However, the mistakes she did make impeded her ability to adequately support students, which ultimately lowered her grade.
CORRECTION: This article was updated March 3 at 9:47 a.m. to reflect more recent Campus Food Bank usage numbers. It was also updated to reflect that the CFB Pantry is a future plan, and not yet built. The Gateway regrets this error.
---
A-range: This person has fulfilled the promises they campaigned on and more, has created tangible change during their tenure, and has shown a commitment to improving the lives of students. Their GPA is top tier.
B-range: This person has done their job consistently well, but has not made any remarkable changes, or has fallen short on important goals they set out in their platforms. They're doing fine, but it's nothing to phone home about.
C-range: This person has done their job sufficiently, but has failed to make significant progress in the areas most relevant to their portfolio, or has essentially abandoned a major part of their platform. They're still passing with a safe buffer though, and Cs get degrees!
D-range: This person has done a very lacklustre job, and has not sufficiently fulfilled their campaign promises or the responsibilities of their position.
F-range: This person has not done their job, has not represented students, and has not fulfilled their campaign promises whatsoever.