News
Students' Union
SU Elections 2023 Q&A: Vice-President (Academic)
The 2023 Students' Union elections has three candidates for vice-president (academic) — Rowan Morris, Milan Regmi, and Pedro Almeida.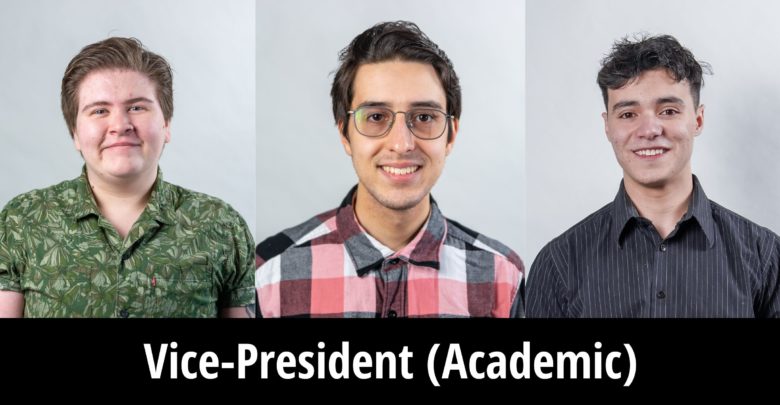 The Students' Union vice-president (academic) is responsible for all advocacy that affects the academic life of students. They work with every student faculty and department associate, and sit on several boards and committees, including the Students' Union Policy Committee, General Faculties Council (GFC), and the Council of Faculty Associations.
There are three candidates in the 2023 vice-president (academic) race:
Pedro Almeida, a third-year science student in the immunology and infection program.
Rowan Morris, a fourth-year education student, and former Students' Union education councillor.
Milan Regmi, a fourth-year music and education student, and current Students' Union education councillor.
The following interviews have been edited for brevity and clarity.
Why have you decided to run for VPA?
Pedro Almeida: I've decided to run for the position of vice-president (academic) because while I recognize that the U of A has put together great institutions and systems to help students succeed, and has supported those systems, I believe that there are still a lot of issues that are important to students, that I'm hoping to address.
Rowan Morris: I'm running because I've had a really, really hard year. I've had a year that has been full of institutional barriers, and a year that has made me wonder if I even want to be a student at the University of Alberta. That, to me, is not fair, considering the amount of money that I've put into this degree and the time that I've spent trying to be a part of this campus community. No student should ever be in that position. So I've decided to run for vice-president (academic) to help to eliminate some of those barriers.
Milan Regmi: I want run for vice-president (academic), because I felt a strong mandate at the U of A leading up to the provincial election. Also as we are just coming out of our first year of a pandemic, as students are struggling with the cost of living; wondering if they're able to have a future and if their degree will be of any use. I want to make sure that as student leaders there's somebody there who has experience and is able to use their voice, to be able to work across party lines, to ensure that students are getting the change that they want and expect. And I believe that with my experience on academic bodies, and working with the current vice-president this year, that I'm the person to do that.
What would you say are three main takeaways from your platform?
Almeida: My platform can be summarized into three main points: providing greater support for all students, enhancing academic opportunities, and academic transparency. Now each of those sections are important to students, but if I had to say the most tangible and important within those sections at the moment would be reframing the accommodation in classes for illness and hybrid-learning, reorganizing the vice-president (academic) scheduling to better hear and represent students, and providing students with necessary information through a syllabus bank for course selection.
Morris: The three main takeaways from my platform are that we need to invest in students. We need to grant more flexibility to our degrees. And we need to start actually communicating with our student body before we make decisions.
Regmi: The three main takeaways from my platform are, first of all, accessibility across campuses. Number two is being vocal and bringing forward ideas that will positively impact students. And number three is that I understand our structures of government.
How do you plan on achieving the educational Aboriginal Relations and Reconciliation Committee recommendations, which if followed, will contribute to reconciliation efforts by the Students' Union?
Almeida: I address the recommendations in different points within my platform. Firstly, I'm going to reorganize the vice-president (academic) meeting schedule to include bi-weekly meetings with faculty associations, the International Students' Association, and Indigenous Students' Union to provide a channel through which we can begin. Additionally, increasing the advocacy of the Students' Union within Indigenous events. Lastly, I'm hoping to increase the embedding of Indigenous course content material in both new and current courses.
Morris: The implementation of our recommendations needs to go hand in hand with Indigenous consultation. We need to be speaking with Indigenous students, with First Peoples' House, with prospective Indigenous students, people involved in the transition year program, any stakeholders in the Aboriginal Relations and Reconciliation Committee recommendations, as to how we can execute those the most efficiently — that has to come first. So after that consultation is completed, then we would have a clear path of exactly what we need to do.
Regmi: I've been in constant contact with the Indigenous Students' Union and its members, and one thing I'm hearing is we haven't done a very thorough job of ensuring that truth and reconciliation costs and academia are fulfilled. I want to take more steps to ensure that the Truth and Reconciliation Calls to Action are fulfilled, and ensure we can learn from our counterparts on the impact that implementing a mandatory Native studies course has on students.
In the process of academic restructuring, the number of academic advisors has decreased, negatively impacting academic advisement for students. How do you plan on addressing this?
Almeida: What I'm hoping to set up is a hub system that allows students to access all the support necessary to them in a easy-to-use, single webpage, minimizing the time required in searching for an advisor and advising, especially for questions regarding faculties that differ from their own. So while the numbers have decreased, my hope is to ease the system through which students access advising in order to accommodate for that.
Morris: As an education student, I have never needed academic advising. That's because BearTracks does it for me. All my classes are laid out year-by-year with what courses satisfy each credit requirement. I've never had to have a meeting with an advisor and that's really unique to my program. So I would like to expand this BearTracks service to all programs to limit the dependency on advisors and help free up advisors for students who really need them.
Regmi: The first thing [I'd like to do in office] is call to inquiry the effects of academic restructuring and deferred maintenance; all the things the university has done to save costs and how those have impacted students ability to access services like academic support.
Why should students trust you to advocate for their academic needs to the university?
Almeida: Students should trust me to address their academic needs because all the points that I'm hoping to address are issues that have impacted me and those around me. I've consulted to better understand the vice-president (academic) role; to better understand the voices of students and what's important to them. I'm not here to destroy any systems that are put in place, but instead to work within them in order to improve the academic experience at the U of A.
Morris: As an education student, I can speak to academic needs, from the psychology behind it to the student experience. I believe I should be trusted based on my patterns of student advocacy in the past through my time on the Students' Council, my time as the Equality, Diversity and Inclusion intern in residence, my past year working through the Peer Support Centre, as well as my time involved volunteering around campus and various commitments.
Regmi: I am more experienced than any other candidate for this position. I've worked with so many people across the council, and I believe that based on my success in council and my understanding of government structure, that I'm the best suited candidate, across all forms of student governance, to create change that students expect and want to see.
CORRECTION: This article was updated at 8:35 p.m. on February 27, to reflect that Milan Regmi said that he had been in contact with the Indigenous Students' Union, rather than the Integrated Community Clerkship. The Gateway regrets this error.
---
Every year, The Gateway publishes hundreds of articles like the one you just read that are free for everyone to access. But The Gateway needs your support to continue publishing its award-winning journalism. Please consider donating today, even a small amount can help the University of Alberta's only newspaper continue serving the campus community. Thank you.