Guest Columns
Reconciliation requires participation from non-Indigenous people
Reconciliation needs participation from non-Indigenous people, and Indigenous celebrations can be the place for that.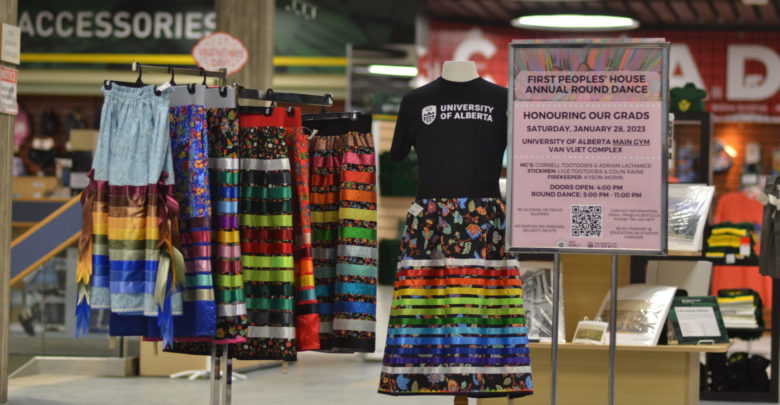 This guest column is written through a partnership with the Indigenous Law Students' Association and The Gateway. 
---
Attending a round dance is coming home to a place you may never have known you left.
Round dance songs follow the rhythm of a heartbeat. The drumming and singing reaches down inside you and shakes you to your roots. Powerful rhythms and voices amplify thousands of years of history, tradition, and community. People encourage you to dance, in a gentle "I'll help you" sort of way.
It is a place where the individual meets the community, which meets the ancestral connections that tie us to the land we walk on.
It is a connection to the path we all walk as Treaty people. A connection that First Peoples' House generously gifts to our community with their annual round dance.
But, what is a gift without someone to gift it to? What is a Treaty without those to honour it? Or maybe, what we are really asking is what does reconciliation mean without active and meaningful participation?
Looking out over hundreds of people at the round dance, these questions arise. A gift to the community. A chance to build good relations. An opportunity to walk the path to reconciliation together. Yet, an important question sits unanswered.
Where are the non-Indigenous people?
Reconciliation means so many things to so many people. But, we can all agree that it is a two-way street. Neither Indigenous nor non-Indigenous peoples can reconcile Canada's dark history on their own.
The 2015 Truth and Reconciliation Commission's (TRC) report set out 94 calls to action that provide a roadmap for reconciliation. Most of these calls are to different levels of government. They urge necessary reforms to reduce or eliminate unjust and oppressive government policies, or to create new policies that will respect Indigenous rights.
But, in looking at the round dance, which is a symbol of the state of reconciliation within our nation, we wonder if maybe what the TRC needed was a 95th call. A call to urge non-Indigenous Canadians to take their own first steps towards reconciliation. A call for personal responsibility.
It is a sad truth that stories of oppression, trauma, and tragedy underscore many non-Indigenous Canadians' understanding of Indigenous communities and peoples. It is important to recognize and reconcile the legacy of colonialism, and the impact that decades of structural racism and systemic inequalities have had on Indigenous peoples. But, it is equally important to recognize Indigenous excellence, resilience, strengths, and gifts.
This is what you will find at a round dance. The ongoing harms perpetrated by colonialism and intergenerational injustices, including the Indian Act and residential schools, are there. They are always there. But, welcoming community into a round dance creates a different space where Indigenous and non-Indigenous people can meet in the spirit of community, togetherness, and sharing. A recognition that we are all Treaty people and we are destined to meet future challenges together.
But first, we need to actually come together.
It's understandable that non-Indigenous people may feel reluctant to try and join a round dance, or other Indigenous celebrations. Colonial history has some reprehensible chapters.
But, the truth is, non-Indigenous people are welcome. Not always and not to everything, of course, but to public events, everyone is welcome.
Beyond being welcome, it is wanted. And in terms of reconciliation, it is needed. Non-Indigenous Canadians must carry some of the burden of reconciliation themselves, without leaving all the responsibility to the government to implement the 94 TRC calls to action. People need to get involved and exposed to the strength and beauty found in Indigenous communities.
Going to a round dance is a great opportunity. There are lots of other ways all Canadians, and especially students here at the University of Alberta, can take a step closer to reconciliation. There are powwows, guest speakers, Sisters in Spirit, and the Annual Orange Shirt Day Run/Walk.
The annual Indigenous Law Students' Association's Speaker Series is another, starting March 6 and ending March 10. It brings together Indigenous knowledge holders and leaders from across the country to share their wisdom, experience, and perspectives.
These are the events that move us all forward on the path to reconciliation, if we only have the courage to take the first step.
Join us at Speaker Series 2023; the door is open and you are welcome. 
Not just welcome — you are needed.