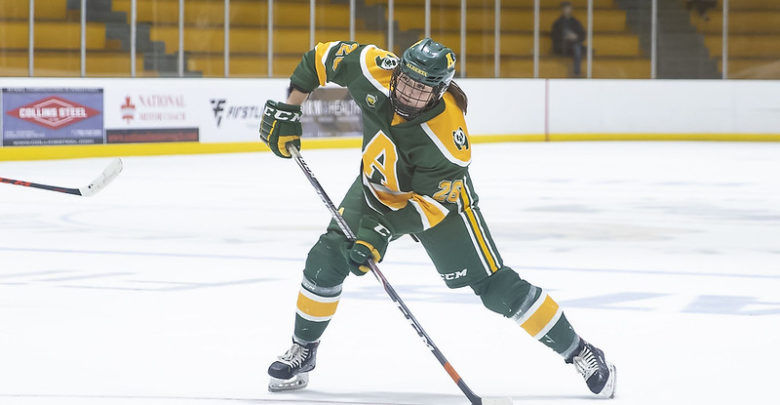 The Pandas hockey team travelled to Vancouver to face off against the University of British Columbia (UBC) Thunderbirds. The first game on November 18 ended in double overtime, with the Pandas taking a 2-3 loss. The Pandas saw another loss the next day as the Thunderbirds took a 1-2 win.
The Pandas took the first goal of the game, just under four minutes into the first period. Abbey Bourdeaud'Hui pushed the puck through a crowd in front of the UBC net to score. The period would end at 1-0 with just Bourdeaud'Hui's goal.
In the second period, UBC's Sophia Gaskell scored on a slap shot from the point, while UBC's Grace Elliot played the screen on Alberta goalie, Halle Oswald. Under two minutes later, Gaskell scored again when taking another slap shot from the point. The shot caught Oswald sliding across the crease, and made the score 1-2 to end the second period.
The third period saw Alberta's second and tying goal. While on powerplay, Madison Willan took a one-time shot which was stopped by UBC goaltender Elise Hugens. This allowed Danica Namaka to pick up the rebound and put it in net.
Namaka's goal was the last of the period, before the teams entered into overtime. Due to no goals on either side in the first overtime, the teams entered into three-on-three play in double overtime.
12 seconds into three-on-three, UBC's Chanreet Bassi picked the puck up in the corner and passed to Joelle Fiala in front of the net. Fiala scored bar-down, giving the Thunderbirds a 2-3 win.
The second game of the series had the Pandas and Thunderbirds stay close in score once again. UBC started the game with the only goal of the first period. A shot from the point was stopped by Oswald, but dropped in the crease. This allowed Thunderbird Cassidy Rhodes to tap the puck away.
In the second period, after a slap shot from the point was blocked by UBC in front of the net, Alberta's Namaka picked it up and shot on net, tying the score at 1-1.
The final goal of the game was scored by UBC's Hannah Koroll, as Ireland Perrott screened Oswald. The Thunderbirds' power play goal set the score at 1-2, where the game would end. The second game marked the Alberta team's second loss of the weekend.