Golden Bears
Sports
Golden Bears hockey lost to UBC 3-5, and win 9-1
After the Bears lost 5-3 to UBC, the Bears took home a 9-1 win the next game.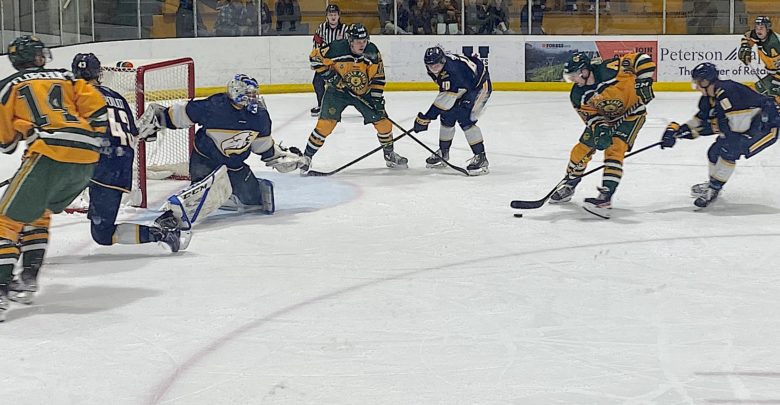 The Golden Bears hockey team lost 3-5 to the University of British Columbia (UBC) Thunderbirds. The Bears played the Thunderbirds again the next day, taking a 9-1 win.
On November 18, the Thunderbirds took the first goal of the game, with seven shots on net, before the Bears could take their first shot. The goal was initiated after a slapshot from the point by Conner McDonald but blocked by Alberta goaltender Nick Schneider. Cyle McNabb swooped in behind Schnieder, poking the puck into the net. The Thunderbirds would take one more goal in the first, then take two goals in the second period, keeping the Bears at 0 points.
The Bears would get onto the scorecard in the third, after one more UBC goal. The Bears scoring streak was started by several back-and-forth passes between Matt Fonteyne and Dawson Davidson. Fonteyne took the shot from the dot with Jakin Smallwood screening the UBC goaltender Dorrin Luding. Fonteyne's shot set the score at 1-5 for the Thunderbirds.
Two more goals in under nine minutes would come from Davidson and Josh Prokop. The game would come to a close with the Bears' three goals, to UBC's five, giving the Alberta team their first loss in nearly a month. The Bears' Davidson would assist for two of their three goals, and score for himself for the third.
On November 19, the Bears defeated the thunderbirds with a 9-1 win. Alberta would take the first points of the game. Nolan Volcan passed down the blue line to Jared Freadrich, who would take the shot on the UBC goalie. Ryan Hughes deflected Freadrich's shot into the net. The first period would end after three more Alberta goals and with UBC on power play.
Alberta took three more goals in the second and ended the period on Dylan Plouffe's one-timer goal off a rebound from Fonteyne's shot, setting the score at 7-0 for the Bears.
UBC's only goal of the game came shorthanded in the third period. Thunderbird McNabb picked up the puck between three Alberta players, and broke into the Alberta zone, to take the backhand shot into the top corner of the net.
Alberta's Wyatt Mcleod would score the Bears' eighth goal, before the game ended on a Bears shorthanded goal by Tyler Preziuso – the ninth of the game and Preziuso's tenth of the Canada West season. Prokop also hit ten goals this Canada West season over the weekend, with two goals and eight points in the second game alone.