Golden Bears
Sports
Golden Bears basketball win twice against Calgary in home-opening weekend
The Bears won 108-80 and 92-91 in their home-opening weekend.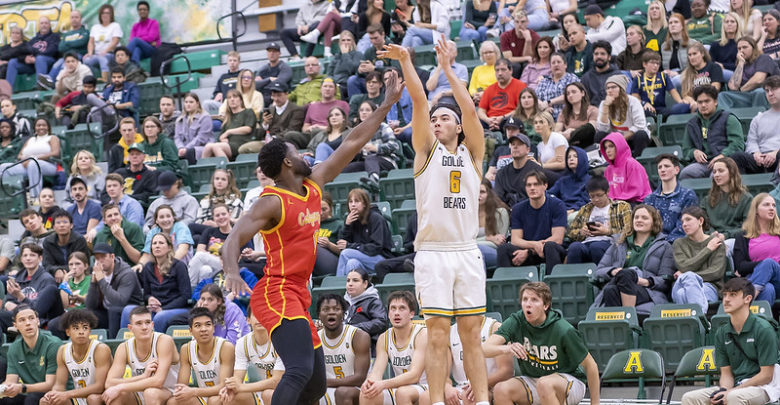 The Golden Bears basketball team won twice in their home-opening weekend against the University of Calgary Dinos. They took a 108-80 win in their first game, followed by a 92-91 win in their second game.
On November 11, the first game of the weekend began in the Bears favour as they beat the Dinos to the scoreboard. Alberta's Abdullah Shittu tipped in a rebound for the game's first points, and his first of 13 points during the game. For the last points of the quarter, Adam Paige sank a 3-point shot from the corner, ending at 23-17 for the Bears. Paige would continue to make three of his seven attempted three-point shots. The end of the first half had Alberta in the lead with a score of 55-36. 
In the third quarter, Isaac Simon picked off a Calgary pass in the Alberta end, carrying the ball down-court and scoring, setting the Bears at 72 points to the Dinos' 49. The Bears made four of their nine 3-point shots in the last quarter. The game ended at 108-80 for the Golden Bears win.
On November 12, the second game saw an early seven-point lead for the Bears. The Bears maintained the lead for the first quarter, before it ended at 19-11.
The second quarter had Alberta's Brandon Meiklejohn, completing four 3-point shots in 12 minutes, and five total by the end of the game, ending the game with 19 points. The first half ended with Alberta six points in the lead, at 42-36. 
Calgary closed the gap in the third quarter, ending it with Alberta only three points ahead. Calgary broke Alberta's lead for the first time that weekend as Dinos Alan Spoonhunter made the 3-point shot from the corner, setting the score at 50-52. Spoonhunter would go on to take home 34 points in that game alone, 40 for the weekend.
The Bears regained the lead, as Julian Vaughns made one of his seven successful 3-pointers, putting Alberta one point ahead. The quarter ended with the Bears just three points in the lead, at 61-58. 
Calgary's Spoonhunter tied the teams back up at 81-81 with his 28th point of the game in the final quarter. Alberta took a free throw with just under 10 seconds in the quarter – missing the first, but making the second – tying the teams at 85-85 where the quarter would end.
The game went into overtime, where Alberta's Vaughns would take the game-winning shot. Shooting from the corner, Vaughns sank the ball as the shot clock went off, making the score 92-91 for the Bears, with three seconds remaining in overtime. Vaughns ended the weekend with 36 points, just two points shy of the weekend's leading scorer, Meiklejohn.