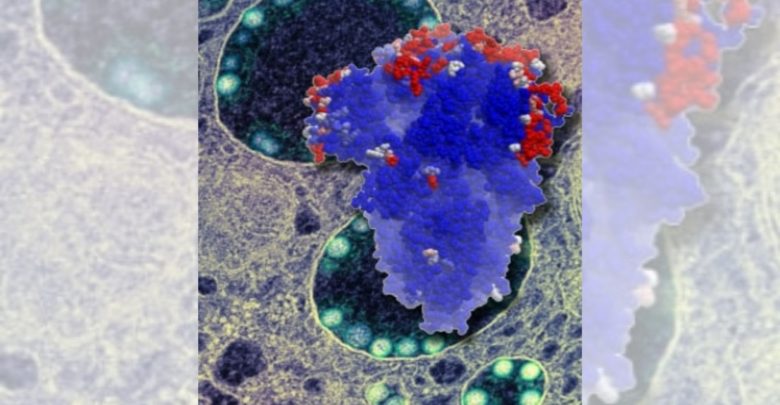 A University of Alberta study researched the relationship between spike proteins and host cell membranes and has implications for understanding new COVID-19 variants.
The research shows that cell membranes have a larger role than previously thought in allowing spike proteins on viruses to infect cells. Michael Overduin, a biochemistry professor at the U of A, worked with his students to publish the research. The study was published in iScience and used Membrane Optimal Docking Area (MODA) software to identify interactions between proteins and membranes.
The creation of MODA has made the binding of viruses easier to observe. This has made protein behaviour towards host cells more predictable.
Overduin said that "nobody has really deciphered how the spike proteins bind and enter the membrane." It was determined that MODA would be a useful tool to understand the code that viruses use to enter the cell membrane.
Over the past couple of years, the COVID-19 pandemic halted lab research. Despite this setback, Troy Kervin, an undergraduate student of Overduin's, continued his research outside of the lab. Using MODA software, Kervin discovered that lipid barriers or cell membranes, are a crucial part of viruses binding to host cells, more so than previously thought.
Kervin's discovery led to more research that looked into how spike proteins bind to membranes, such as the spike proteins found on the SARS-CoV-2 virus.
"What we're trying to understand is the drivers, what makes a new variant more successful. And we think part of that formula of success is the ability to bind to host cell membranes."
Overduin said there has been a significant step forward in understanding of how the virus contacts our cell membranes.
"That first point of contact is the best place, I think, to stop the virus from getting in."
The study can lead to more research, Overduin said, since it is now possible to see ways viruses bind with cell membranes and how these processes can be targeted by drugs. The study can also lead to research on understanding how virus variants are evolving.
"We think those are going to be important studies for developing new antibodies and therapeutics to stop the virus in its tracks."
In the future, Overduin said they would like to continue working on COVID-19, other viruses, and understand the fundamental biology of how cells organize their membranes.
"This will be an ongoing challenge to figure out what's happening with the latest variants. Secondly, there's many other viruses that use similar mechanisms that we can now look at using the same approach. This is not just limited to COVID-19, but many other viral infections."
Overduin said the project was driven by "really motivated" undergraduate students.
"I think they're the ones who really need to be thanked and appreciated for the effort they put into these summer projects, sometimes as volunteers. They're making a tremendous difference, so I would just continue to ask for support from the public and funding agencies for these students."