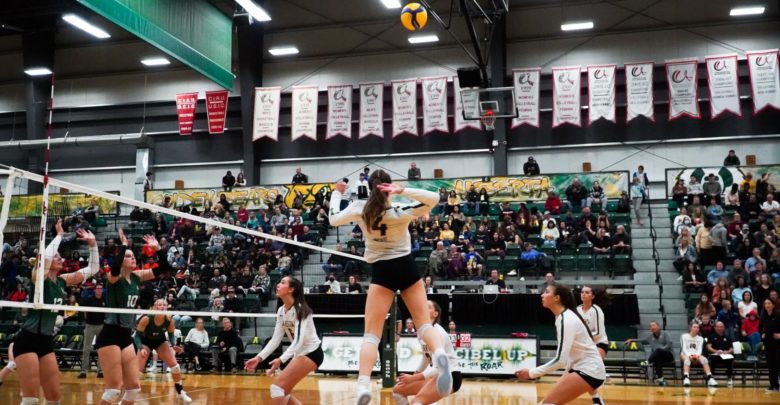 The Pandas volleyball season began on October 21, as the University of Saskatchewan Huskies travelled to the Saville Community Sports Centre. The weekend saw two Pandas wins, 3-0 in the first game and 3-1 in the second game.
On Friday October 21, the Pandas won their first regular season game 3-0. Saskatchewan started the game by taking the first point of the set and received aces on two of their first three serves.
In the first set, Alberta's Laila Johnston earned several points in blocks against Saskatchewan. The final point of the set came as Huskie Olivia Mattern attempted to tip the ball over, but ended up with the ball in the net. The Pandas took the first set 25-21.
The Huskies took the first point again in the second set, after Alberta's Lauryn Tremblay passed the ball into the net. Despite the early lead for the Huskies, the teams stayed close in points for much of the set.
Johnston had several hits during the set, two of which tied the Huskies and Pandas. The first tying hit from Johnston came off her own blocked hit, settling the teams up at four points. Johnston's cross-court hit under double coverage matched the Huskies at 10 points.
Johnston also blocked two Saskatchewan hits, stuffing them back on the team, giving the Pandas their 24th and 25th points. The Pandas won the second set 25-23.
The Pandas won the third set with another two-point lead at 25-23. Panda Emma Holmes took a hit for the 23rd point, and Meghan John hit for the 24th. The Huskies took six points in a row, bringing the score to 24-23. The Pandas fought back to end the game with a center dump by Justine Kolody, setting the ball into the center of the Huskies court.
In the second game on October 22, the Pandas won 3-1. The first set saw Pandas take the first point off a block, alongside several kills from Tremblay and eventually taking the set with a six-point lead.
In the second set, the Bears and Huskies battled for the necessary two-point advantage. The Pandas got up to 28 points to win the second set at 28-26. The third set of their second game saw the Huskies first win of the weekend, taking a five-point lead over the Pandas.
In the fourth and final set, the Pandas gained several points off strong blocks, stuffing the ball back onto the Huskies side. Pandas duo Allie Moore and Johnston received credit for many of the blocks. The Pandas reached a 13-point lead, at 17-4. However, the Huskies fought back to close this lead. The game ended on a strong Tremblay cross-court hit, finishing the set with a Pandas win and six-point lead.