Golden Bears
Sports
Golden Bears Soccer advance to final four following a win against UNBC
The Bears defeated the UNBC Timberwolves 5-0.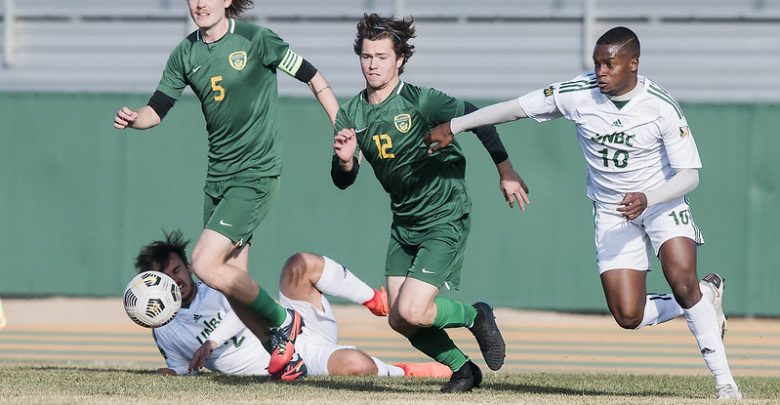 On Saturday October 29, the Bears soccer team played against the University of Northern British Columbia Timberwolves, in their first game of the Canada West 2022-23 playoffs. The Bears won the game 5-0 at Foote Field.
The Bears started the quarter-final game scoring their first goal within the first three minutes. Alberta's Rilind Idrzi passed across the UNBC goalkeeper's box to David Chung, who took the shot and scored. Shortly after, Chung passed across the box for Habib Assem to score the Bears' second goal. The two goals set the score at 2-0 within the first twelve minutes of play.
The Bears saw two more goals in the first half. The home team's third goal of the game came as Chung took the free kick after a handball was called against UNBC. Chung's kick went to the far corner of the UNBC net, which Idrizi caught and slid the ball into the net. The Bears' last goal of the half came from Ibrahim Jetishi, which set the score at 4-0 for Alberta. 
In addition to their four goals, the University of Alberta created several close scoring opportunities and stopped several Timberwolves chances. Alberta's Jetishi took a header towards the net, which was caught high near the goal line by the UNBC goalkeeper. Chung was close to a second goal on a high kick, which the Timberwolves goalie caught. To end the half, UNBC Gregor Smith caught the breakaway, before Bears Morgan Graham caught up to block the shot on net. 
The second half started with Assem catching a long pass for a shot on net, which was then stopped by the Timberwolves goalie. After Graham's header to clear the ball from the Alberta box, UNBC took the corner kick on net. Despite the ball floating close to the net, goalkeeper Chris Ezoua caught the ball, keeping the score at 4-0. 
The Bears would score their final goal of the game when Assem caught a long pass from Graham and scored in the top corner of the net. However, Assem received a yellow card for his celebration of the goal after the play.
Following the win, the Bears go on to play against the three other teams who made the top four. In the semi-final game, the Bears will play the University of British Columbia in Vancouver.