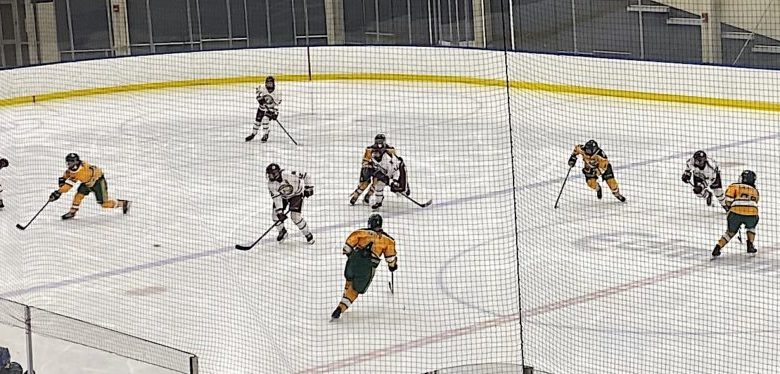 The University of Alberta Pandas hockey team defeated the MacEwan Griffins twice in a double header over Thanksgiving weekend. The Pandas have now won 29 games in a row against the Griffins.
The first game on Friday October 7, opened with a tribute to Jordyn Reimer, a former MacEwan player. The Griffins, alongside the Reimer family, paid tribute to Reimer who passed away last May.
In the first period, both teams were unable to score. However, the second period started with a MacEwan goal by Joie Simon, assisted by Makenna Schuttler, less than a minute in. Soon after, Panda Payton Laumbach scored, hitting the top of the net in a bar-down shot. Laumbach's goal tied the score at 1-1.
The Pandas scored again in the second, following good cycling in the MacEwan zone on the power play. Madison Willan set the score to 2-1 in favour of the University of Alberta team. After no goals in the third period, the game ended at 2-1 for the Pandas.
On Saturday October 8, the Pandas returned to Clare Drake Arena to play on their home ice. The Alberta team saw another win, this time taking a shutout, with a final score of 3-0.
Just as the night before, the Pandas and the Griffins saw another first period with no goals. However, there were goal opportunities in the first two periods. On the Pandas powerplay in the second, Allison Reich and Natalie Kieser took shots at the MacEwan goalie, Brianna Sank. Sank managed to keep the shots in front of her.
The first goal of the game came on the Pandas' second power play of the night as Panda Danica Namaka caught Cassidy Maplethorpe's rebound at the post, and put it behind Sank. The Pandas second goal came after Taylor Anker's one-time at the point gave Laumbach the rebound. She then passed on the backhand to the corner of the crease, where Kieser caught the puck and scored, setting the score at 2-0 for the Pandas.
The final goal of the period occurred when Isabelle Lajoie stopped MacEwan from breaking out of their own end, stealing the puck for herself and making a break onto the MacEwan net. Lajoie was under double coverage but she made the shot off of the post. Lajoie's goal set the game at 3-0 for the Pandas. 
The game's final two minutes of play were played 4-on-4, after both teams received penalties. However, the third period saw no goals, as the Pandas took home the win with a final score of 3-0, a shutout for Pandas goalie Halle Oswald.