Golden Bears
Sports
Golden Bears football lose to Calgary in double header with Edmonton Elks
The Bears played at Commonwealth stadium as part of a double header with the Edmonton Elks.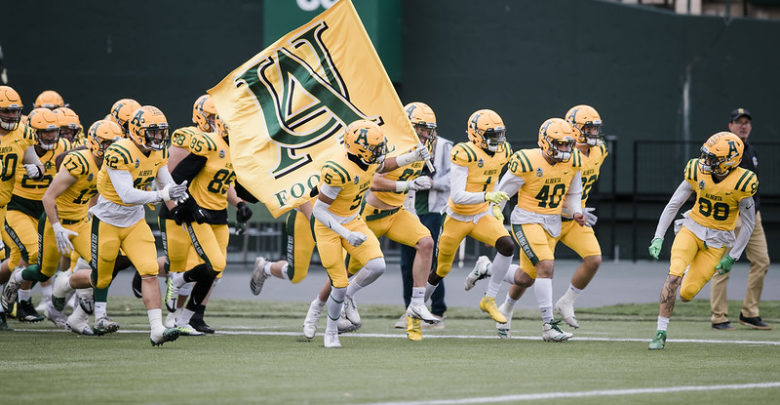 On October 15, the Golden Bears football team lost to the University of Calgary Dinos 11-24. The Bears hosted the Dinos at Commonwealth Stadium as part of a doubleheader with the Edmonton Elks.
The first half of the game saw the Dinos take the lead, starting from the first quarter's touchdown by Calgary's Zack Smith. The touchdown was scored by Smith off a long pass by Daniel Sananes from behind the 30-yard mark. Following the extra point kick Calgary took the early lead by seven points. Chris Maclean made a field goal kick to extend the Calgary lead to 0-10.
In the second quarter, Bear Jonathan Giustini made a field goal from the 20-yard line. Other Bears plays in the quarter included an interception from Romeo Nash. Additionally, Jonathan Rosery caught a 20-yard pass from Jonathan Ericson.
The last five minutes of the second quarter included a touchdown from both the Bears and Dinos. The Bears touchdown came following a penalty against Calgary. The Bears used the down to make the long pass to Carter Kettyle, putting themselves 18 yards from the end zone. From there, Ericson made the pass to Rosery for the touchdown. Giustini followed up the touchdown with a kick to bring the score to 10-10.
Shortly after the Bears touchdown, the Dinos retook the lead of the game. Jordan Chizda intercepted Luke Hornung's throw, and scored Calgary's second touchdown. Again followed with a kick from Maclean, the first half ended with a seven point lead for Calgary, ending the first half with 10-17.
In the third quarter, there were no touchdowns from either team. The single point in the quarter going to the Bears. The rouge was scored off of a missed field goal by Giustini.
Early in the fourth quarter, Mikel-Ange Desjardins, scored the final touchdown of the game for Calgary. Maclean followed up the touchdown with a successful kick to end the game at a score of 24-11 for the Dinos. The defeat marks the third loss streak for the Bears and brought their conference record to 2-5. The win over the Bears was the first victory of the season for the Dinos.
Overall, the Bears quarterback combo of Hornung and Ericson combined for 198 yards. In comparison, Dinos quarterback Sananes threw for 317 yards.
The Pandas went on to their next match, visiting the University of Manitoba Bisons. The Dinos returned to McMahon Stadium to play against the University of Regina Rams.