News
Students' Union
Notes from Council: Executive goals presented, council honorarium discussed
The motion for a proposal to implement a council honorarium was withdrawn.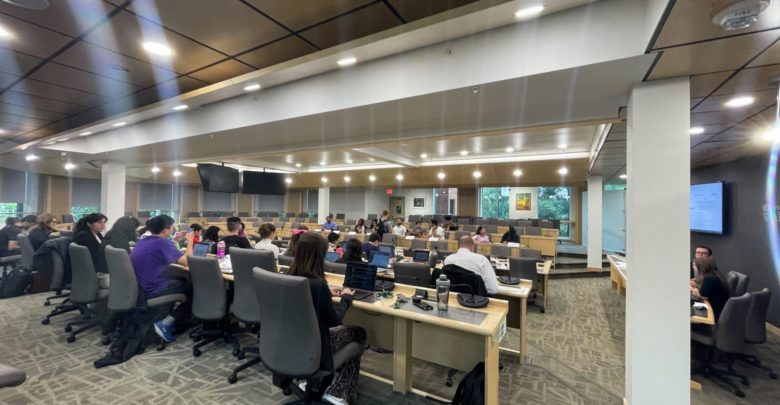 "Notes from Council" is The Gateway's ongoing series of recaps of noteworthy items from Students' Council meetings.
---
At the September 6 Students' Council meeting, two councillor seats were filled, executive goals were presented, and a council honorarium was discussed.
Through vacancy petitions, two councillor seats have been filled on council. Laetitia Satam is a new agricultural, life, and environmental sciences councillor and Colton Meronyk is a new Native studies councillor.
During question period, Lionel Liu, kinesiology, sport, and recreation councillor asked if the U of A is accommodating international students who have arrived in Canada, but legally cannot attend classes because they do not have study permits.
Abner Monteiro, Students' Union (UASU) president, answered that the U of A is giving students who are facing difficulties with their visas the option to take courses online. He added that he will look into this specific concern.
UASU president introduces five executive goals
Monteiro introduced a series of goals that the executive team wants to focus on this year.
The first executive goal introduced by Monteiro was to build an engaged campus community "around empowering student participation … and strengthening our collective voices."
Second, Monteiro expressed the executive's commitment to reconciliation and "creating a sense of place for Indigenous students."
As a part of this effort, Monteiro and Julia Villoso, UASU vice-president (operations and finance), have been working on several initiatives including another residential school memorial, and creating Indigenous student spaces at Campus Saint-Jean.
Third, Monteiro said they want to focus on enriching the learning environment at U of A, and modernizing academic supports. This will include advocating for the creation of a syllabus bank, hybrid learning, and Indigenous course content.
The fourth goal was to address safety concerns on campus and create welcoming spaces. This included advocacy for gender-neutral washrooms, period equity, and fostering inclusive spaces.
Lastly, the executive would like to foster an inclusive and equitable university experience. This includes advocating for increased post-secondary Indigenous grants and affordable housing, translation for BearTracks, and pushing for further recognition of religious holidays at U of A.
Council discusses a proposal to implement an honorarium
Chanpreet Singh, an engineering councillor, moved for the UASU executives, Council Administration Committee, and Finance Committee to jointly present a proposal to implement a council honorarium by November 30, 2022.
The proposal was brought forward by Singh so that if a council honorarium was implemented it would be ready before the next council elections. He added that an honorarium could be seen as controversial.
"We don't know how popular honorariums could be in front of student eyes." Singh said. "Such a proposal needs a lot of hard work, a lot of research, and that's the reason the council first needs to vote on this motion to actually indicate that council is interested in seeing something come out of it."
Haruun Ali, an arts councillor, said that the "best" way to get students more involved in council is to implement a council honorarium.
Levi Flaman, a business councillor, moved to table the motion indefinitely because the discussion was mostly clarification questions.
"I think it just goes to show how half-baked of an idea this was and might need a little bit more time in the oven before we debate on it," Flaman said.
Singh reiterated the importance of voting on this proposal now to meet the timeline of having a council honorarium before the next council elections. He said that tabling the proposal would be leaving it for the "next council to think about it or maybe ignore it."
Marc Dumouchel, UASU general manager, said that the intent of the motion is unclear.
"We haven't even gotten direction on what the issue here is. Is it to make [council] more accessible? Is it to compensate people for their time served?" Dumouchel said. "I don't believe you have all the information you need to make a decision on the merits of the proposal because you're not even clear what the intent of it is."
Singh withdrew his motion so that Dumouchel would be able to prepare more information on a council honorarium at the next council meeting.