Golden Bears
Sports
Bears football lose out to UBC Thunderbirds in first game of the season
The Bears lost 30-21 after the Thunderbirds retook the lead with two touchdowns in the final quarter.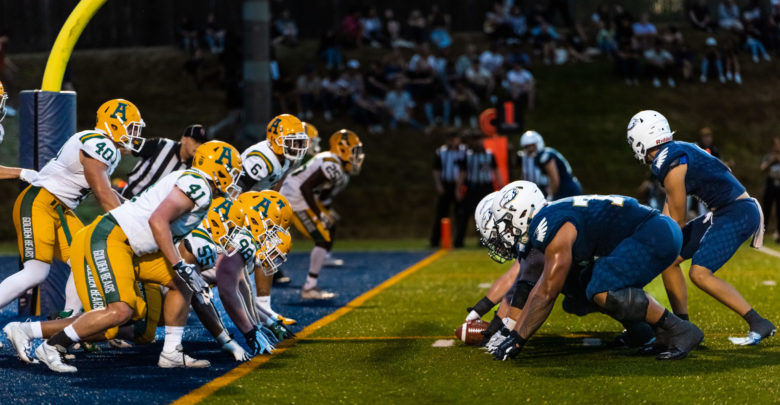 On Saturday September 3, the Golden Bears football team started their season in an away game against the University of British Columbia Thunderbirds. The Bears lost 30-21 after the Thunderbirds retook the lead with two touchdowns in the final quarter.
In the 2021-22 season, the Bears and Thunderbirds both had an equal overall record of 3-3. They also played their first game against each other where the Bears took a 44-19 win at Foote Field.
In the 2022 coaches' pre-season poll, the Bears were ranked fifth while the Thunderbirds were ranked third.
Early in the game at Thunderbird Stadium, Bears quarterback Eli Hetlinger connected a 36-yard pass to receiver Jonathan Rosery. The Bears were able to make their way to the UBC one-yard line, where Hetlinger was able to dive into the end zone for the first touchdown of the game. The following kick by defensive back Jonathan Giustini was good to make the score 0-7.
On the next possession, the Thunderbirds made their way through the field as running back Isaiah Knight ran 31 yards to the 33-yard line. UBC quarterback Garrett Rooker was able to find receiver Lliam Wishart to tie the game 7-7
Five minutes into the second quarter, Thunderbirds quarterback Derek Engel ran the ball into the endzone making the score 14-7
Towards the end of the half, the Bears scored their second touchdown to tie the score again at 14-14. At the UBC 21-yard line, Hetlinger rolled to the right for a throw to Rosery who was able to get the touchdown while being covered by three Thunderbirds.
The Bears scored the only touchdown in the third quarter to regain the lead of the game. Reggie Schoeppe picked up a fumble and got the ball to the UBC 14-yard line before being tackled. On the next play, Hetlinger made a pass to Kolby Hurford in the endzone for a 14-21 Bears lead.
In the last quarter of the game, the Thunderbirds went on to score two touchdowns.
Early in the quarter, Shemar McBean separated from his defender to receive a throw from Rooker, and dash to the endzone for a 98-yard touchdown. Shortly after, a short snap into the endzone meant Bears punter Nate Kasowski was forced to take a knee. The safety meant the Thunderbirds took a 23-21 lead.
In the final minutes of the game, Rooker's six-yard dash and dive into the endzone brought the final score of the game to 30-21.
The next weekend the Bears went on to play their home opener game against the University of Manitoba Bisons, the Hardy Cup defending champions.