Golden Bears
Sports
Golden Bears football prepare for season with first practice session
The Bears will start their season on September 3 in Vancouver against the UBC Thunderbirds.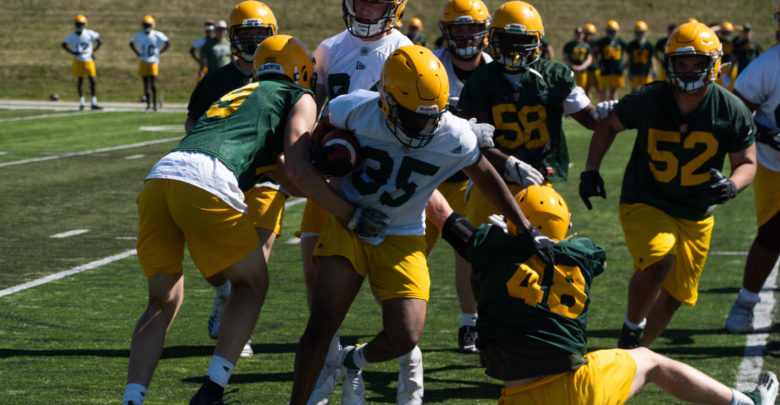 On August 14 the Golden Bears football team started preparing for the new 2022-23 season with their first practice session. 
Previously, the Bears achieved a 3-3 regular season record and competed in the Canada West playoffs. The team was defeated by the University of Manitoba Bisons in the semifinals to end their 2021-22 season.
On September 3, the Bears will start their season in Vancouver against the University of British Colombia Thunderbirds. The team will have their first home game on September 9, hosting the University of Manitoba Bisons at Foote Field.
For the sixth game of the season, the Bears will play the Calgary Dinos in a football doubleheader with the Edmonton Elks. The game will be held at the Commonwealth Stadium on October 15.
Chris Morris, head coach of the Golden Bears football team, is expecting the season to be a "really good year" with the Bears, also noting that the Canada West conference is "very competitive."
"It's a really good group of guys, they've worked really hard," Morris said. "We're gonna play the highest ability we possibly can and we'll see where it goes."
Morris said some rookies to watch out for this season are defensive end Joshua Lenz, middle linebacker Reiss Flunder, and the two receivers — Chewy Thomas and Carter Kettyle.
The head coach added that the Bears' commitment to the university and the team is "incredible."
"I got a lot of respect for how much time and effort these guys put into what they're doing. You can really tell [from] the work they put in, just by how good a shape they're in, and how they're getting around here."