Arts & Culture
Campus & City
Theatre Review: Freewill Shakespeare Festival's 'A Midsummer Night's Dream'
For their grand return to Hawrelak Park, The Freewill Shakespeare Festival presents their fourth production of A Midsummer Night's Dream.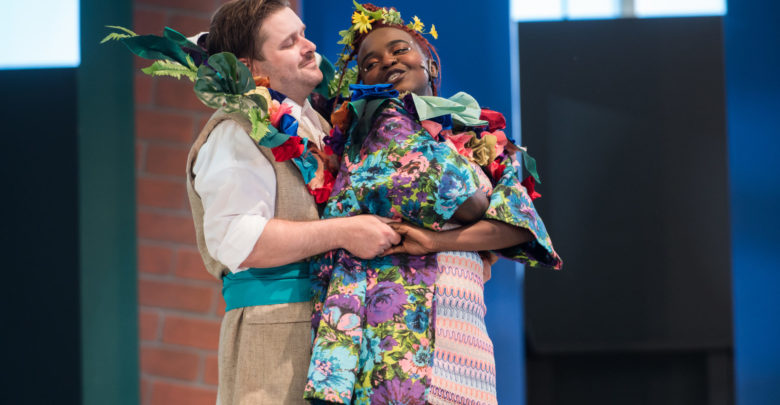 Founded over 33 years ago by University of Alberta Bachelor of Fine Arts acting graduates, the Freewill Shakespeare Festival is a not-for-profit theatre company that hosts outdoor Shakespeare festivals annually.
This year, to mark the company's return to outdoor festivals, the festival is presenting Shakespeare's A Midsummer Night's Dream for the fourth time, alongside Shakespeare's Measure for Measure for the first time, in Hawrelak Park. 
An audience favourite and one of Shakespeare's most beloved plays, A Midsummer Night's Dream is a comedy that follows four Athenian lovers who find themselves bewitched by the Faerie King's jester, Puck, when they're caught in the crossfires of a rift between the Faerie King and Queen.
As someone whose favourite Shakespeare play is A Midsummer Night's Dream, I was understandably disappointed to see that the downpour on June 14 was unrelenting come the 8 p.m. show. Fortunately, the festival is equipped to perform, rain or shine, with its stage and audience seating under the Heritage Amphitheatre tent.
That being said, apart from the constant pitter-patter, you would never have been able to tell it was storming outside. The cast performed with as much fervour as you would expect they would in the sun.
The play was charming and funny, with wonderfully-sung musical numbers and lightning-fast costume changes. Although performed in old English, Artistic Director David Horak expertly makes Shakespeare more accessible and digestible to a modern audience through creative staging, affordable pricing, and heavily leaning into the joy and ridiculousness that is human nature when tangled in love.
However, with mismatched costumes and a few eyebrow-raising props (water guns for swords?), Alison Yanota, set and costume designer, did not always convince me of the dreaminess that has always enchanted me about A Midsummer Night's Dream.
The cast was bigger than the stage as they engaged their audience from behind the stage and weaved themselves throughout the crowd. I'd be doing a disservice to not shout out the incredible actors and actresses who made the show what it was.
Although A Midsummer Night's Dream has no official protagonist or central character, it's easy to hand the title to Puck (Meegan Sweet). The U of A acting graduate was a standout as the mischievous Puck. Armed with Yanota's fabulous choices of a vape and bag of popcorn, Sweet expertly steered the play's plot and elevated the faerie beyond paper with their charm.
Ruth Alexander was effortlessly hilarious and personable as the overdramatic and overconfident Nicky Bottom, captivating and thrilling the audience with wild displays of Bottom's ridiculousness. The impassioned Hermia was done justice with Kijo Eunice Gatama fully embodying and displaying the strength, autonomy, and lovesickness that Hermia has been praised for centuries for. Brett Dahl shone as a gender-bent, lovesick Helena. Dahl's wide emotional range explored Helena's journey of heartbreak and jealousy wonderfully. Additionally, Nadien Chu (Hippolyta/Titania) and Ian Leung (Theseus/Oberon) were magnetic as royalty.
The production was enhanced by the energy of the cast  — who were never shy to execute exaggerated gestures and facial expressions in order to send the audience into peals of laughter — and directing of the crew, giving the timeless and delightfully hilarious comedy its due diligence. 
The Freewill Shakespeare Festival will be taking place from June 14 to July 10 (with A Midsummer Night's Dream presented on all even dates and most matinées). You do not want to miss A Midsummer Night's Dream!