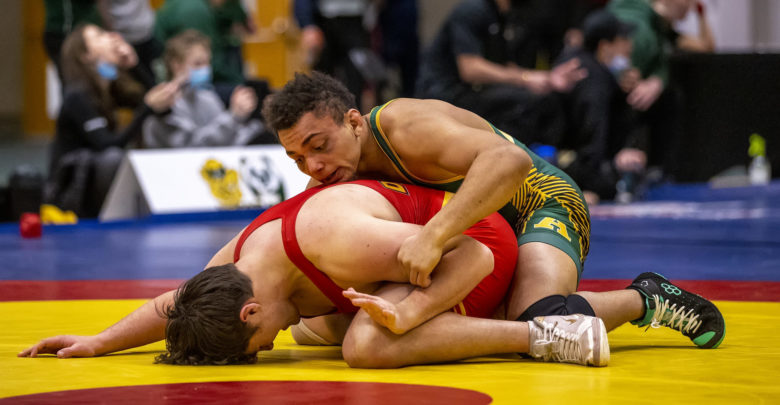 The Golden Bears and Pandas wrestling teams had a successful 2021 – 22 season. The teams won the men's and women's Canada West championships. The U Sports national championship was cancelled. 
The Pandas claimed their fifth Canada West title, as the Bears claimed their 13th title. Thirteen titles is the highest amount of Canada West titles claimed by any school. 
Both Bears and Pandas wrestling teams achieved significant accomplishments. Haley Heffel was named Female Wrestler of the Year, Taylor McPherson was named Female Student-Athlete of the Year, Isaiah Springer was named Male Wrestler of the Year and Male Student-Athlete of the Year, and Ben Reid was named Male Rookie of the Year.
Owen Dawkins, head coach of the wrestling team, said the 2021 – 22 season was successful for the Bears and Pandas, and added that the whole of the team's roster was strong.
"By the time we came to the end of the season, we'd achieved most, if not all of our goals that we expect as a program," he said. "There were some outstanding performances … [and in] every weight class we either had a silver or gold [medal] so that was a pretty amazing accomplishment for us."
This season the U Sports national championship was cancelled due to the COVID-19 pandemic. Dawkins felt both the Bears and Pandas had a "good shot" of winning national titles.
Haley Heffel will be the only graduating athlete on the Pandas team. The Bears will retain all of their athletes. Going into the 2022 – 23 season, Dawkins is hopeful the team will continue to build off of last season's success.
"I think we are poised again, to win both [Canada West and national titles]."
Dawkins noted that the team's success is due to the overall contribution of the athletes and coaching staff.
"It's the kids that do the work; I put together the plan, but they're the ones that trust me and do the work and trust in our system," he said. "I have a great supporting staff with my assistant coaches, so that definitely is a joint effort."