Campus Life
News
Ukrainian President speaks with U of A and Canadian post-secondary students across the country
Zelenskyy addressed Canadian post-secondary students and answered questions from students in a question period that followed.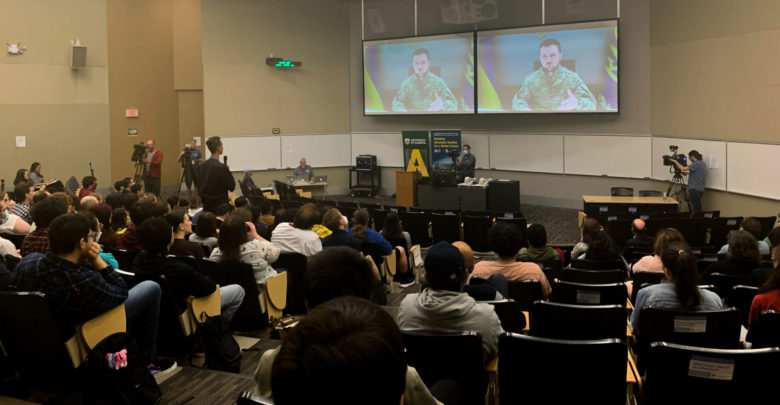 On the morning of June 22 at the Telus Centre, University of Alberta students gathered to hear Volodymyr Zelenskyy, president of Ukraine, speak with post-secondary students across Canada through a virtual video call. The event also included a question period which allowed for students to ask Zelenskyy questions.
The event was hosted by the Embassy of Ukraine and the University of Toronto's Munk School of Global Affairs and Public Policy.
Meric Gertler, the University of Toronto president, started the event with a land acknowledgement.
Chrystia Freeland, Canada's deputy prime minister and minister of finance, stated that Canada has committed $1.87 billion in financial assistance, and $1.5 billion has already been delivered to Ukraine. "That is more than any other country has managed to send into the bank accounts of the government of Ukraine," said Freeland.
Freeland added that the people of Ukraine have taught us that "democracy is worth fighting for."
"Ukraine is our teacher, and we the rest of the world, are Ukraine's students — the world's democracies are certainly [students]," Freeland said. 
Freeland introduced Zelenskyy, who spoke through a translator.
The Ukrainian president reviewed the events that led up to the war, and the events of the war itself. Zelenskyy said that Ukraine is ready to surprise the world, comparing it to the 2019 Toronto Raptors win at the National Basketball Association (NBA) championship. 
"This is when you win [and] no one is expecting you to win, by bringing together and uniting, you do things that seem to be impossible," he said. "We shall prevail against all the odds for the free and democratic future." 
Zelenskyy thanked Canada for its support and the opportunity to speak with students.
During the question period, Faith Moghaddami, a University of Calgary student, asked Zelenskyy how the internet has changed the way the world perceives the war in Ukraine. Zelenskyy answered that social media is an opportunity to share the truth.
"In our case it is almost like a weapon, showing the world what is going on in Ukraine. It means freedom, freedom of press, freedom of speech, freedom of thought," he said. "Information, the word, sometimes can give a bigger blow than some types of weapons."
Quinn Rozwadowski, a University of Saskatchewan student, asked how to convince others that the idea of democracy is worth fighting for. Zelenskyy answered that the world should respond to the aggressor in the same manner as if it was in their own country. 
"What Ukraine is protecting, should mean to everyone that it can come to any soil. I don't wish this to come to Canada, but that is a possibility if you allow [the war in Ukraine]."
River Hoffos, vice-president of the U of A Ukrainian Students' Society and vice-president (west) of the Ukrainian Canadian Students' Union, asked what Canadian and Ukrainian students in Canada can ask their political representatives to do to support Ukraine. 
Zelenskyy answered that Ukraine is in need of weapons, financial support, and sanction pressure.
"It is important that yourselves, students from many other countries, would pass on this message to their respective countries to pressure their political management to give Ukraine what it needs."
The president asked students not to forget about the war in Ukraine. 
"Please don't become tired because of the [war in Ukraine]. This [support] is something that we need you for."
Zelenskyy's address was followed by a discussion with the Canadian Institute of Ukrainian Studies (CIUS) and the Disrupted Ukrainian Scholars and Students' Initiative (DUSS) for those in attendance at the Telus Centre.
Oliver Rossier, a senior officer at the faculty of arts, started the discussion with a land acknowledgement and introduced Oleksandr Danyleiko, Consul General of Ukraine in Edmonton. Danyleiko said that he is very grateful to Canada for its strong and continuous support.
"We feel this support from your heart, we feel not only material support but this kind of spiritual support from Canadian people, from Canadian friends, it's also very important for us," Danyleiko said.
Christian Fotang, vice-president (external) of the U of A Students' Union, added that there are resources on campus for students who are anxious or nervous because of these issues. "I understand the mental burden that these issues can cause, [there] are resources on campus like the Peer Support Center, as well as other financial resources that you can access," Fotang said.
Natalia Khanenko-Friesen, director of CIUS, said that CIUS offers a seminar series that students can attend to learn more about the conflict in Ukraine.
Alla Nedashivska, chair of modern languages and cultural studies and co-leader of the DUSS initiative, introduced the DUSS initiative which aims to provide support to incoming graduate students from Ukraine.
DUSS has reallocated and raised over $600,000 to support Ukrainian scholars and students. Nedashivska said that they continue to raise funds with support from Ukrainian community organizations.
"Our goals are to provide support, and secure educational and research wellbeing for our newly accepted graduate students from Ukraine and disrupted Ukrainian scholars."