Campus Life
News
U of A business student named 2022 HSBC Women's Entrepreneurial Leader
Gardner was recognized for her success and inspiration of the community through entrepreneurial leadership.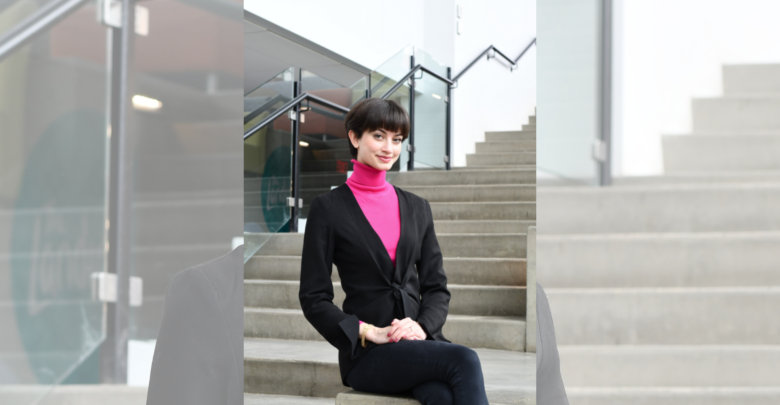 Samantha Gardner, a fourth-year business student, was named 2022 HSBC Entrepreneurial Leader of the Year.
The HSBC Entrepreneurial Leader of the Year is awarded by Canada's largest student leadership development organization, Enactus Canada, and program partner HSBC Bank Canada. Enactus Canada is a group that helps post-secondary students learn entrepreneurial spirit and develop leadership skills. Gardner was the vice-president (marketing) for the Enactus team at the University of Alberta.
The HSBC Women's Entrepreneurial Leadership Award is designed to recognize women in university or college for their success and inspiration of peers, community, and country through entrepreneurial leadership.
Gardner said she felt imposter syndrome when she received the award, but excited to be recognized for her accomplishments.
"A lot of the work I've been doing is just alongside of school and jobs, and so it didn't really feel like work," she said, adding that the work was like passion projects.
"[The recognition] motivates me to just keep going and working on these projects. It was really special, and I'm really grateful."
Gardner has co-founded Sunshine Connected and markets a certificate in Entrepreneurship and Innovation for the Alberta School of Business. Through Female Leaders | Curated Apprentices (FLIK), an organization that supports women in business, she has also had the opportunity to receive mentorship from Heal Mary and One Stop Therapy.
Sunshine Connected is a non-profit organization that increases learning and creates relationship building opportunities for older adults. The organization runs three programs: Sunshine Letters, Teach n' Trade, and workshops.
The Sunshine Letters system pairs students and older adults together to receive and write letters. The workshops include intergenerational topics that create a space for older adults to interact with students. The Teach n' Trade program is in a research phase that pushes a mutually beneficial relationship between older adults and students to share and learn new skills.
Sunshine Connected started when the organization noticed isolation among older adults.
"[Sunshine Connected] started during the pandemic, when we saw how isolated older adults were just based on everything going on, and then also how students didn't really get as much interaction with older adults."
Outside of the University of Alberta, Gardner has experience in innovation programs that she used to market the interdisciplinary Certificate in Innovation and Entrepreneurship. The certificate encourages entrepreneurship and thinking outside of the box.
FLIK introduced Gardner to startups, entrepreneurship, and entrepreneurs who are women, providing opportunities to do an apprenticeship with a company for three months. Gardner did two apprenticeships with Heal Mary and One Stop Therapy.
Gardner also co-founded a U of A club, Women in Leadership, that provides a space for events, mentorship, and opportunities for women on campus to learn from women who are leaders in their field. The club is interdisciplinary with a team of students from the faculties of business, arts, sciences, and agriculture.
Gardner emphasized that a lot of her work involves contributions from others, making her work a collaborative process.
"I really want to stress [that] every time I talk about these things, that it's not just me. I think that's really important, because a lot of the work that I do is so collaborative," she said. "Maybe in some cases, I'm the face of it, but it's really the co-founders that actually started it with me."
Gardner said she encourages students to get involved and explore more than what their classes offer.
"I think I learned that [lesson] a bit late in my degree, and then just kind of went like full force into it. But for the first two years, I wasn't involved in anything. I think I would just encourage students to get involved earlier."