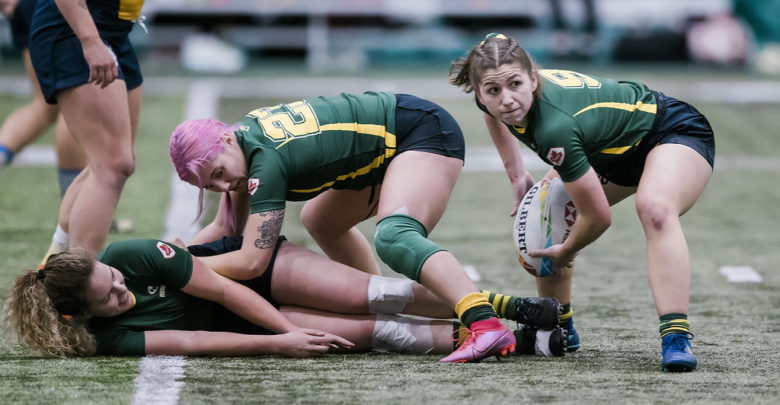 The University of Alberta Pandas rugby team failed to win a game during the Rugby 15s season. The Pandas improved in their Rugby 7s season to place third overall.
The Pandas played their Rugby 15s season in the fall where they failed to capture a win in a competitive Canada West conference. The team played their Rugby 7s season in the winter, and a fourth-place finish at the Victoria 7s tournament had the Pandas finish third overall.
Matthew Parrish, head coach for the Pandas Rugby team, was disappointed with the Rugby 15s season and happy to see the improved results in the Rugby 7s season.
"From an outside perspective, I would say we were all pretty disappointed with our results in the fall," he said. "[But,] we had a really good [Rugby 7s] season, both results-wise and outcomes within our training groups as well."
Parrish said that the team struggled with the return to play from the COVID-19 pandemic.
"I think … we didn't come out of [COVID-19] well, we'll put it that way. I think we had some struggles that either myself [or] the coaching group didn't foresee."
Parrish added that the Rugby 7s improvement was because the Pandas were more suited to 7s rather than 15s. A notable difference between the two styles is that rugby 7s are played with seven players in seven-minute halves instead of 15 players in 40-minute halves.
"We don't have as many big girls in comparison to some of the programs, and we struggled with that a bit in the fall," he said. "7s is a much more speed[y] technical sport, where the size helps but it's not as critical, so I think that was one of the reasons why we did better."
Going into the next season, the team will retain a core group of Pandas and Parrish is expecting the incoming rookie group to improve.
In the past two years, there has been no high school rugby. Parrish has said that because of this, it has been "pretty tough to recruit."
In the 2022 – 23 season, the U of A will host the Canada West Rugby 15s Championship at Foote Field. This will guarantee the Pandas a spot in the final four.
Parrish noted that the Canada West conference is very competitive compared to others. The conference has seen all five teams winning over the years, rather than one or two teams dominating the conference.
"I can see that sort of tide with certain teams, I think we're sort of definitely on the up, [whereas a] couple of teams might be on that downward cycle a little bit."