Arts & Culture
Campus & City
A fresh restart with old roots with Omar Mouallem
Following the release of his book, Mouallem has been working on a feature-length film.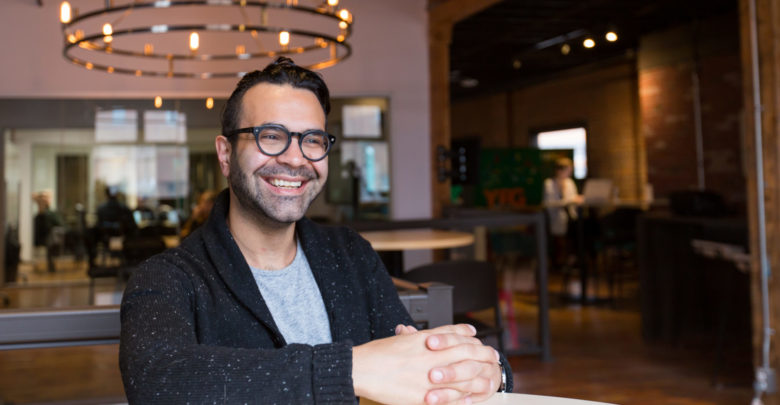 This is the third article in a four-part series about Edmonton's 2022 LGAAA Emerging Artist Award recipients.
With a new book released and a feature-length film on the way, Omar Mouallem is the definition of a creative jack-of-all-trades, but he's certainly not a master of none.
Mouallem began his journey as a journalist, but has since branched out to be a writer, editor, filmmaker, educator, commentator, and is even a small-business owner. Describing himself as a "nonfiction storyteller," Mouallem is invested in telling stories about Arab people, especially from the Lebanese community.
His book, Praying to the West: How Muslims Shaped the Americas, was released in September of 2021. The book highlights the diversity of Islam through documentation of his journey visiting mosques across the Americas.
The book has been well received, which Mouallem "couldn't be happier with" on a large scale, but it has also changed lives on an individual level as well.
Mouallem described a situation at a festival in Brampton, Ontario where he read from and spoke about the book, when a woman came up to him. She told him that although she had a negative view of Muslim people, she had attended the festival with a friend and was becoming more aware of her biases and "listening to [him] put that into view." To challenge her pre-conceived ideas about Islam and Muslim people, she was going to read Mouallem's book, which he said was a "complete surprise," but moving.
"It was one of those moments that you hope you experience as an author, but you probably won't, where the exact person you wrote [the book] for — you actually meet them," Mouallem said. "I have this very specific idea of the kind of person I wanted to reach with this book. And it was not necessarily the kind of person who normally would read my book, but you still write it for them anyway, maybe just out of idealism."
"I was just so moved by it — by that moment, that [my book] would actually find one of those readers. That moment will stick with me, I think, for the rest of my life."
By connecting his work with his Lebanese heritage, Mouallem has reached a community of people who aren't necessarily Arab or Muslim. These communities may not directly relate with the work that Mouallem creates, but he notes that they have validated a belief that he has hoped for — that relatability isn't an end-all-be-all for storytelling.
"We sometimes over-emphasize relatability in storytelling: the characters, the world, all of it has to be relatable. I think there's some truth to that," he said. "But at the same time, I think that there is more of a hunger just for people to feel enlightened, [regardless of] whether or not they can relate to the people that are core to the story."
Mouallem is also hoping to extend his audience to an international scale. Part of this plan includes expanding his documentary, The Last Baron, into a feature-length film under the new title, The Lebanese Burger Mafia. In the new, longer version of the film, extra time is spent talking about Mouallem's own story, and the story of his family's restaurants.
"I think [the film is] still very funny, but it's a lot more sobering … which is ironic because it has a very punchy, funny title," Mouallem said. "[The film] talks about the pressures of being the eldest son in a Arab family, having the burden of the family restaurants, and whether or not you have much of a choice to take it on, and continue to family legacy or go pursue your own thing."
"It was always kind of a question of whether [my older brother] had much of a choice in taking over the restaurant. And whether he had any bitterness, or unresolved feelings about the fact that I was free to go pursue my own thing and my creative pursuits, while he was left with the burden of the restaurant."
Even though Mouallem received the Lieutenant Governor of Alberta Art Awards (LGAAA) Emerging Artist Award, he feels it's "kind of a funny award," because he had previously received an emerging artist award almost a decade ago from the City of Edmonton. His work has changed significantly from then and now, focusing on filmmaking compared to creative journalism in the past.
"What I'm doing now often feels so different from how I built myself up as an artist," he said. "It feels like I'm back to the start, but the start of a completely new chapter. And this is a nice validation of that restart."