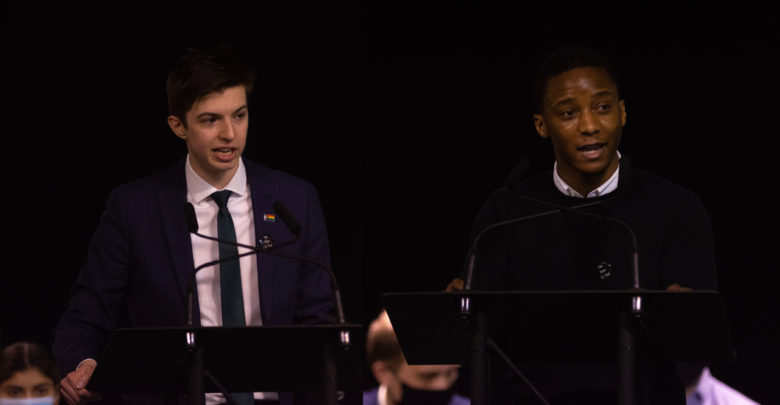 The vice-president (external) (VPX) race in the 2022 University of Alberta Students' Union election has been turbulent to say the least. With one incumbent fighting to keep his position, and a newcomer vying for the job, the VPX race was bound to be eventful. Both Chris Beasley and Christian Fotang have made pointed remarks to each other throughout the different forums.
However, the Myer Horowitz forum marked a transition for the two candidates. Not only were they respectful to each other, but there was some friendly banter throughout the forum.
From the beginning, their platforms have been very similar. There is little difference between the advocacy that either candidate wants to achieve. Both have dedicated much of their forums and platforms to addressing sexual violence on campus, seeking funding for mental health resources, and advocating for more affordable housing.
Additionally, the way they conduct themselves in the forums has been mirrored. Both Beasley and Fotang have been brutal to each other in their questions, introductions, and answers, despite them each raising multiple times that they consider one another a close colleague and friend.
In a race that has been defined by its similarity, Beasley and Fotang have had to fight tooth and nail to identify their differences.
Much of their contention stems from their differences on how to advocate. While Beasley favours student-lead protests, Fotang greatly prefers collaboration and lobbying with stakeholders. In fact, that's what his primary focus has been, both throughout his term and campaign. Repeatedly, Fotang has disclosed that he will continue to do what he has already done during his role as VPX. To Beasley, this isn't enough.
During their election feud, Beasley has been quite pointed. During the Campus Saint-Jean forum (CSJ), Fotang discussed all the work he did as VPX, and that if he is re-elected, he will continue that work. Beasley, in response, was less than impressed. In the candidate Q&A period, Beasley asked Fotang "why haven't you done it already?" Later on, Fotang asked Beasley how he will encourage communications with stakeholders. To the crowd, Beasley said that he would be more prepared than Fotang.
Fotang, for his part, is just as deliberate in his responses. During the Aboriginal Student Council (ASC) forum, Fotang asked Beasley what other advocacy he would do, since protests don't always work. Beasley said in his response that he "rejects the premise that protesting does nothing." Fotang's rebuttal was witty and ruthless, saying that while protesting can often help bring awareness to issues on campus, just waiting around does nothing. 
Even though the comments seem harsh, none of them are without merit. Both Beasley and Fotang have solid points. Although what they say could be construed as mean, it's never a direct attack on the person themselves.
However, the Myer Horowitz forum showed a change of tune for both candidates. Throughout the forum, both candidates seemed to build their points off of each other. In a response to an audience question, Fotang mentioned what Beasley had said before him, and continued his response based on Beasley's remarks. There was mutual respect between the prospective candidates that was much more apparent than previous forums. In his introductory remarks, Fotang even apologized to Beasley for hate he had reportedly been getting online while running for the elections.
The Myer Horowitz forum showed immense growth between the candidates. Not only did Beasley treat Fotang with respect, he ensured that others in the room did as well. Nearing the end of the forum, only the VPX race was left for candidate Q&A. The mediator announced, with only minutes before the end of the forum, that Beasley would ask the last question. When it was his turn to go up to the podium, Beasley asked the mediator if Fotang could also have the opportunity to ask a question. For anyone present at all three forums, this was a pleasant surprise.
The VPX race this election will be a close-call. Both Beasley and Fotang are over-qualified for the position, and could do a great job advocating for students. In the end, Beasley and Fotang performed exceptionally well in the Myer Horowitz forum. Both were well-spoken, respectful, and concise.
However, Beasley has shown this expertise about his opponent's platform throughout the forums. Even though both candidates have both shared sassy remarks with one another, Beasley always responds with tact. His responses never stray from the point, and he doesn't repeat the same sentiment over and over again. Fotang, on the other hand, repeats the same tired notion of continuing the work he started. In the end, Beasley has more thoughtful responses, and even his pointed remarks are more directly tied to Fotang's campaign and past interviews.
As we near the end of the election, both candidates have shown a new demeanour that makes the race even closer than it was before.