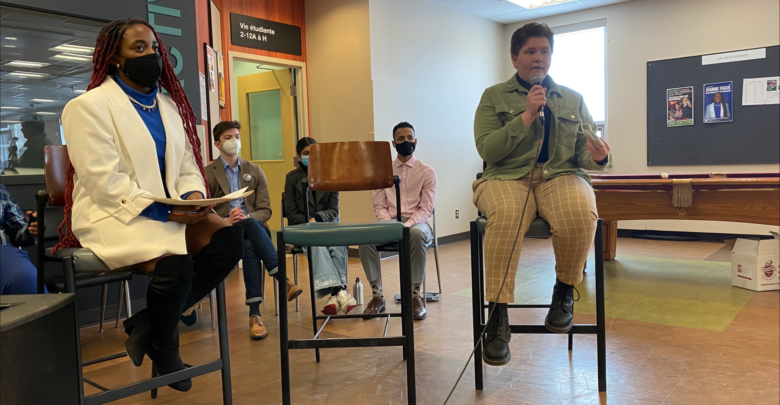 This article expresses opinions based on the Campus Saint-Jean Forum of the Students' Union 2022 Election on March 2, 2022.
In the Campus Saint-Jean Students' Union election forum, the vice-president (student life) candidates Joannie Fogue and Rowan Morris presented their initial ideas on campus policies, especially regarding Campus Saint-Jean (CSJ). 
Both Fogue and Morris are strong candidates, bringing their own passions into their platform to solve a few current issues at the University of Alberta. Rather than focus on the traditional VPSL portfolio, they each focused on their respective causes, which was refreshing to see but left me wanting to hear more about the other aspects of their platforms.
Fogue, a CSJ student herself, primarily focused on making CSJ a priority with the University of Alberta Students' Union (UASU) and making deeper connections between CSJ and North Campus. Anti-racism, CSJ safety, and integration of French on all campuses are also priorities for Fogue. Additionally, Fogue expressed that she wants the UASU to consult with CSJ to ensure they are included in the decisions made on U of A issues.
Morris, a non-binary queer person, has built a platform revolving heavily around the queer community, primarily ensuring that all campuses have gender-neutral bathrooms for the U of A's trans and non-binary members. Additionally, they discussed expanding The Landing to CSJ and Augustana, as well as implementing anti-bias education in all instructors across the U of A's campuses. When asked about CSJ specific issues, Morris expressed that they hope to be able to repair buildings on CSJ and prevent centralization of student services to North Campus, keeping CSJ's resources on their campus.
The forum was not free of critiques of the candidates either; Morris criticized Fogue for not having new ideas and simply building her platform around extending the work she is already doing. Fogue critiqued Morris on not including CSJ in their platform besides advocating for a gender-neutral washroom on campus — something Fogue said is already completed — and not accurately understanding the needs of CSJ students.
Though Fogue spoke French throughout the forum, Morris, not fluent in French, exclusively spoke English. Morris is not necessarily at fault for being unable to speak French at the forum — the lack of French on their platform further highlights the concerns CSJ students have regarding not being included in North Campus culture. Fogue's platform page addresses this issue by being in both languages.
While CSJ is obviously very important to Fogue, and The Landing is very important to Morris, these two passions controlled the discussion at CSJ's forum. Almost every answer given by the candidates was strongly related back to the candidate's respective passion. Fortunately, in this forum it was relevant.
As the forum took place at and revolved around CSJ issues, Fogue's preoccupation with her home campus was understandable and expected. Additionally, with the centralization movement happening at the U of A, Morris discussing keeping mental health supports and adding queer supports at CSJ was very relevant. However, it will be interesting to see if these themes will continue to come up as strongly in future forums.
Though these are pertinent issues on all U of A campuses, there are many other problems at the U of A. Focusing exclusively on the lack of inclusion of francophone students on North Campus as well as the lack of resources for queer students could inhibit Fogue and Morris from talking about other important issues or engaging with one another in future forums.
Topics like mental health supports, planning events and addressing issues in residences are all part of the VPSL portfolio. While some of these issues were touched on, I'd love to see an in-depth discussion on each of these issues. Fogue and Morris' passion for their respective issues was really great to see but their focus made it seem like they were talking past one another at times, rather than being in conversation with each other.
Fogue's and Morris' platforms are more complex than what was expressed at the CSJ forum and I look forward to hearing how they plan to address different issues at future forums.