News
Students' Union
SU Elections 2022 Q&A: Vice-President (Student Life)
There are two candidates in the 2022 Students' Union vice-president (student life) race, Rowan Morris and Joannie Fogue.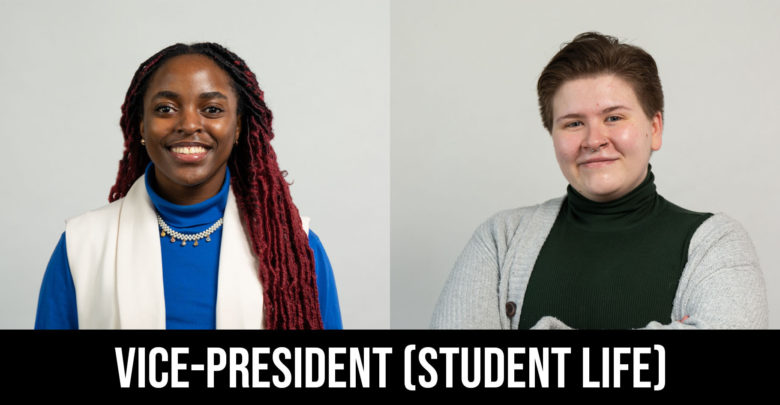 The Students' Union vice-president (student life) conducts advocacy for non-academic undergraduate issues. The vice-president (student life) is also the executive responsible for much of the programming and events put on by the Students' Union. The vice-president (student life) conducts close work with Residence Services, and is responsible for organizing internal mental health initiatives.
There are two candidates in the 2022 Students' Union vice-president (student life) race:
Joannie Fogue, third year political science student and current Association des Universitaires de la Faculté Saint-Jean (AUFSJ) president.
Rowan Morris, third year elementary education student and current Students' Union education councillor.
The following interviews have been edited for brevity and clarity.
---
In 1 minute or less, can you tell us why you are running for the position of Students' Union vice-president (student life)?
Joannie Fogue: There are two main reasons why I'm running. Sexual violence is something that is an issue on our campuses and I'm actually a survivor. This is something that occurred to me, unfortunately, and I felt like I wasn't represented. The University of Alberta Students' Union (UASU) has done so much advocacy on this work with the joint letter that has been provided to the university. We've received some huge wings, although there's still so much more to do. A lot of this is improving training and making sure that our student body is educated. I want to advance that.
The second thing [is that] I'm a Campus Saint-Jean (CSJ) student — I know what it feels like to be let down by the UASU — not feel represented, and if I feel that way many other students on campus do too. I want to make sure to advocate for the students and make sure that our advocacy starts with student life and that everyone is represented.
Rowan Morris: I have spent a lot of my life having to be an underdog or having to be in a position where I'm paving the way for other people — whether it be because I'm experiencing a specific marginalization or an intersection of my identity is preventing me from success. I'm a very spiteful person, so I'm often driven to make sure that nobody else has to deal with the problems that I've had to deal with.
In the last year I came out as non-binary and that's resulted in a whole new level of challenges. But this spiteful part of me that I've had my entire life is still very much alive and well. I've been able to listen to a lot of the challenges that other students are facing and I don't want anyone else to have to go through the challenges our current student body is going through right now. I would like to do anything in my power to change that and what seems like the most logical option is to run for vice-president (student life).
Can you briefly and concisely describe your platform?
Fogue: There are five main points that you can find on my platform. The first one is campus sexual violence. The first section in this is making sure that the campus sexual violence training that is offered to residence assistants is going to be implemented and improved. The second area of this is awareness and education. I'm going to be able to work on the speaker series and make sure that we are launching the campus-wide sexual violence prevention campaign on campus. I want to make the campus sexual violence training mandatory for all students.
The second point of my platform is making sure that we are improving life in residences. I will make sure to work with the resident associations and help them throughout all their advocacy and training. I will be the first vice-president (student life) in five years that will actually be able to revolutionize the meal plan — I will be the one who will be able to make sure that it's affordable and inclusive to all dietary restrictions.
My third point is everything Equity, Diversity, and Inclusivity (EDI). We're talking about accessibility for students who parent, making sure we're extending the pronoun campaigns, and also being able to respect students' names. The second part of this is making sure that I'm also working on an anti-racism campaign which will be able to educate our student body, as well as build community. Another part of this is making sure that the university is recognizing all religious holidays in their academic calendar.
The next point is supporting huge advocacy initiatives on our campuses. Three ways of going about this is [one] making sure that we're supporting and standing with Indigenous students. I will be able to host a summit where we will invite elders, student leaders and seeing how we can advance truth and reconciliation. My second point in this is making sure we're supporting students from Augustana and La Centrale, making sure I'm working with AUFSJ and the Augustana Students' Association (ASA) and advancing their advocacy.
Morris: My platform is based on this concept that I call 3DI. It's broken down into three sections. The first is equity, diversity, and inclusion. The second is a brief synopsis of my experience, dedication, and initiative to prove that I can succeed in the role and, the third is to emphasize the decolonizing and Indigenous-izing our campus. With these three things in mind, some of the projects that I want to work on are creating a cohesive and inclusive campus culture, so we can be proud of being the University of Alberta students, making sure that there are gender neutral washrooms in every single building and, finally, getting the shovels into the ground from Maskwa House.
With reduced COVID-19 restrictions from the university and from the provincial government, some U of A students have expressed concern about safety on campus. How will you advocate for the safety of students on campus, and specifically for students living in residence?
Fogue: Students who live in residences need our advocacy more than ever. Often times, restrictions are not implemented or enforced enough and we need to fight for them. I will work with Council of Residence Associations (CORA) members and make sure that we can build an advocacy plan to ensure the needs of students. I will extend this advocacy and make sure that I am doing it through conversations and consultations with big stakeholders and I need to make sure that we're including CSJ and Augustana in these conversations.
Last year when we were doing advocacy, a lot of the times both campuses were let down and, especially with Augustana, we need to make sure when we're looking at regulations and restrictions that [we are] respecting and aligning with what Camrose is saying because they do not live in the jurisdiction of Edmonton.
Morris: An interesting thing about this that I currently work as the EDI intern for Residence Services. I've actually been seeing what I can do to advocate for this as much as humanly possible. I've been very consistent that we need to continue to have mask use in our residences and, currently our residences are at capacity. Everybody in there right now is fully vaccinated; nobody else will be moving in and, with that, I've advocated that we continue the Isolation Accommodation Program and I've been very close to see how we can make that as accessible as possible by introducing gender-neutral isolation washrooms and ensuring that we are meeting all dietary restrictions and having preferred names on food bags other than legal names.
I have a congenital heart defect, so getting COVID-19 would be very devastating. Outside of advocacy I'm a drag king and I would definitely lose that part of my life if I got COVID-19, so I want continue to advocate for mask use on campus. I've been doing that through council but also just raising awareness that removing all restrictions because only a small group of people will be detrimentally impacted is an extremely ableist decision and I want to make sure that I can do some disability justice work surrounding that.
Currently I'm advocating for it and in the future I hope to continue to advocate to potentially expand the Isolation Accommodation Program to people who live outside the residence as well in the event that they are in a shared housing situation or anything like that were they're not able to effectively and safely isolate.
Switching between online learning and on-campus learning has been tough for students and many have shared that their mental health is deteriorating. If this switching continues, how would you work to support the mental health of students?
Fogue: This is a very, very, important question. We have so much uncertainty now in our universities and this is just simply not okay for many students. I need to work with the UASU and the university administration on how we can implement some sort of emergency mental health plan, to make sure that in times of COVID-19 we know and have a plan to work with students to provide them with mental health resources. We already do have a lot of these mental health resources on campus, although students don't know about them.
We need to not expect [students] to go and find resources for their own but bring it to them and make sure that they know about them. One way to do this is making sure that students know about Empower Me. Next step is making sure that I'm continuing to do advocacy and making sure that our therapists, the Peer Support Centre, are going to the classrooms and talking to students so that they know that they're supported by their UASU. I want to make sure that we can work with residence services to increase the number of check-ins that residents' assistants are doing with their residents.
Morris: This is actually a very large part of my platform. I think the university for far too long has put too much weight on counselling and clinical services and has created this monopoly on mental health resources where the only things that are presented for students are things that have extremely long wait lists and often make students feel as though their struggles are invalid.
As part of my platform, I want to incorporate some broader recommendations from campus but also to see how we can improve the health and dental plan to have more comprehensive mental health coverage. Right now, there aren't a lot of very quick and easy solutions.
These are the things that are going to take an extremely long time, but I think our student body is faced with very hypocritical responses as students are being told "go to the gym, it helps with your mental health in the meantime," but all of our fitness centres aren't widely inclusive environments and people don't feel safe going. They're being told to go to The Landing which is overrun; there's too many people going because all of our care teams are inept to deal with LGBTQ2S issues. They're being told to go to the First Peoples' House if they're Indigenous, but that's all of our Indigenous students are being told to go there. We really need to broaden students' horizons when it comes to what resources are out there, including introducing them to sliding scale services in the city and much more.
Both with the U of A's hired sexual response coordinator and more generally, what action will you take to actively address the systemic issue of sexual violence on campus?
Fogue: [I will be] working with the newly hired sexual violence prevention coordinator to make sure that their advocacy and their work aligns with the students' needs and interests. To do this, one thing to note is that universities have been mandated to renew their sexual violence policies by November. I would be the vice-president (student life) who will have to work with them actively to connect them with students to make sure that, when we are working on these policies, they speak and represent the needs of diverse students on our campuses, not limited to but inclusive of LGBTQ2S students, Indigenous students, international students and making sure that we're extending it to Black, Indigenous, and people of colour (BIPOC), etc.
Changes I want to see in these policies is making sure that we're having more protection for student athletes, more protection for students, and will integrate learning programs and make sure it represents our student body.
Morris: This is a big one for me. I grew up in Antigonish, Nova Scotia where St. Francis Xavier University is, and sexual violence on that campus is extreme and public and receives very little justice. I spent a lot of my life thinking about this reality on campuses and my brain is kind of programmed to think not if this happens, but when this happens to me or my friends or somebody that I love. What I would like to do is to create more comprehensive sex education, as well as education that is culturally competent when it comes to consent.
Currently, through my work as the EDI intern with Residence Services, I oversee the international non-academic cohort leader and this is something that we've noticed being an issue in international residences. There isn't a universal understanding of what consent means and because of that, we're seeing higher levels of ignorance-based perpetration but we're not seeing any culturally competent or equitable education coming from these issues.
I've been working alongside [the cohort leader] to try to achieve a program collaboratively between the Sexual Assault Center and UAlberta International to offer in a variety of languages, as well as to contextualize it into a Canadian sense. I think that when it comes to student orientation, there should be something asynchronous that people have to complete before they're are allowed to be on campus to have this sort of base level understanding of what consent is, and then I think we can go from there, we have to start being proactive, not reactive.
As the VP Student Life is responsible for planning SU events on campus, how do you plan to keep students engaged with the campus community?
Fogue: I have various ways of addressing this issue in my platform. One of the big things is making sure that, yes, the UASU will host events — although, what are we doing to make sure that we are ensuring the success of all student groups on campus? The UASU and student groups don't have to abide by the same regulations when it comes to event approval, so I need to make sure that we're reforming the event approval procedures for student groups so that they can host the events and provide student life on campuses. I will work to make sure that this is happening so that they can ensure their success.
Now when it comes to the UASU, what I would personally do within the institution is making sure that I'm working with the International Students' Association (ISA) to officially recognize International Day. This is not something I'm going to create, but something that I'm just going to expand to make sure that the UASU is giving them the platform and the proper resources.
Morris: Working in residences has taught me a lot about planning events and what makes a good event, but also how having good, fun, lighthearted events really makes a difference in somebody's perceptions of their student life.
I would like to introduce a fall and winter carnival where people can literally just have fun. It sounds pretty juvenile in my platform compared to other things but, as an elementary education student, I've gotten to learn a lot about how we learn through fun and how getting to bond with one another is a great proactive way to respond to mental health. It prevents isolation, it prevents the severity of mental health crises. By allowing our student body to just have a weekend once a semester when they can bounce in a bouncy castle, watch a movie, play carnival games, and meet other people for free is something that I think would really make a very positive difference in folks' university experience.
COVID-19 has really taught me that being away from people sucks and has a really big impact on my mental health so I think just having more of those wide scale campus events where people can feel a bit of ownership in their university community is the way that we need to start.
Fun Question: If you could have any artist perform a concert at the U of A, who would you choose and why?
Fogue: I'm very indecisive so maybe I don't have a specific artist — but if we're looking at the genre I love, I'm an African woman, so I think bringing maybe some artist French Afro, maybe also from African countries would be really interesting. I think a lot of students would appreciate it.
Morris: I want Queen from 1981, where Freddy Mercury was in his King era. Actually I have a Freddy Mercury tattoo on my thigh. I am a very big Queen fan and I just think it would be so much fun if we could bring Freddy Mercury back to life and play a Queen show in the Quad. Personally, I'd love that.
–With files from Mitchell Pawluk.