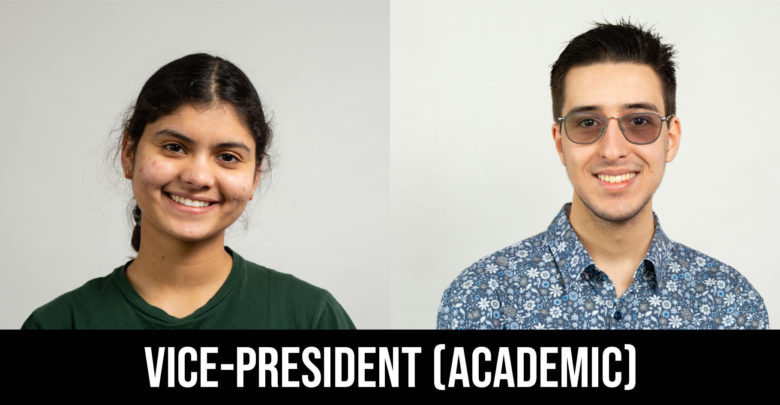 This article expresses opinions based on the Aboriginal Student Council Forum of the Students' Union 2022 Election on March 3, 2022.
In the second day of University of Alberta Students' Union (UASU) election forums, following the Aboriginal Student Council (ASC) forum, the candidates running for the vice-president (academic) (VPA) position showed differences on Indigenous issues. Although Gurleen Kaur has been verbally promising increased collaboration with Indigenous students if elected, she has failed to mention Indigenous students in the same level of detail that candidate Milan Regmi does in his platform.
After the ASC forum, Kaur released her platform on her Instagram and has been very vocal in her promises thus far at the forums in her desire to collaborate with Indigenous students. So, I was surprised to not see more promises for Indigenous students in her platform besides her land acknowledgement.
At the forum, Kaur was very passionate when discussing discrimination and stereotypes she has witnessed against Indigenous people since moving to Edmonton. Any viewer who heard Kaur speak at today's forum could hear the passion that she holds for learning and wanting to help Indigenous people and Indigenous students. So why does she lack the actionable items for how she will advocate for Indigenous students that her competitor has?
Like her opponent, Milan Regmi, Kaur mentions in her platform her plan to give ASC a seat at the Council of Faculty Associations (CoFA). Under her platform point for "Advocacy for all," Kaur also discusses her plans to coordinate with ASC and Aboriginal Relations and Reconciliation Committee (ARRC) in order to meet their recommendations for students. ARRC aims to empower Indigenous students at the U of A and amplify Indigenous voices. This is a very important aspect to Kaur's "Advocacy for all," since coordinating with ARRC and ASC is a big step to working toward Indigenous students are heard on campus.
That is all she mentions in regards to Indigenous students in her platform points.
Regmi, in comparison to Kaur, has an in-depth platform with a section completely dedicated to Indigenous students. Not only does Regmi promise to get ASC a seat in CoFA, but he also discusses ensuring Truth and Reconciliation Commission Calls to Action are met, and that Maskwa House is finally built.
During the conversation at the forum today, candidates were asked what they have done to help Indigenous students at the University of Alberta. Where Kaur discussed her experience moving from the south side of Edmonton to the north, Regmi mentioned his time volunteering for raising funds for U School. U School is a program held by the U of A for young students to inspire students from socially vulnerable, Indigenous, and rural communities in Alberta to pursue a university degree. It is an immersion program that allows young students to experience the university life for a week.
Regmi discussed how his team was able to raise $7,000. Although U School is an important program for students to explore their possibilities, $7,000 raised for U School does nothing towards providing financial aid to future Indigenous students. We are currently facing a large rise in tuition due to the provincial budget cuts. Indigenous students are significantly impacted by this, and will continue to be impacted by this. Tuition costs need to be addressed directly.
In Regmi's platform, he "aims to help cut the cost of tuition for the middle class students" he advocates for this through income-based tuition and a work-rent relief program. He asks for the top one per cent to pay more, however, we don't know specifically what this would look like for low-income students compared to the middle class. Will there be income tiers? He hasn't had the chance to clarify this at forums and, furthermore, I would like to hear how this could be applied to the socially vulnerable students that the U School is attempting to reach. Regmi has so far helped students realize their possibilities in further education, but I'd like to hear more about how he is going to help future marginalized students be able to afford their education.
That being said, Kaur does not make any promises regarding tuition for students.
Kaur has been more vocal than Regmi at the events regarding Indigenous students, however, her platform has been a slight letdown when it comes to her verbal promises she has been making towards helping Indigenous students. More importantly, however, neither VPA candidates have made promises to help Indigenous students with the tuition increases.