Institutional
News
Students' Union
Exceptional tuition increases for 2022-23 year approved by Minister of Advanced Education
The approved exceptional tuition increases will affect eight undergraduate programs and four graduate programs at the U of A.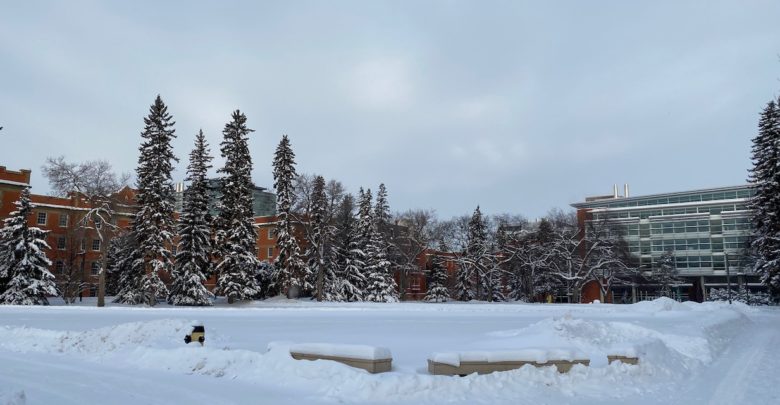 The revised set of proposed exceptional tuition increases — which will take effect for new domestic students in Fall 2022 — have been approved by the Minister of Advanced Education Demetrios Nicolaides.
The University of Alberta initially proposed tuition increases to eight undergraduate and four graduate programs to the minister of advanced education. These increases were rejected by the provincial government, which voiced a need for the university to conduct greater consultation with students. The government gave the institution until October 29 to carry out additional student consultation and resubmit a proposal. This resubmitted proposal was approved by the U of A's Board of Governors (BoG), and now has been approved by the minister of advanced education.
The approved exceptional tuition increases are as follows:
Exceptional tuition increases for undergraduate programs:
JD (law): from $11,701.48 to $15,094.84 (+$3,393.36, 29 per cent)
PharmD (pharmacy): from $11,431.68 to $16,460.80 (+$5,029.12, 44 per cent)
DDS (dentistry): from $23,109.16 to $32,352.76 (+$9,243.60, 40 per cent)
APDDS (dentistry): from $57,093.40 to $66,337.00 (+$9,243.60, 16 per cent)
BSc in engineering: from $7,309.44 to $9,099.36 (+$1,789.92, 24.5 per cent)
BComm (business): from $8,012.48 to $9,774.24 (+$1,761.76, 22 per cent)
BSc in radiation therapy: from $6,091.20 to $7,309.20 (+$1,218.00, 20 per cent)
BSc in medical laboratory science (30 credit): from $6,091.20 to $7,125.60 (+$1,034.40, 17 per cent)
Exceptional tuition increases for graduate programs:
Master in counselling psychology (thesis based): from $4,192.80 to $8,573.76 (+$4,380.96, 104.5 per cent)
Master in counselling psychology (course based): $4,286.88 to $8,573.76 (+$4,286.99, 100 per cent)
Master in business administration: from $14,380.80 to $24,624.00 (+$10,243.20, 71 per cent)
Master in engineering: from $7,345.20 to $9,033.60 (+$1,688.40, 23 per cent)
These tuition increases will be implemented for new domestic students who enroll in these programs in Fall 2022 and onwards. Current students enrolled in these programs will not be affected by these tuition increases.
U of A says exceptional tuition increases will ensure 'world-class, high quality learning' and 'research opportunities' at the institution
A statement provided by Steven Dew, U of A's provost and vice-president (academic), gave insight into anticipated benefits that will accompany exceptional tuition increases.
Exceptional tuition increases will allow the institution to provide high-quality opportunities to students, according to Dew.
"These changes will help ensure the U of A continues to provide students with world-class, high-quality learning and research opportunities; and in turn, our programs and our graduates will remain not only competitive, but also leaders in their fields," Dew's provided statement said.
Dew's statement continued to detail specific improvements that the funds from the exceptional tuition increases will be dedicated towards.
"The 2022-23 exceptional tuition increased revenues will be dedicated to improvements to program quality, through initiatives that include more experiential and work-integrated learning opportunities, support to post-secondary student access initiatives, additional financial support for underrepresented learners; and, greater quality and parity with our comparable Canadian peers," the statement said.
"There are additional funds being directed towards student financial supports within each area connected to increases. Students within these programs will benefit from these additional supports."
Advanced education minister's approval 'disappointing,' UASU president says
Rowan Ley, the president of U of A's Students' Union (UASU), said this approval "was not a surprise" and said there have been "small signals for some time" that this approval was coming.
"[The approvals being expected] doesn't make it any less disappointing, particularly when we've repeatedly explained to the minister the serious problems exceptional tuition increases will create for affordability, which have not been addressed in any meaningful way," Ley said.
He alluded to future UASU plans to deal with this approval, claiming this approval is "not the end of the conversation."
"In previous conversations I have alluded to [the UASU] having some plans to deal with this, and that remains true," Ley said. "However, I can't make any final decisions about that with three-fifths of the team on leave right now [due to current UASU elections]. Given that [UASU] elections are [concluding today] I think it'll only be fair for me to consult with the next team about anything I do that will affect their term."
"As much as the university and the government would love for this to be the end of the conversation — I don't think it is."
According to a "brain drain" survey conducted by the UASU in 2021, 33 per cent of U of A students want to leave Alberta after graduating, 51 per cent of students are facing food insecurity, and 54 per cent of LGBTQIA+ students want to leave after graduating.
When considering the number of highly educated individuals considering leaving the province upon graduation, Ley said it was reasonable for students to be leaving the province.
"I think the U of A is honestly pricing itself beyond the value of its product right now," Ley said. "Pretending that you're getting the same value of education, at the U of A right now as you get at the University of British Columbia (UBC) is unfortunately just not true."
"To be pricing ourselves in many cases higher than UBC — for a product that unfortunately is just not at a UBC level — is obviously going to lead people to go and put their money in other places, where they're going to be getting better returns."
For prospective students who would be effected by these tuition increases in the fall, Ley said it is "understandable" if these tuition increases result in them pursuing a post-secondary education elsewhere.
"I'm sorry that this has happened to them and they deserve better from their province and the university that they want to attend," he said. "While I love the U of A and I love Alberta, I think it's completely understandable if they would choose to go somewhere else and take their talents with them there at this point."