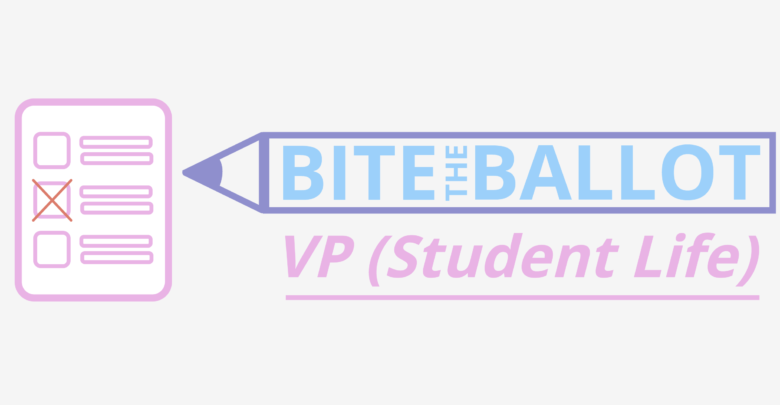 This year's vice-president (student life) (VPSL) campaign was characterized by enhanced sexual violence training, diversified student resources, and the extension of student services and campus culture to include Campus Saint-Jean (CSJ) and Augustana campuses. Both Joannie Fogue and Rowan Morris had passions that fuelled their campaigns and strengthened their respective platforms.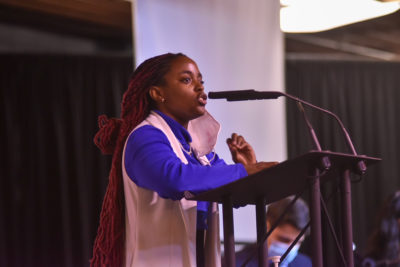 Joannie Fogue
Joannie Fogue is a third-year Faculty Saint-Jean student majoring in political science and a minor in French literature. She is the president of Association des Universitaires de la Faculté Saint-Jean (AUFSJ), already having a foot in the door when it comes to student politics.
Fogue has a comprehensive and easy-to-access platform page, though it felt impersonal during its launch. Early in the campaign, Fogue was very focused on CSJ-specific issues which had me worried that her passion for her home campus would inhibit her ability to relate to other U of A students. However, this understandably ended up only controlling her points at the CSJ forum, as she went on to present well-rounded ideas that included the rest of the U of A communities.
Another of Fogue's passions includes enhanced sexual violence training — in the Myer Horowitz forum, Fogue shared a personal anecdote about her own sexual assault, expressing that when she went to seek support, she struggled to find any that were specific to her experience as a Black woman. Because of this, Fogue's platform includes points that revitalize the current sexual violence training required in residence, as well as sexual violence training, education, and awareness across all campuses. Fogue plans to work with the new Sexual Violence Prevention Coordinator in order to achieve these goals.
Fogue's extension of support to marginalized groups doesn't end with sexual violence supports. In her platform as well as her forum discussions, she advocates for faith accommodations for students of different religions, creating an International Student's Day to celebrate the U of A's diversity, advocating for anti-racism, and consultation with minority student groups such as the International Students' Association (ISA) and the First Peoples' House.
Fogue's consultation with different associations has allowed her to have a comprehensive grasp on student life. However, as her main experience with the student body is through AUFSJ, her advocacy is very CSJ-centred. When it comes to North Campus issues, Fogue is less experienced than her competitor. While Fogue doesn't have as much hands-on experience on North Campus, she makes up for it through her consultations.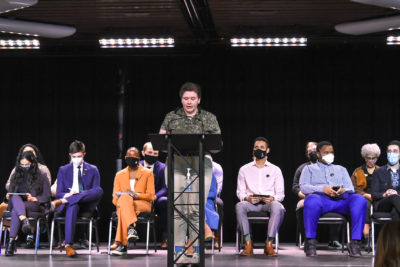 Rowan Morris
Rowan Morris is a third-year elementary education North Campus student. They have volunteered at The Landing, been the inclusion and diversity intern for residence services, and have served on Students' Council during the 2021-22 school year. They also identify as a trans, non-binary person and have a disability, which they say has helped them understand the struggles marginalized students go through at the U of A.
Morris's platform and forum appearances were largely characterized by their desire to have mental health and queer support across all campuses. As a non-binary person, they deeply understand the importance of having gender-neutral bathrooms in most, if not all, buildings at the U of A. They also want to expand The Landing to CSJ and Augustana, so that queer people across all U of A campuses have access to the supports they need. Their platform shows a deep understanding that minority groups are at a disadvantage. Therefore, they advocate for mandatory anti-bias education for instructors in order to make sure that all students feel safe in the classrooms.
Morris's work in residence proved to be an asset in the forums — they truly understood the needs of students and had witnessed many problems firsthand. The policies they implemented as an intern for residence student services proved that Morris has the ability to follow through on promises. This also allowed Morris to create a relationship with First Peoples' House, a relationship that would be valuable should they be elected and begin working on their reconciliation goals.
However, Morris's focus on their previous accomplishments has also at times seemed to come at the expense of future goals. They tended to rely on their past work and experiences in order to prove their points. They had some ideas such as rebranding recreation and fitness centres in order to enhance safety, fighting tuition increases, and overall "creating an inclusive and collective campus culture." But Morris failed to go into as much detail as Fogue when it came to their solutions for campus issues.
Who Should Win And Who Will Win?
In my ideal world, both candidates would work together to fill the VPSL position. Call me an idealist but both candidates bring unique ideas to the role. However, only one can fill the position.
Both candidates were strong and had important perspectives that should not be left behind. Given the strength of Fogue's points and the charisma Morris exudes, I believe this will be a close race. However, because of Fogue's position as a CSJ student, I think she will have not just the majority of the support of North Campus, but also the majority of the support of CSJ and Augustana. I predict she'll narrowly emerge as victorious on results night.
Though I felt really torn between the two candidates, Fogue is more qualified to be a liaison between the Students' Union executive positions and the student body. Therefore, my vote will be going to Fogue, but if I could give her any advice, I would strongly encourage her to consult with Morris if elected. Their campaign contained many important ideas that, if properly utilized, could really enhance Fogue's policies.