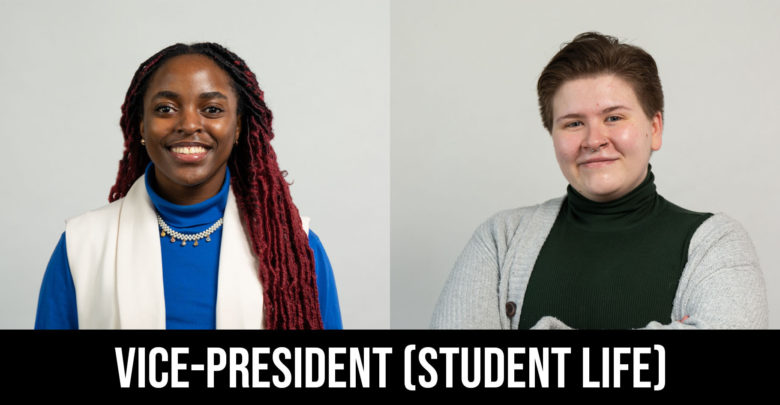 This article expresses opinions based on the Residence Forum of the Students' Union 2022 Election on March 4, 2022. 
Considering both Joannie Fogue and Rowan Morris have been heavily involved in the residence community, I had expected them to make more of the opportunity on Friday to discuss residence in relation to their platforms. Though she struggled more during the ASC forum, Fogue was able to provide solution-based answers during the residence forum while Morris failed to present new ideas and continuously referenced back to work they had previously done.
Fogue's ideas for residence include enhanced sexual violence training that speaks to BIPOC (Black, Indigenous, and people of colour) and 2SLGBTQIA+ experiences, improving living conditions by taking up issues directly with maintenance, and revitalizing the meal plans by not renewing the university's contract with Aramark. Fogue recognized that, while she has tried to improve some residence issues, problems she saw happening in 2019 are still going on today and accepted the fact that she has so much work to do should she get elected as vice-president (student life) (VPSL). 
This was strongly contrasted; Morris, whose experience as a inclusion and diversity intern for residence services was a strength in the previous forum, didn't provide new ideas and continually stated that many of the problems brought up by other candidates had already been addressed. Morris has done a lot of good work in residence including policy changes, long-sleeve jersey options for dodgeball players concerned about modesty, new residence webpages to include diversity supports, and revisions for student staff training. Just before the campaign for VPSL started, Morris accomplished ordering dispensers and baskets for menstrual products in North Campus, CSJ, and Augustana residences. However, Morris failed to reach further and relied heavily on these past accomplishments.
Morris was asked by Fogue what plans they had for the future of residence, and was asked about achieving free menstrual products in residence. Once again, Morris repeated that "everything [they] could have possibly imagined doing for residence, [they] have already gotten the ball rolling and the policies have already changed." Fogue pushed further, asking if they have communications with Council of Residence Associations (CORA), to which Morris responded that they have not been in direct contact with CORA, but has had individual interactions with the members of CORA and has gotten "confidential information" that way. 
Though Fogue's takes on residence policies are nothing spectacular, she obviously has a vision for the future. Because of Morris's previous work in residence, they came off very resistant to the idea that residence policies have room for improvement. Because of this stark contrast, when it comes to students concerned with residence, Fogue is the VPSL candidate with a stronger vision for the future.