Arts & Culture
Nation & World
Movie Review: 'Bad Luck Banging or Loony Porn'
Though the film does its best at satirical criticism, it ultimately falls short in its delivery.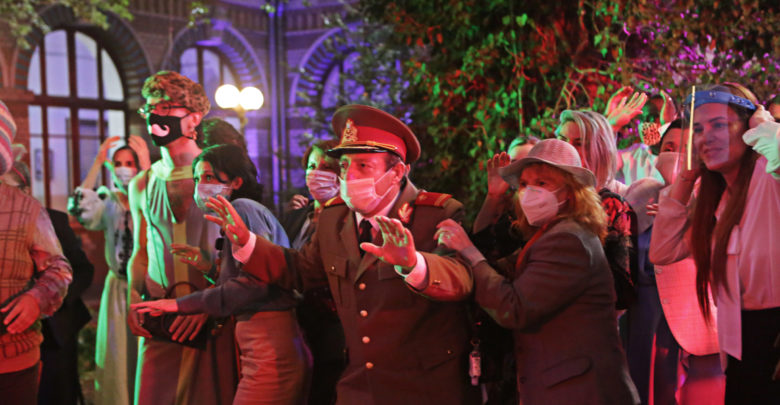 If you're tired of all the No Way Homes and Red Notices of this day and age, Bad Luck Banging or Loony Porn: A Sketch for a Popular Film may be the movie for you. The case for this is made by the very first scene: an in-universe highly graphic sex tape of Emi, a Romanian history teacher, and the main character of this film. 
Set in three stylistically distinct parts, Romanian director Radu Jude's Loony Porn is a manifesto of a film, pondering the nature of obscenity in the world of today. The first part is, to put it plainly, utterly boring: Emi walks the streets of Bucharest, running errands and running into hate-filled people amidst the COVID-19 pandemic. While the mundanity of this prolonged sequence may bore many, especially those used to web-slingers duking it out on the Statue of Liberty, it ultimately more-or-less pays off in the following two parts.
The second part is arguably the most didactic: a montage of ironic definitions which all relate in some way or other to the rest of the film, and whose purpose is supposedly to mock contemporary Romanian society. These include words like "communism," and "history," among a multitude of other disparate elements of contemporary Romanian society. The result is an unfocused satire which misses the mark more often than it hits it. Defining "children" with the image of a child's scarred back accompanied by the statistic that purportedly six out of 10 Romanian children are beaten is a poignant condemnation of child abuse in the film's native country, albeit a shallow one. However, the straight-faced definition of "kitchen" with the subtitle "as in, women belong in the kitchen," is harder to read as ironic. Ultimately, this part drags on for far too long, with very little satirical bite.
Lastly, the third part delivers a mostly entertaining and compelling satirical set piece in Emi's hearing with the parents of her students, many of whom clamour for her resigning in the face of her sex tape being leaked. Here, the first two parts of Loony Porn almost pay off, with many of the ideas and themes set up in them coming back in the verbal and physical exchanges between Emi, her defendants, and her opponents. Among the parents of the students, we see a military official, an officer, a militant mother, and several other diverse individuals who represent the hypocrisies of different facets of Romanian society. The official is blatantly antisemitic, the officer is sexist, and the mother is morally corrupt, passing herself off as a Roma so that her children can attend a better school. Compared to these individuals, Emi and her sex tape do indeed appear far less obscene, and so viewers may now look back on that tape's graphic contents in a totally different manner than they did at the film's beginning: obscene? Perhaps. But worthy of vilification? Not likely.
This is all capped off by a choose-your-ending sequence of three potential conclusions, with the most cathartic one left for last. In more ways than one, Loony Porn comes full circle, and I for one was left with a rueful smile by the film having dared to "go there," as it were.
All in all, Loony Porn is a very uneven piece of militant filmmaking: a mix of boring and confusing scenes book-ended by excitingly provocative ones. While it sometimes shows glimmers of effective and creative satire, these quickly fade away amidst the morass of everything Loony Porn tries to do, say, and be. In this way, it oddly resembles Don't Look Up, another film shot during and indirectly about the COVID-19 pandemic. While that movie is a big-budget, Oscar-nominated American blockbuster with a star-studded ensemble, it is, like Loony Porn, a primal scream about everything currently preoccupying the mind of its middle-aged, privileged male director.
Watch Bad Luck Banging or Loony Porn on February 25, February 26, and March 3 at Metro Cinema.