News
Ward papastew Election 2021 Meet the Candidates: Susan Field
Field described the city's spending habits as something that "needs to be addressed immediately."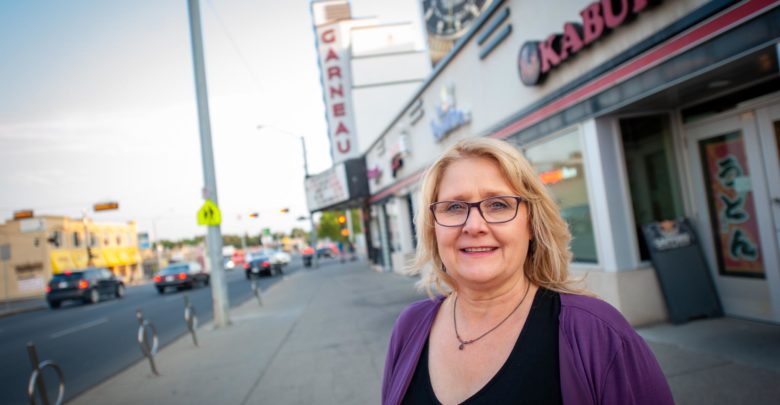 Ward papastew Election 2021 Meet Candidates is The Gateway's series of interviews with candidates running in Ward papastew's council race. This is the fourth of seven articles.
With the October 18 municipal election just around the corner, The Gateway sat down and interviewed candidates running in Ward papastew's council race. Susan Field was interviewed for the second instalment of this series.
Born in papastew, Field spent the first five years of her life in Empire Park before moving to Aspen Gardens where she currently lives. After working for TAB until 2012, Field has remained involved in the private sector by working as the vice-president (strategic initiatives) for Big Iron Drilling for over 15 years.
The Gateway spoke with Field to find out more on how, if elected, she plans to represent the residents and students of papastew as the ward's new councillor.
Responses have been edited for clarity and length.
The Gateway: Why did you decide to run in this election?
Field: I've always been extremely involved in this city's community and in business. I think that we have a lack of people [on city council] that understand the social support and business aspects of this city, and how interrelated they are. It's extremely important that we have a strong social-service support network throughout the city, and super important that we have a strong small business and business sector.
What do you believe is the biggest issue you see facing the city and how would you address it?
I honestly believe the way this city spends money needs to be addressed immediately because it affects every other part of the platform. The city auditor says we have a phenomenal amount of spending, and we have very low services, and he calls that the tax burden. So to me, it's really important that we understand where the money is going, and why there seems to be such a phenomenal expenditure with not as much return in services, which is what the municipal government does.
Why did you decide to run in ward papastew?
I live here! I was born and raised in the ward. I spent my first five years in Empire Park. My dad was at the University of Alberta at the time; he was the first member of the extended family who had gone to university, and there was affordable housing in Empire Park so we lived there for five years. Then, once he graduated and started his business, my parents saved up enough money to buy a small home in Aspen, which is the home they live in to this day. When I became an adult, my ex-husband and I moved across the country because he was in the military, so I learned lots about municipalities. When I came back to Edmonton I raised my family in Aspen Gardens. My sister is in Greenfield raising her family. My grandparents spent over 50 years in Park Allen. My Dad was raised in Ritchie, and ran his business in Old Strathcona for over 50 years. That's pretty much an end-to-end of the ward.
So this is my home. I understand the needs of this ward. It started as a new neighbourhood; when I first moved into the neighbourhood it wasn't even fully developed. Now it's a complete, mature neighbourhood ward. It goes from Mill Creek to Whitemud Creek, it goes from 34th Avenue North all the way to the river. Those are all mature neighbourhoods, and they have very unique issues.
What do you believe is the biggest challenge facing ward papastew specifically, and how do you plan to address this on city council?
We need to look at transit. So many of our neighbourhoods do not have any neighbourhood busing. People trying to get to the university, for example, it's a nightmare. If you want to go from Aspen to the university by bus, it can take you an hour to do that. Before the disastrous bus changes over the years, it would take ten minutes. So the bus service seems to be getting worse and worse in this city, we need to look at that.
We have a huge unhoused issue in this city. Our mental health issues and addiction issues are through the roof. It's really difficult because a lot of that mandate is not the City of Edmonton's mandate — it is the federal government and the provincial government. That's why my platform talks about being collaborative. Coming from a big business background where I had to ask people for a million dollars, I understand where we're going to be able to get those wins with the provincial government and with the federal government. With the University of Alberta, we have the University of Alberta land trust which is going to be developing one piece of that in the near future up into 870 homes.
We've got business and industrial areas that have vacancy rates that are phenomenal. We don't get taxes from those businesses that don't exist. We need to increase our tax base so that we can help all areas, plus people coming out of university would like a good job. Attracting good, strong business to this city is a huge part of my platform because I want your generation to stay here and recognize this is a vibrant, exciting city where you can have a big career. I want [graduates] to have careers and exciting lives. I want them to have affordable housing. All of those things should be available, but if we don't address the business issues and the social issues together, then it is your generation that gets screwed. A green economy is sitting right at our fingertips, just waiting to be snatched.
So you ask about a single issue, it's pretty tough. We have to build business, do new projects with purpose to streamline our costs, have a huge community heart to help the people that have not done well through COVID-19, and [help those who have] not done well because of the lack of mental health support in the city. It's not really a one-issue election for me.
What previous experiences do you have that make you a good candidate for city council?
I did work in council for a summer, and so I learned really how it works. I've always been involved in the community — in 2008 I designed a community connection crime prevention program — [Knowsy Neighbours] — that nobody else has in the city. It is not police-related, it is [about] community and neighbourliness to teach people about prevention. I've worked as a project manager on capital projects for over 15 years with Big Iron Drilling up north, so I understand big projects. Nobody else on council has done those types of projects where you know how to assess risk, budget, and timing. These things would be very beneficial on council.
Then for approximately 15 years, I worked for a company called TAB where we migrated hard copy records into the electronic universe. My three largest clients were the City of Edmonton, the provincial government, and the federal government. So I know how to work with them, not with ultimatums, but to be collaborative so that we can move forward. We are at the lowest part of COVID-19 in my opinion, and I think that coming out of this we need a team of people on council that can help the economy skyrocket. We have the tools right at our fingertips to bring in new business.
I've partnered with the University of Alberta in research in the past, with the National Research Council of Canada, and what's now called the Alberta Innovates (previously the Alberta Research Council). We need to be bringing in businesses that are interested in also doing research and development. We have had some of the most amazing developments come out of this city alone, and we need to go back to that attitude that we can move business.
When we do that, the acutely homeless won't be homeless anymore. Those are people, many of them [young adults], who can't leave their parent's house because they don't have a good enough job. There are people who have had to become multi-generational families [in one home] not by choice, but by necessity, and that's really hard on people's mental health. We don't want those people to become chronically homeless. We want to be able to help them move their lives forward. That's a super important part of why business and community are so related. Having a strong business sector doesn't mean that you're throwing away all your strong beliefs in social networks. We need to have both.
If elected, how do you plan to support the large number of students living in papastew?
First, they need better transit! Getting to and from the university shouldn't be an hour endeavour.
We have to stop raising taxes for property owners. When we [raise taxes], those costs are downloaded to people like students. So when property taxes go up, who really pays for that in the end? The student does. We have to diversify our tax base and our services so that students get a better deal when they're looking for services. We have to be very careful about where we think we're getting our money from. We need more businesses paying taxes because then that tax burden is taken off of people like students.
I'm all in favour of much lower transit rates, and I like the idea that we have community hub bus services, so that students can get from other areas. It's pretty bad when you can get from St. Albert to the U of A faster than you can get from Westbrook by bus, because there's better transit coming in from St. Albert than around the university area.
The other thing I want to make sure of is we have enough affordable housing. When you come out of university and you want to be on your own and develop your career and your life moving forward, if you can't find a place that [is] affordable, [that can] ruin everything. We want to make sure we're developing affordable housing. We have to be very cautious of allowing mature neighbourhoods to do new developments which price people out of the market. If you take down a 600,000 dollar home and put up two 1.3 million homes — that's not very affordable for [students]. We need to be looking at how we can encourage development and incentivize it in areas that are not doing as well in the city, and that will help with affordable housing issues.
If elected, how will you work to address climate change in the City of Edmonton?
Climate change is a frontrunning concern for me. When we're [currently] doing [any] projects, we have occupational health and safety standards which are not written into contracts, they just happen seamlessly. We need to have [a similar equivalent] as part of our green initiative. We [should not] be buying from companies that do not abide by labour laws, by occupational health and safety laws, and that are not environmental stewards.
That doesn't mean only in Edmonton, if it's in Alberta or somewhere overseas, we have to be only purchasing from companies that abide by [environmental standards]. If that means we have to buy locally a little more expensive, then that's what we have to do. Climate change is too important to think that saving a little bit of money in the short term is going to help us in the long term. We have to address climate change immediately. The other thing, from a council standpoint, is we have to look at our recycling program. We [are] still using a single-use blue bag as part of our recycling program — that's a little hypocritical. We have to address how we are recycling materials to begin with.
If elected, how will you concretely work to support Indigenous residents and students in papastew?
So as a White woman, I think that it is inappropriate for me to tell them how to do things. We have all these recommendations from the Truth and Reconciliation Report; we have all these recommendations from our local Indigenous communities, it's time we don't just say 'we'll look into that.' No — we need to be asking them what their most urgent needs are, and we need to be acting on them immediately. This idea that we're not acting on them immediately is ridiculous, like making a Treaty acknowledgment statement, and then we just leave everyone hanging. That is pathetic.
I also think this city needs to be much more proactive in having Indigenous departments and examples. For example, at the U of A, lots of areas have co-op students that go out and they work. I think we need to have Indigenous co-op students where they tell us what kind of programs they need to work in, what areas they feel would be most beneficial to their community, and we just need to support them. We need to do what we're told for a change. Instead of me reinventing the wheel, we need to ask them what they want from us, and we just need to go ahead and do it.
How do you believe you stand out from other city council candidates?
It's actually a slam dunk for me — I am significantly different. First, I have concrete, tangible work experience of close to 30 years. I understand capital project process management.
I believe I am the only person that is running in Ward papastew that has been a post-incarceration employer and has also housed the homeless and given them jobs with a living wage. When it comes to the community and the business, that's why my motto is 'experienced business mind, community heart.' There's nobody else on council that I can see that has done both. I bring both to the table.
You have to have a community heart to understand how the city is going to evolve. We also need to be supporting businesses that hire post-incarceration and the homeless. The City of Edmonton isn't a post-incarceration employer, you get vetted out with most governments as soon as you fail the criminal records check! I've got to tell you, small business doesn't vet people out that way, they understand that people have pasts and that people have the ability to move forward and deserve a second chance. The difference for me is I have lots of experience in business, and I also have lots of experience in community heart. People talk about how they are going to help the homeless, but nobody's ever done it.
You know, it's interesting that people say that business isn't important, you talk to someone who is unhoused, or acutely homeless, or even chronically homeless, and they say that they couldn't find a job. So when it comes to the two melding together, it's super important. You do give people a sense of purpose when you have a job. And this idea that business and jobs are a dirty word, you tell that to somebody your age coming out of university who's sitting at home for a year putting in application after application after resume after resume, doing 40 cover letters not even recognizing that half of those jobs already have a preferred candidate. You know that is really destructive to young people's mental health. So I think that somebody like me on council will be really beneficial because I've been there, done that.
Fun Question: What is your favourite restaurant to visit in Edmonton?
There are so many awesome restaurants, but I've been going to The Provincial Kitchen & Bar.
We'll pop in at lunch for something quick while we're campaigning; they've got a little seating area where we can have a meeting and eat. I notice that it's full of older people, but it's also full of people your age! When you go there all the life of all the young people in there laughing and joking, that's one of the things that's fabulous. They have MEAN chicken wings. I like super hot chicken wings, so I love going there.