News
Ward papastew Election 2021 Meet the Candidates: Michael Janz
When questioned what sets him apart from other candidates, Janz mentioned his "robust" resume of almost 20 years experience in "advocacy and public politics."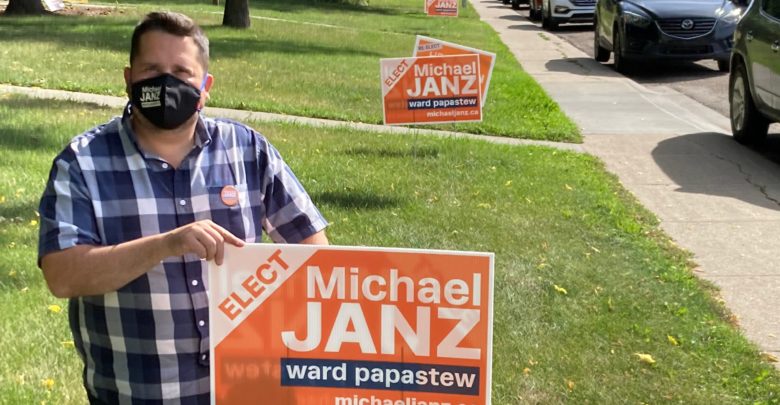 Ward papastew Election 2021 Meet Candidates is The Gateway's series of interviews with candidates running in Ward papastew's council race. This is the third of seven articles.
With the October 18 municipal election just around the corner, The Gateway sat down and interviewed candidates running in Ward papastew's council race. Michael Janz was interviewed for the third instalment of this series.
Janz was the University of Alberta Students' Union president from 2007 to 2008, and served as Edmonton Public Library Board Trustee from 2009 to 2015. He was the previous Edmonton Public School Board Chair and Vice-Chair, and is currently the Edmonton Public School Board Trustee for Ward F.
The Gateway spoke with Janz to find out more on how, if elected, he plans to represent the residents and students of papastew as the ward's new councillor.
Responses have been edited for clarity and length.
The Gateway: Why did you decide to run in this election?
Janz: I was asked by many of our friends and neighbours if I would consider running because in Ward papastew, for 20 out of 23 neighbourhoods, I am currently the public school trustee. I've been elected three times, and have served since 2010 as the elected public school trustee for these communities.
I have a long history here going back to 2010 when we brought in a moratorium against school closures, to 2011 when we brought in the first Gay Straight Alliance policies across Alberta, all the way up to the present as I'm fighting back against the Kenney cutbacks and the austerity agenda in education. People know that I am a very animated defender of public interest, and that I've stood up for the community.
Ward papastew is where I live, right on Whyte Avenue. I work here and I play here; this is my home. Neighbours asked me to step up and bring the same animated energy I brought to the school board to city hall, so I said yes.
What do you believe is the biggest issue you see facing the city and how would you address it?
There's a number of different issues, ranging from dealing with poverty to dealing with climate change, but the one that's first and foremost on people's minds right now is COVID-19 recovery.
There's so much anxiety out there about how we've been completely abandoned by the provincial government, and I think people are looking for city councillors who will stand up and call out the province and push for better health action, and also continue to defend the essential social supports we have in our community. This includes protecting the River Valley, investing in playgrounds, and investing in local infrastructure. A lot of people this past year rediscovered how great our River Valley is, or walked around the neighbourhood and got out into the community. I think some of the grand city building plans and major initiatives are going to be on hold for a little while while we think about how we as a community can recover from COVID-19.
Why did you decide to run in ward papastew?
This is where I live and work and play. I live on Whyte Avenue. This is where I've represented for the last 11 years. I've been elected since 2010 here in papastew. This is the community where I have the deepest roots and connections, and where people frankly asked me because they want a councillor who will bring their values to city hall. It's a very simple answer.
What do you believe is the biggest challenge facing ward papastew specifically, and how do you plan to address this on city council?
There are a number [of challenges], but what I believe is the largest [challenge] in papastew is the University of Alberta when we're facing such draconian cutbacks from the [Jason] Kenney [provincial] government. That has an impact not only on the economic anxiety for many families in the area who are wondering if they're gonna get laid off, or if it's going to affect their family income, but also on the local businesses.
We saw the reduction in students also damaged Whyte Avenue and the local economy, and now more than ever we need to focus on an integrated relationship with the U of A to think about how we can improve the experience for students, staff, and families who are connected to the U of A within the broader papastew area. So many of the families who work at the U of A and live in these communities depend on transit, they depend on strong public services to provide a great quality of life. I've been a defender of public services, public parks, public recreation, and I will continue to do as your councillor.
What previous experiences do you have that make you a good candidate for city council?
I'm the only candidate running in this race that has had actual elected experience. I've worked with six different Premiers, with numerous Mayors and city councillors, I've worked with other orders of government at all levels —local, provincial, and national — as a school trustee and in other roles I've held. I've managed a $1.3 billion budget, a bus system, buildings, bylaws. I've had to deal with complex legislation and work with community members to help take their ideas and turn them into reality. From dealing with thorny public consultation issues around school closures, to dealing with planning and development decisions, that experience alone there's no better. The role of a trustee and a councillor are incredibly similar, and so that experience will be incredibly complimentary.
I will also say a lot of folks don't know, but I was the marketing director for the Edmonton Federation of Community Leagues. I helped grow and expand neighbourhood initiatives, helping everything from parks to playgrounds to planning in local community leagues. My job was to help build vitality in community leagues, so certainly that experience helps.
I was also on the board of the Edmonton Public Library for six years. I helped advocate for the Edmonton Public Library and I helped make budget decisions for the library. I was very happy that we were able to achieve free library cards for the centennial of the library.
I was also the president of the Students' Union at the U of A back in 2007. I did two years on the Board of Governors at the U of A, and prior to that I lived in Lister Hall for four years. My background was in student advocacy. For my first big political action we had over 1,200 students sign a petition, and we had a big protest in the cafeteria over the food quality. I was a kid who grew up in rural Alberta. I came to the U of A and I didn't know if I was going to stay here, but I fell in love with the arts, the culture, the music scene, the opportunities that Edmonton provided. That kept me here. Now almost 20 years later I'm still living on Whyte Avenue, still trying to make the best parts of Edmonton even better.
If elected, how do you plan to support the large number of students living in papastew?
Number one, I'm a resident in Garneau right close to the university. I understand many of the concerns of not only the students but the families of the U of A staff, from safe, affordable, accessible transit, to what we're seeing around affordable housing and quality rentals and oversight over bad landlords. I've been in an apartment that had cockroaches, I've been there and I've gone through the journey just like many students. I've felt the helplessness of trying to focus on passing your classes and dealing with all the pressures of academic life while having to deal with the challenges of everything else. Certainly being someone who spent seven years on campus advocating for student concerns, I will be able to bring those to city hall. I'm sad to say some of the things we fought for in my time, [such as] affordable housing, grants, scholarships, mental health — they are still the same things that today the Students' Union executive is still fighting for.
One of my key priorities is to build relationships with students on campus, different student organizations who are fighting for common outcomes. Whether it's anti-racism initiatives or climate change initiatives, I really want to work together to build power and to coalesce wherever people live, wherever they are in the city, to help build a better future for all of us.
If elected, how will you work to address climate change in the City of Edmonton?
The two biggest sources of emissions in the City of Edmonton are our buildings and our transportation systems. Doing what we can to green both of those is critical. I think the sad truth is that climate change is here — it's already happening. We need prevention, but we also need mitigation. Some of the initiatives like ensuring that we have pooling areas for future heat waves in the summer, it's different initiatives like that I think are going to be really important. Greening our buildings, making sure that we lower our carbon footprint, and prevent future climate change is important, but the sad truth is it's already here.
I noticed knocking on the doors this election, more and more people are waking up to it. Sadly, it may be too late for us, but more and more people are waking up and saying 'I want to put solar on my home,' 'I want to make different decisions,' 'I want to shift to an electric vehicle,' 'I want to change my consumption habits.' I really think that feeling the boiling heat from those three weeks this past summer really has woken up a lot of people to decisions about the climate emergency and what we need to do.
I have a long history, when I was a school trustee I fought for net zero in schools, I fought for solar on schools, I fought for climate change to be integrated into learning opportunities. I asked for the students to have a day in lieu when Greta [Thunberg] came to the legislature, and Jason Kenney did not like that. But hey, it's important. It's life or death.
If elected, how will you concretely work to support Indigenous residents and students in papastew?
For all students, staff, and families, we all need to realize that we're all Treaty people, and that comes with responsibilities. It's clear in my platform that we need to uphold the recommendations of the Truth and Reconciliation Commission, as well as the recommendations of the task force on the Missing and Murdered Indigenous Women and Girls (MMIW). Both of those initiatives are key on my website because it's important for all of us to not only build relationships and listen, but also to take action on the things that we have already been told that we are supposed to do. So part of that is addressing systemic racism through all our institutions.
Part of that is fighting for social and economic justice. The last five years I've been working at an organization called Big Brothers Big Sisters and I've worked with organizations around Canada trying to improve post-secondary attraction and retention for Indigenous students, to help ensure all students can be provided great opportunities to post-secondary learning. Not only that, when they get here they can be successful as well, because for some students the experience of moving away from home for the first time is jarring enough, but then being on campus it can be quite a culture shock.
I think really investing in peer mentoring programs, working with proven strategies that we know to support student success, are critical.
How do you believe you stand out from other city council candidates?
There's a number of interesting candidates in papastew, some with interesting positions or ideas, but at the end of the day I'm the only candidate who has had such a robust resume of almost 20 years experience in advocacy and in public politics. That's critical right now.
We're going to have a new mayor and five new city councillors, but my proven experience and progressive values are what set me apart from any other candidate. Some candidates may have a catchy slogan or bold ideas, but I've actually been doing the work to make the change.
Pick basically any topic, for example police reform — somebody could have a slogan like 'defund the police' but I've actually been doing the work to help move school resource officers out of schools. Somebody can say they want action on climate change, but I've actually been doing things like fighting for net zero in schools, and you can see that there are schools with solar [panels] on them. There's so much that I've done along the way, and that's why I've attracted so many endorsements from community leaders and elected officials of many parties to my campaign. You'll have a number of candidates who I think are great people; unfortunately you only get to choose one.
Fun Question: What is your favourite restaurant to visit in Edmonton?
I'd have to say going for breakfast at the Highlevel Diner. I'm an early riser so I like going over and grabbing breakfast there.