News
Ward papastew Election 2021 Meet the Candidates: Kirsten Goa
Goa described every decision as "a climate decision."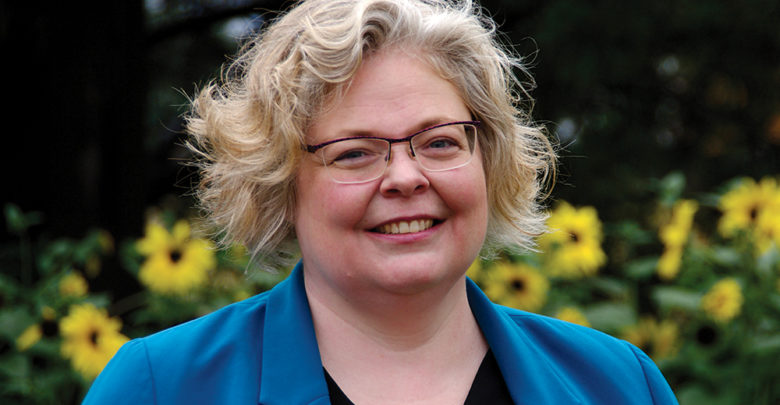 Ward papastew Election 2021 Meet Candidates is The Gateway's series of interviews with candidates running in Ward papastew's council race. This is the second of seven articles.
With the October 18 municipal election just around the corner, The Gateway sat down and interviewed candidates running in Ward papastew's council race. Kirsten Goa was interviewed for the second instalment of this series.
Goa previously ran for Edmonton City Council in 2017, falling in second place behind Ben Henderson. She has previously served as co-chair of the City of Edmonton's Council Initiative on Public Engagement, along with co-chairing the Guiding Coalition on Public Engagement since its inception in 2018.
The Gateway spoke with Goa to find out more on how, if elected, she plans to represent the residents and students of papastew as the ward's new councillor.
Responses have been edited for clarity and length.
The Gateway: Why did you decide to run in this election?
Goa: It's a long story. In 1995 I was 21 and I watched what happened in that election to a lot of progressive councillors, including the only woman mayor, Jan Reimer. Even though I hadn't actually thought about running for office, watching the attacks and misogyny I thought to myself, 'I'm never running for office, I don't have a thick enough skin and it's too toxic.'
Fast forward many years, I would go to the protests and I would write the letters, I would join the groups and try to find out how to make things better in the world. That streak was in me, since I was very little. I burnt myself out a few times, and I didn't feel like I was getting anywhere. Then I discovered broad-based community organizing and got involved with the Greater Edmonton Alliance in 2008. That was the point when I realized we could do relational work, build community, understand different interests on purpose, and that if we did that on purpose we could actually build power together to change things. It was absolutely transformative for me. I read everything I could get my hands on, I went to everything. It changed how I did my work on any issue and in any space.
The reason really is about the opportunity and the challenge we have in our politics. We're dealing with massive change, people are very stressed, we're under layers of crisis, and I really believe we need a different kind of politics. It's really easy to entrench yourself wherever you are on the political spectrum, but what relational organizing work has really shown me is you can find the places where you can work together with people from a pretty broad range. That doesn't mean everybody, and it doesn't mean you don't have boundaries, but if you can meet people where they're at, it's amazing how far you can go. This is where I've been successful in my municipal work, because I've done a lot of work at the municipal level.
There is a need for a different kind of politics and different types of voices at the table. I really think they are desperately needed if we're going to cope with the crisis we're facing.
What do you believe is the biggest issue you see facing the city and how would you address it?
The one I hear about the most on doors is the rapid rise in the number of unhoused neighbours we have, and that […] has really been compounded by the pandemic. Communities that hadn't seen a lot of [housing issues] before are starting to see more. I would say that that's the most pressing issue that I'm hearing about immediately right now from folks. The other really pressing issue is the climate crisis, and our economic, environmental, and social sustainability, which I think are intersected with that. The third one would be the nature of our politics, and how I think we are actually going to solve these problems.
To talk about the homelessness piece, the city has taken a fair bit of leadership on trying to move forward on that despite the province's intransigence. We should see about 900 units of permanent supportive housing built by the end of this year, and that is fantastic! It's also not enough.
One segment of our unhoused community are folks who have never experienced [homelessness] before and were released from the hospital or from jail and don't know where to go. They don't know the city, they don't know where the resources are, and don't have any system to connect with people. There are real opportunities for the city to step in here. It would be ideal for it to be a provincial solution, but we can work with the other municipalities to help make sure that people can actually get homes again.
We know a large number of people who are unhoused are also youth. The permanent supportive housing is part of what would help with that, but kids need more than just the permanent supportive housing, because there's extra layers of trauma. They are young, they're not done being parented, and their brains are still developing. We need much more attention paid to how we address the needs of our unhoused youth. That's another thread that I think we need to be conscious of spending more time on.
Why did you decide to run in ward papastew?
Ward papastew is my home! I'm very rooted in this place, and I haven't travelled far in terms of where I live. I grew up only a few blocks away from where I live now. My husband and I have been raising our kids here. I'm 47, and I've lived in papastew for all but two and a half years of my life. I went to the U of A, got two degrees there, I've lived in a number of different neighbourhoods as a younger adult. I grew up listening to the stories of my friends and neighbours fighting to save the Mill Creek ravine from being turned into a freeway, and I had my first jobs in these neighbourhoods. It's where my kids have gone to school. I am very deeply rooted in this place, and I love it.
I know that it's not uncommon for people to run elsewhere. I was encouraged to go elsewhere, but I'm not actually interested in doing politics in a way that's not connected to my own community. That's not the kind of politics I do; it's fundamentally about the relational work on the ground and this is where I've done that work.
What do you believe is the biggest challenge facing ward papastew specifically, and how do you plan to address this on city council?
The communities in papastew are core mature neighbourhoods exclusively. Edmonton was predominantly a city that was built out of suburbs during boom times, and as a result, we have spread very quickly. These neighbourhoods are again, for the most part, losing population over time, [and are] at risk of losing their amenities and schools as a result. Often [these neighbourhoods] are lacking opportunities and housing for folks who want to downsize and stay in their community.
Navigating land use issues is gonna be huge, we have the zoning bylaw renewal coming, we have district planning coming, [and] the U of A is in the process of transferring more land to the land trust, which means that there's going to be large development. We need to be able to bring people into those conversations, help them understand the change that's coming, help them understand why it's important that we do evolve, but also make sure that the things we love and want to protect can be love[d] and protect[ed] in different ways. Finally, making sure that we are not only talking with the folks who are the loudest voices and have the most time and are the most established in the community, because the community isn't only those people. This is about the city we're building for the future, and too often the new neighbours that are going to live there aren't the people that we're talking to when we're talking about how we're going to create this community together.
What previous experiences do you have that make you a good candidate for city council?
My experience is primarily community-based — I've supported communities in navigating city processes and city hall for well over a decade. I started getting involved in land use discussions about 13 years ago with the last municipal development plan. I've spent thousands and thousands of hours at City Hall. I co-chaired the city's public engagement initiative as a volunteer — all of this work has been volunteer and community-based and has been about working with the community and supporting the leadership of others, not just myself.
I built relationships with council, I've built relationships with administration, and I've built relationships across communities and different stakeholder groups for a decade. I've actually gotten things done and achieved some pretty big wins. That is why I have the support of Councillor Henderson and Councillor Walters, and it is also the reason I have the support of public School Board Trustee Bridgette Stirling. We ended up working together on a Holyrood Gardens Development with a real focus on the need for family-oriented housing, and the impact that a loss of family housing would have on the school, as well as the child-friendly housing coalitions. I probably have more hours at city hall than the vast majority of people. It's not to brag at all, it's really just I've put in the time, and I've managed to figure out a lot of this world and how to help communities navigate it better. My fingers are already on a lot of city policy.
If elected, how do you plan to support the large number of students living in papastew?
The first thing to do is to go and talk to students regularly. I have kids who are students so I'm pretty in touch as a parent to what the world is like these days for young people, but my organizing approach really is about going and meeting people where they're at.
My goal would be to be on campus at least a few times a year, to formally invite students to come and talk about what's on their minds, what kind of things they're seeing. I think there are some really important questions around transit that we need to be having, as well as around housing and affordability. These other conversations are conversations we need to be having with students because they're very real for students, and too often we just kind of go 'oh, students don't vote' or 'they don't necessarily live in the ward, they're just transient.'
We know the reason Edmonton is as vibrant and sustainable and diverse as it is because our universities and post-secondary institutions attract people from all over the world to come here, and then they often stay. This is about building your city, and you need to have a voice at the table regardless of whether you vote or regardless of whether you think you're gonna stick around.
It's going to be even more important that we build that relationship between the city institutionally, but also as a community with our post-secondary institutions in more meaningful ways because we're already seeing a brain drain. There are lots of reasons to love being in Edmonton, and lots of opportunities in Edmonton, but also lots of pressures and things that make those people think 'maybe I'll go somewhere else.' We need to be bringing those voices to the table. The first thing will be going in at least quarterly to have conversations with students, and then build from there.
If elected, how will you work to address climate change in the City of Edmonton?
The city has incredible opportunities around land use and transportation in particular. We need to be tying every decision we make to our carbon budget, because we have one. Every decision is a climate decision. With every decision we make, whether it's the approval of a development project or funding, [climate change] needs to be one of the lenses that we look at [decisions] through.
I have a particular interest in energy efficiency retrofitting. I started a retrofit on our home in 2008 and managed to get from about 35 per cent efficiency to about 76 per cent efficiency, which is huge given that we didn't finish it. I know how hard it is, and we have a tendency to just do new things all the time in Edmonton. There's a really significant amount of market transformation work that needs to happen, and I think that there's an opportunity for the council to set the table.
We need to be working with the trades and trade unions. We need to be working with the contractors and builders. We need to be working with communities. We need to be working with Epcor and the utility commission because there's a huge issue related to electrification and how we actually make that shift that's causing some specific barriers to green building right now. 75 per cent to 80 per cent of the buildings that we will have in 2050 have already been built, and so this means we need to start thinking about a retrofit culture, instead of a build-new culture. That is the kind of systems thinking change that I really want to drive at council.
If elected, how will you concretely work to support Indigenous residents and students in papastew?
We have a very high population of Indigenous Edmontonians from all over, and many different nations and communities. I have a spreadsheet with all of the Truth and Reconciliation Commission recommendations and have highlighted which ones we have either municipal influence or full municipal jurisdiction.
We have an excellent beginning in terms of our Indigenous framework. There's a really exciting opportunity that we're finally embracing in the city around urban reserves. In Manitoba, Saskatoon, Vancouver, other jurisdictions they've been doing this as early as the '80s, where urban land is given back and is operating within the reserve system because that's how it works in the Indian Act. I think there are some really big opportunities for land, especially in the papastew ward or close by, to be brought into the conversation and really become a place for Indigenous leaders and communities to create community economic development, housing, creative and cultural spaces, and really bring that into the heart and centre of our city, instead of pushing people out.
One of the things that I want to do in terms of city staff is making sure that everyone, frontline or not, receives bystander training, and more education on culturally safe practices and trauma-informed care. We so often perpetuate and reinforce trauma in our interactions, especially with Indigenous and racialized communities.
Another big piece [is] around policing. The police budget is the only budget in the city that, since 2014, has been growing based on population growth, and as a result their budget has been ballooning when nothing else in the city has grown the same way. We know policing isn't the best way to deal with things, and we know that there is an extreme disproportion of high conflict interventions with Indigenous and BIPOC communities.
How do you believe you stand out from other city council candidates?
I stand out in three ways.
One — my experience is municipal. I know how to navigate City Hall, how the governance structure works, what the issues are, and a fair bit about most of the city's lines of business. I know who to talk to in administration when I have questions and who to talk to in the community, and across many different sectors to get more complete information about any decision that comes forward. I've successfully negotiated with the city, community, industry, and other stakeholders to influence and improve city policies and decisions across many areas. This experience is why I have the endorsements of two outgoing incumbent city councillors: Ben Henderson and Michael Walters. It is also why I have the support of Edmonton Public School Board Trustee Bridget Stirling.
Two — my experience is focused on community and community leadership. Most of my municipal experience has been [as a] volunteer and rooted in the community. My focus is on systems change and how to bridge differences and find common interests in order to solve the very pressing challenges we are facing. This means I take more time with the psychology of decision-making and work to understand underlying issues, not just react to surface complaints. It also means I can help find solutions that work better for everyone. I'm not afraid to stand up for what I believe in, but I also can find ways to approach issues that bring more diverse perspectives on board. I also focus a lot on supporting leadership in the community and seeking out, mentoring, and learning from new leaders. None of the work we do at City Hall — or anywhere — is done alone. We need to share leadership and not only welcome diverse voices, but seek them out, raise them up, and give credit to all who are a part of any decision.
Three — I'm the only candidate with five kids — two sets of twins! Three of those kids are of university age.
Fun Question: What is your favourite restaurant to visit in Edmonton?
This is such a hard question! I have so many favourites, but I think I'll go with The Next Act. I've been going there since I was in university, often grabbing some drinks after an improv show. They have such a welcoming culture and fantastic gluten-free options, which as a celiac I am so grateful for!