Campus Life
Institutional
News
U of A libraries accommodate in-person traffic alongside online students
For those concerned about health and safety in the libraries, the vice-provost (libraries & museums) and chief librarian at the U of A assured that adequate preparation has gone into the reopening plan.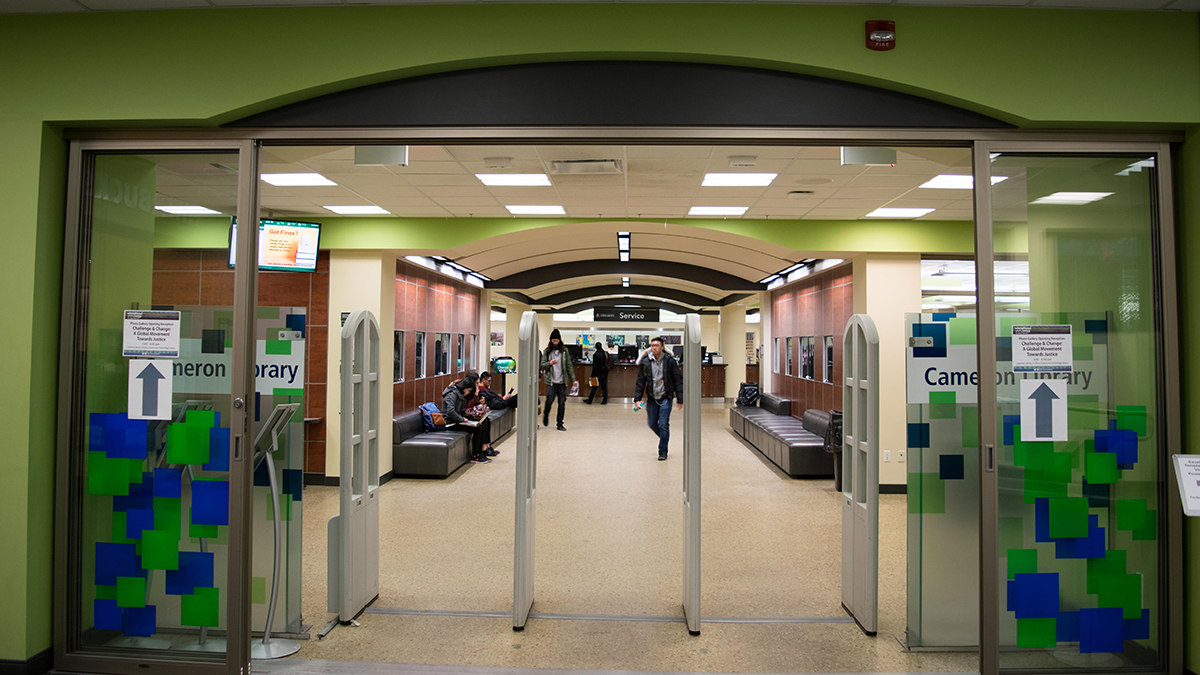 After a year of online and curbside services, the University of Alberta libraries' in-person services and study spaces have returned.
The university's libraries have reopened most of their locations and services to in-person traffic as of August 16, with COVID-19 precautions in place. Although larger services such as borrowing books, computers, and workstations will be readily available, access to other smaller services like the Digital Scholarship Centre, the University of Alberta Archives, and the Bruce Peel Special Collections will remain appointment-based.
Most library locations and services are back to normal as of September, with health and safety efforts being made
According to Dale Askey, vice-provost (libraries & museums) and chief librarian of the U of A, library use will be reasonably standard for students. For those concerned about health and safety in the libraries, Askey assured that adequate preparation and considerations have gone into the reopening plan.
Consistent with other university buildings, masking will be enforced at U of A libraries.
Plexiglass shields are present at contact and service points, and seating has been rearranged to promote social distancing.
"We've also made some changes to the seating," Askey said. "This is really hard because most furniture isn't movable but we have made some seating changes to spread it out more and to reduce the density."
Askey offers thoughts and considerations on potential skepticism returning to libraries
When questioned why students and faculty should have the confidence in going to the libraries, Askey said we should all understand any skepticism people may have and continue to act based on our own comfort level as things continue to change.
"Compared to some entities on campus we actually have a fair bit of experience because we've had staff working on campus throughout the pandemic doing things like the curbside service," he said. "We've gone through generations of working on campus. I feel like if anyone on campus is prepared to do this, it's the library."
According to Askey, U of A libraries reopened most locations at once instead of taking a more gradual approach to accommodate for the number of in-person classes being held on campus.
"Internally, we've talked about a number of different kinds of scenarios… but it became clear to us that if we are going to have a number of classes on campus, we needed to have the library spaces open," Askey said.
"I think we would have considered any options, but it's really difficult to think of a scenario where we would open [just one library] because we need to open everything to run the system and to support the campus. I think there was an implicit understanding between the university and the libraries that we would have that kind of space open."
Askey explained how not opening enough spaces could encourage crowding; he also mentioned that there might be situations where students have to do an online class between in-person classes. Designated spots in the libraries act as touchdown spaces for them.
When considering how U of A's approach compares to other institutions, Askey mentioned a high degree of conversation and collaboration between Albertan and Canadian libraries. He described communication between institutions as a way to ensure things are done in a consistent and well-thought-out way.
"Our plans more or less align with the other libraries… we have to coordinate with other libraries also because we of course share a lot of resources, so we're sending collections back and forth all the time," Askey said. "A big factor is looking around and making sure we're all doing it as a library community."
New features expected from the libraries, while mindfulness expected from library users
According to Askey, students can hope to see some new features from the libraries in the fall term, including the reading list service, a new check-out system, and renovations in the Rutherford Library.
"It was during the pandemic that we introduced a new reading list service," Askey said. "Its use is still growing, but it's a really strong service that allows faculty to create reading lists and embed them straight into eClass which makes it just incredibly simple for students to get to course readings. We look forward to being back on campus and encouraging people to use that system."
Askey mentioned a new check-out system for books launching this fall. He said the large machines are being replaced with a system called MeeScan —  a portable device with a barcode scanner and a mobile app which makes it "possible to check out books with an app on the phone now;" Askey described it as "incredibly easy to use" and claimed it should "make checking out books even quicker."
Additionally, some renovation was done on the second floor of Rutherford North. It is now home to a number of the collections that came out of the former Education library, which was closed last year due to financial challenges.
According to Askey, the U of A maintains plenty of library spaces even after recently closing two libraries. He asked people to try and avoid gathering in one single space, instead encouraging them to spread out and discover more parts of the buildings that are there waiting for them.