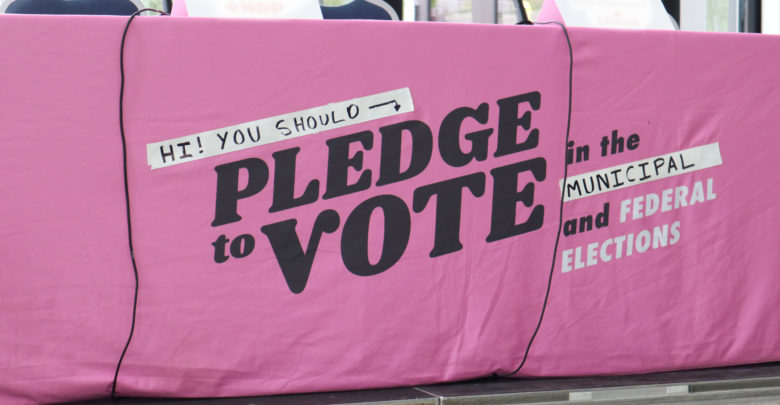 In Tuesday's papastew candidate election forum, hosted online by the University of Alberta Students' Union (UASU), municipal councillor hopefuls came by to give their pitch to students and answered burning questions about the city of Edmonton's future. The topics ranged from climate change accountability to equipping the Edmonton Police Service (EPS) to better serve the city. From the start, many of the candidates seemed similar, but well-spoken and memorable responses quickly proved that to be wrong. I think what stood out most to me were the major issues brought up by students.
Candidates for papastew at the forum included Susan Field, James Cameron, Byron Vass, Haruun Ali, Kirsten Goa and Tarcy Schindelka. I was disappointed that candidate Michael Janz was unable to attend, as forums are a rare opportunity to answer questions directly from students.
University issues
When looking at the relationship between city council and the University of Alberta, many of the candidates considered it not as good as it could be. Schindelka called it "challenging" but added the need to remember students are our future leaders, while Goa emphasized the importance of university-led innovation that the Alberta government has been hurting with extensive budget cuts. Ali claimed a failure on the city's part in fostering a relationship with students, highlighting the lack of knowledge around the municipal election as proof, and promising to work with the SU if elected.
Other candidates agreed with the need to ally council with students as well — especially given recent projects. "The new land trust that the university is setting up will also be building a lot of housing in our ward, and it will be imperative that we have a wonderful relationship with the university to bring that forward," Field stated. "Collaboration is my superpower," she added.
I think all candidates were correct in that the university certainly doesn't feel like a priority to the city ― the costly lack of a U-Pass for students in the Fall 2020 and Winter 2021 semesters, despite concerns voiced by the UASU, proved that to be true. While I agree with Ali's statement about the city's failure to raise awareness about the municipal election, I can't say that it's entirely on Edmonton ― there's been plenty of news coverage on the various issues that are coming up in this election. Some of the responsibility of election awareness has to be on voters as well.
The EPS and their effectivity
During the forum, candidates discussed the effectiveness of EPS when it comes to serving communities of colour. In the wake of George Floyd's death, advocates have called for elected officials to examine how policing impacts Black, Indigenous, and People of Colour (BIPOC) populations and take action to begin addressing systemic racism in our city.
"I think the police could do a better job of being proactive, and being in the community, rather than coming when there's always a problem," stated Cameron.
Vass mentioned more involvement from minority groups instead; "A big failure of our police service is when there's portions of the community that don't feel safe."
Ali mentioned the complicated relationship that Black, Indigenous, and People of Colour (BIPOC) groups have with the EPS instead. "As a Black man, I think I can say with full confidence in myself that the police will never be the answer to community safety," he stated. "We need to reduce the EPS budget, and we need to invest it back into communities, back into social programs."
This response was the strongest, and it was great hearing from the only BIPOC candidate in the papastew race speaking on the issues minorities face — Ali would also be Edmonton's first Black city councillor if elected.
"Brain drain" in the province
Candidates also addressed Alberta's "brain drain" crisis with thoughtful responses.
"If we can give $475 million dollars to an arena being built, we can throw in some incentives for new businesses with research and development," Field argued, suggesting co-operation with the university and the National Research Council.
Goa also gave a memorable response, clarifying that jobs aren't necessarily the only focus. "We need people to feel like they're part of our community, and want to stay here and help make it better."
Edmonton's transit system
The always hot topic of Edmonton's transit came up as well. Schindelka addressed the issue of safety on transit by arguing for more peace officers, while Goa called for an increase in funding as well as free localized transit. Ali went a step further by advocating for free transit as a lower emission form of travel, as well as more programs such as bike and scooter sharing.
Cameron took a different approach, bringing attention to the design of the various bus shelters in the city. "Our transit stations are wide open, the wind blows through — they're not meant for a northern climate," he said.
Overall, each candidate brought different thoughts towards the issue and it showed varying perceptions to the problems in our city.
Climate change issues
When confronting the city's climate change work, all candidates were in agreement that climate change needs to be a part of every decision city council makes.
Ali was a strong voice, stating that "there's no one better to fight the climate fight than an 18-year-old… I will be a literal reminder that our decisions as a city have an impact on the future."
Vass smartly encouraged strategic approaches instead of "costly, knee-jerk reactions." However, after hearing the agreement from his fellow candidates on climate change being central to all city council decisions, he expressed optimism. "Even if I don't succeed, it's good to know we've got quality candidates that are willing to make that claim," he said cheerfully.
In the end, I found that I couldn't pick one favourite candidate. Each person spoke to different issues with different perspectives, and I was impressed by their thoughtful responses. I think choosing the candidate who best speaks for your views will be the best decision to make this election, because no matter what, I think we'll have a strong councillor to represent the voices of papastew when this is all finished.