Campus Life
COVID-19
Institutional
News
U of A cancels in-person classes for Thursday September 16
The decision to cancel class comes after the province introduced new public health restrictions.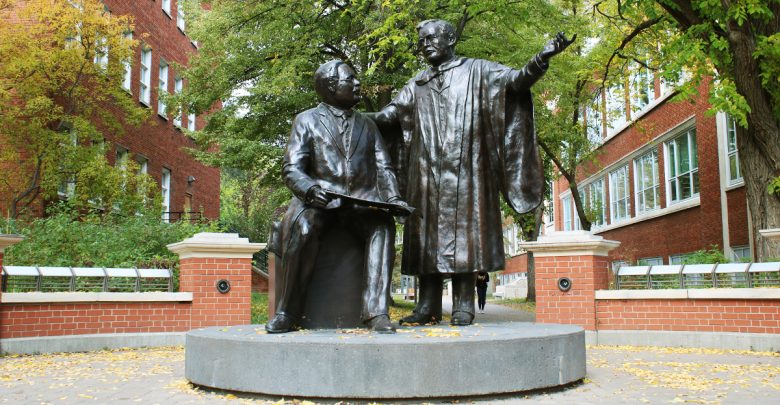 UPDATE: At 12:30 a.m. on September 16, 2021 this article underwent substantial updates. The Gateway's initial article was written after the university shared its intention to hold classes on September 16. In a subsequent update, the university decided to cancel classes and our article was changed to reflect this decision.
Following new public health measures announced by the provincial government, the University of Alberta has canceled all in-person classes that were scheduled to take place on Thursday September 16.
The updated measures come approximately three hours after the U of A Public Health Response initially sent out an email which told campus members that on-campus classes and labs would be allowed to remain in-person.
The decision to cancel class, along with indoor activities that cannot meet two meters physical distancing requirements, was shared as an update, at 11:30 p.m. on Wednesday evening. The statement came after stricter public health measures announced by Premier Jason Kenney and Minister of Health Tyler Shandro earlier that day.
In the government's announcement, Kenney declared a public health emergency in Alberta and implemented new public health measures. Among the new measures is a capacity limit on indoor gatherings for both vaccinated and unvaccinated Albertans which comes into effect September 16. Additionally, the province will be implementing mandatory work-from-home measures, unless the employer decides that physical presence is required for "operational effectiveness."
The government will also introduce a Restriction Exemption Program on September 20, where discretionary events and businesses can operate as usual provided they serve people who either have proof of vaccination, a medical exemption, or proof of a negative rapid test result within 72 hours.
In the U of A's updated statement, the Public Health Response team shared that post-secondaries must operate under physical distancing measures until institutions implement a Restrictions Exemption Program's implementation on Monday September 20. The university initially planned to mandate vaccines to those on-campus starting November 1.
Due to the restrictions, the deadline for students to add or drop classes has been extended until September 20, although some exceptions may apply. The university will additionally provide more information on sport, fitness, recreation, and performance activities at the U of A prior to September 20.
The university committed to providing an update on Thursday September 16 for the status of classes and activities taking place on Friday September 17.
"Thank you for your continued cooperation, compassion, and compliance with our measures," the statement concluded. "Your efforts matter; our collective efforts matter."