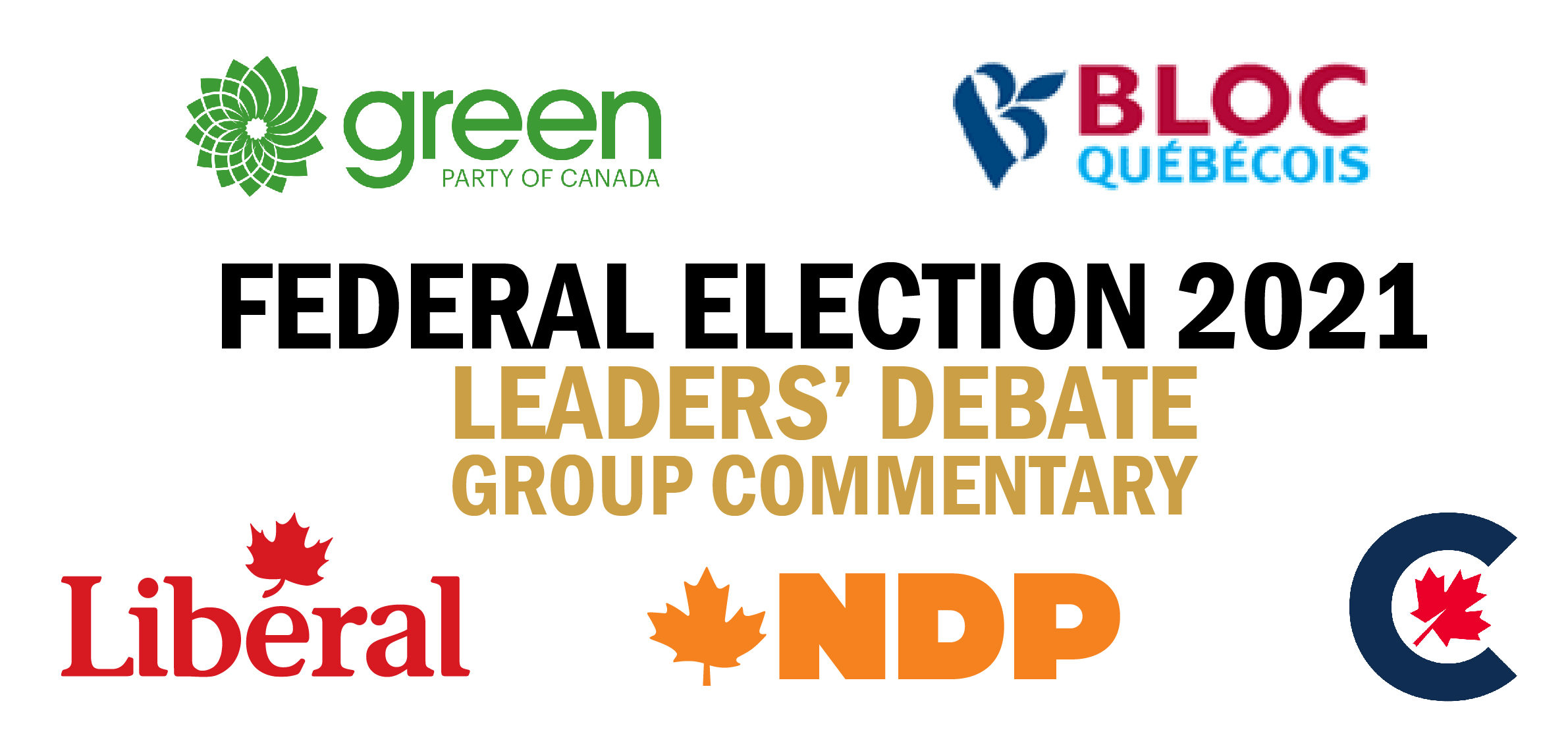 Last night at a socially distanced gathering, a handful of volunteers at the Gateway watched the leaders' debate unfold and responded to the chaotic two hour-long event.
Justin Trudeau, Erin O'Toole, Jagmeet Singh, Annamie Paul and Yves-Francois Blanchet debated five topics: affordability, climate change, leadership and accountability, COVID-19 recovery, and reconciliation. Read who our student writers think won this debate and what their key takeaways were.
Inadequate responses on reconciliation
I finished the federal leaders' debate without a clear impression of who won. Overall, I was aching to hear more on reconciliation. None of the leaders expanded clearly on how, or if, they would plan to take responsibility for Canada's role in colonization. Both Singh and Paul repeatedly nodded to the fact that Indigenous leadership should have been present on the stage to answer these questions. However, they failed to address the role the Canadian government needs to play in having tangible policies to support these leaders.
Meanwhile, Trudeau emphasized the need to keep at-risk Indigenous children in their communities, yet neglected to mention how his government would ensure that these communities have the necessary resources to support each child. Although O'Toole threw in his commitment to economic reconciliation, it was unclear whose economic ideals would be served. After this section of the debate, it seemed that no leader was willing to just say that the Canadian government is the reason reconciliation is necessary.
-Mary Frank
Tough call for a debate winner, but unlikely to matter
It was hard to tell who was the absolute winner of this heated debate. Along the five themes of the election debate, another occurring theme was Jagmeet Singh and Erin O'Toole criticizing Trudeau for putting politics and power above the nation. Strategically speaking, it is not difficult to see the reason that the Liberals set up this snap election during the middle of the pandemic: to lead a parliamentary majority while Canadians are still happy with vaccination rollout and income support.
Although both the French and English language debates have been heated and well-engaged among all party leaders, I highly doubt this was going to affect the election polls. As Trudeau started his campaign right at the end of the third wave of the pandemic with people focusing more on resuming their life, it was the Liberals' time to take credit for a relatively stable economy and making Canada one of the most vaccinated countries. Trudeau for sure has the reason to be confident, but the stakes of a snap election are also high. O'Toole, on the other hand, didn't have much time or accomplishment to impress the voters before the debate. However, he was quite successful in showing his record and promoting the Conservatives' plan and solutions, especially under the themes COVID-19 recovery and affordability. At this time, with less than two weeks until the election, it was a tough call to see which leader would win.
-Sophia Yang
No clear winner, but most gains for Green Party Leader
My impression is that there was no clear winner of the English debate. But, I would say the candidate who made the most gains compared to the others was Annamie Paul of the Green Party. Being a relative unknown on the stage, Paul demonstrated the most patience throughout the debate and made the least unnecessary interruptions or jabs at others' personal leadership ability. Paul also frequently refocused on the questions asked during open debates, particularly with regards to the inquiry on Missing and Murdered Indigenous Women and Girls, and her concerns that Indigenous leadership was not adequately represented in discussions about truth and reconciliation. I would have liked to hear more from all candidates about their thoughts on more diverse representation as a factor in various issues.
-Athena McCusker
Leaders need to appeal to all voters, not just their base
After watching the debate, it was clear that each leader was talking to a specific demographic.
Singh spoke to the young Canadian voters who were worried about their futures over the growing climate concern. O'Toole defended the western energy sector who feared switching to renewable energy would threaten oil jobs and their economies. Paul spoke to minorities, and urged for more diversity in parliament and specifically for leadership positions for Indigenous women. Blanchet was not speaking on behalf of all Canadians, but to Quebec voters to protect Quebec's sovereignty. Trudeau tried to prove his worthiness to remain in power by referring to past examples. However, Trudeau's explanations felt less like proof, and more like a desperate plea to continue his leadership.
The way each candidate hyper focused on a specific type of Canadian caused each candidate to lose out on a large proportion of voters. I believe that a more effective approach for each candidate would've been to speak to all voters, and not just the ones that were most likely to vote for them.
-Sara Sierko
Green Party leader stands out by calling for unity
It was hard for me to decide who won the leader's debate. The debate was heated, with lots of leaders arguing and getting defensive. I felt a bit worried realising that these candidates were the people I would have to trust with governing Canada, when they could hardly get along with each other as fellow leaders.
However, Paul stood out to me. She mentioned several times that the leaders of the parties should work together to solve solutions rather than be competing with each other. When Trudeau did little to explain controversial decisions he made, Paul mentioned Trudeau could simply admit when he has "messed up." During the reconciliation section of the debate, what was notable was how Paul mentioned that Indigenous leadership should be represented at the debate. Paul's comment drew attention to the fact that despite all the talk about how the leaders are committed to reconciliation, Indigenous leadership is still being ignored. While the leaders did seem to be at constant odds, I did like how they all seemed to be committed to positive change for Canadians. But, it is easy to say these things. I hope that following all the leaders' great ambitions will be great achievements.
-Deena Goodrunning
O'Toole comes out unscathed
I think unfortunately Erin O'Toole probably was the winner of yesterday's debate. He had simple and clear messaging that shone through the stream of chaotic bickering between Justin Trudeau and Jagmeet Singh. He seemed to emerge remarkably unscathed as he navigated a few pointed questions about his climate and childcare policies.
Singh disappointed me as I felt like he spent most of his time criticizing Trudeau and didn't get into the policy specifics and his strong point: fighting for a strong progressive vision for Canada's future. Additionally, I think Singh is often the most authentic candidate but that didn't show in yesterday's debate. My takeaway is that I think this debate will favour O'Toole as he spoke well to any moderate, undecided voters concerned about the deficit, jobs and the economy. He came across as a competent and viable candidate for Prime Minister.
-Emily Williams