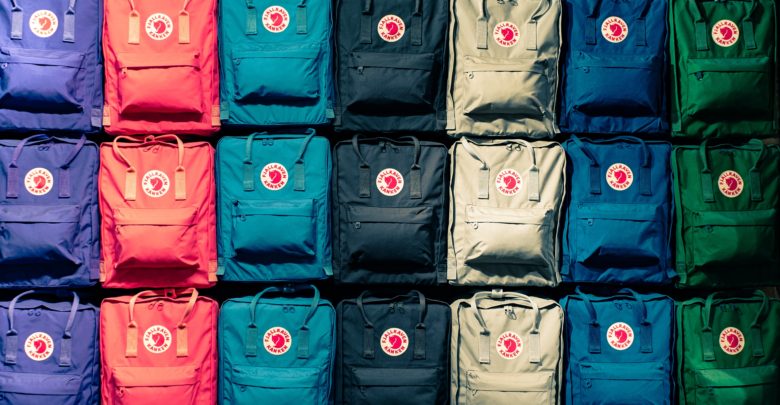 With many classes on campus returning to in-person delivery, students will be returning to classes with school bags tucked under their arms or on their backs. One question — what's in their bags? In the hopes of giving readers some bag inspiration, or maybe an idea of what not to do, here are the bags of some Gateway writers!
Janelle's school bag
Going from online to in-person means I have to make sure I am prepared for the day. Most things I had easy access to at home but now I won't on campus. Below is what is in my bag that I would typically take for a day of classes.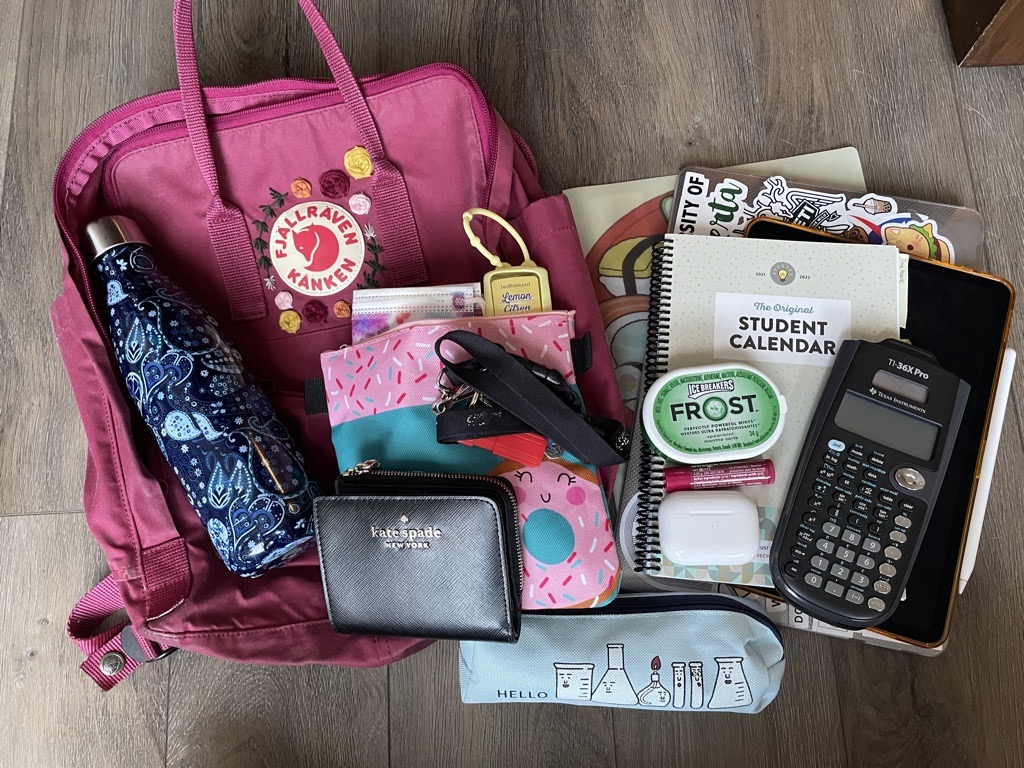 MacBook Air for note-taking and viewing one of the online lectures that I will be doing at school
AirPod Pros for when I need to tune out after class for a mental break.
iPad Pro a.k.a. my binder of notes.
Pencil Case with mechanical pencils, extra pencil lead, an eraser, different coloured highlighters, different coloured erasable pens,  quick-dry pen, and correction tape.
Ti-36X Pro Calculator — got to calculate those integrals somehow.
COVID-19 pack I put together with a few extra masks, sanitizer, and disinfectant wipes.
Swell water bottle — can't be dehydrated now.
Folder to put handouts in.
Student planner with monthly and weekly layouts to plan out schedules.
Wallet with student ID visible in the clear window.
Keys with a 16GB USB stick.
Blistex lip balm and mints.
Emily's school bag
My back to school bag includes my regular staples plus some new items for going to school during COVID-19. I got a new coffee to-go cup this year and a case for my AirPods as I will be using them a lot for zoom calls and lecture videos and do not want to lose them on campus! Armed with these tools, I am prepared for the chaos that my semester will likely be as I run from in-person classes to online ones!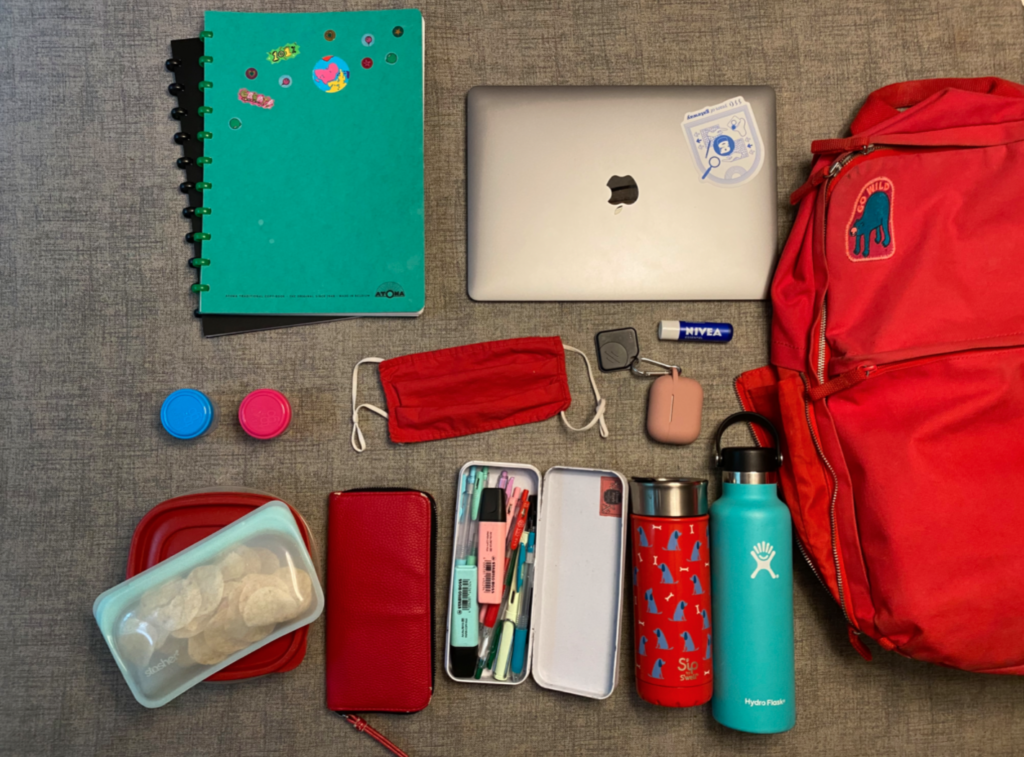 Ikea canvas backpack
Macbook Air
Atoma notebooks
AirPods with case
Nivea lip balm
Lunch containers and Stasher snack bag
Wallet
Pencil case
Hydro Flask water bottle
Swell to-go mug
Jin's school bag
It's my first time going to classes on campus, so this is a trial run. I'm carefully walking the line between "carrying too much" and "missing a crucial component," but I'll figure it out as I go along. My tote bag choice might bite me back due to its small size and stress on the hands from the handles, but for now I'd like to harness the aesthetic power of a tote bag in autumn.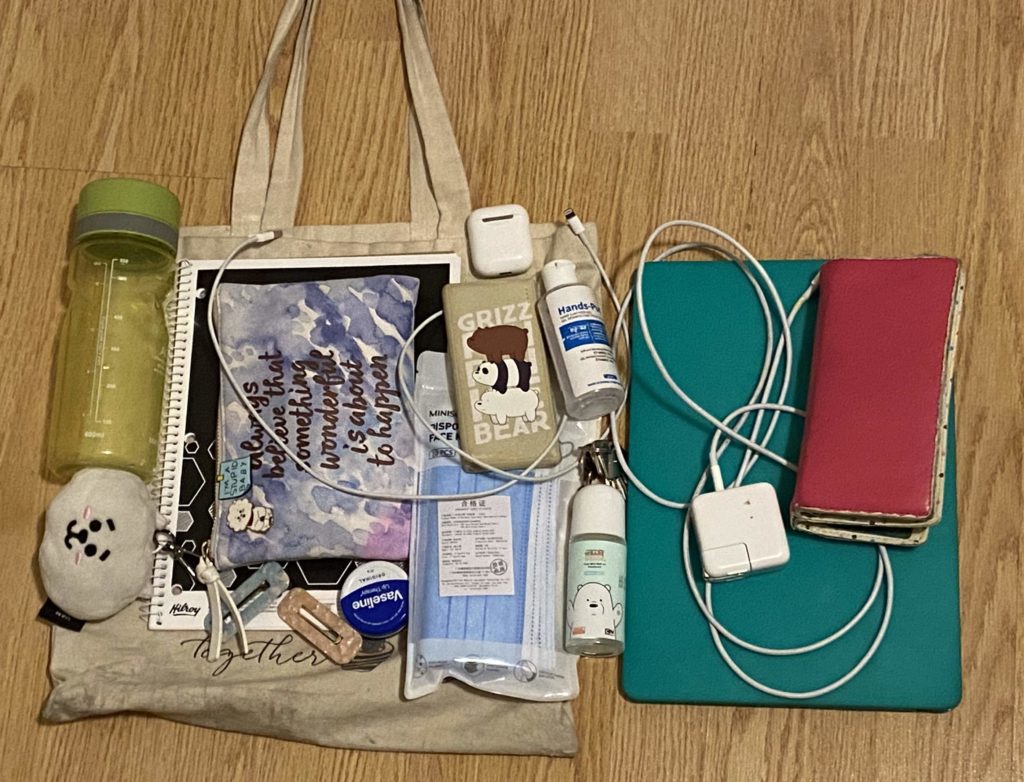 Water bottle
Paper notebook
MacBook
Pencil bag
Wallet and keys
Deodorant
Hair clips: for when my styled hair inevitably starts going flat
Portable charger for my phone
AirPods
Lip balm
Hand sanitizer and disposable masks