COVID-19
News
Students' Union
Students' Union announces Get Your Shot vaccine contest, offering free tuition in the fall as a prize
Students aged 18 or older, who have received at least one dose of an approved COVID-19 vaccine, will be eligible to enter the contest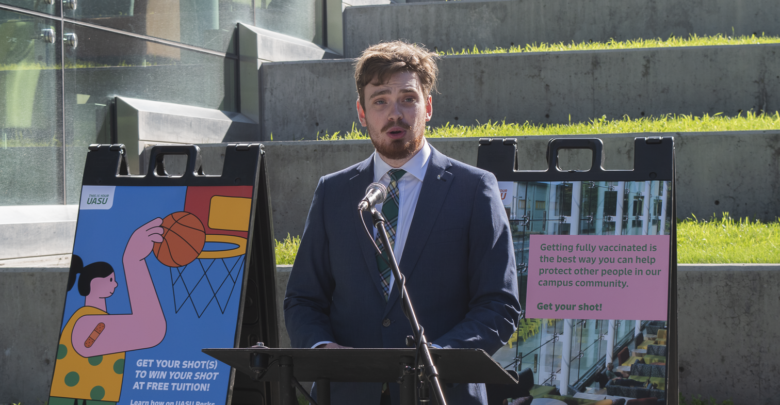 Vaccinated students returning to campus this fall will have a chance to win a full semester's worth of tuition, along with other prizes, due to a new vaccine incentive contest announced by the University of Alberta Students' Union (UASU) on Wednesday.
The Get Your Shot contest, created in a partnership between the University of Alberta, the UASU, the Graduate Students' Association (GSA), and the Alumni Association, aims to encourage students to get vaccinated prior to the start of classes.
Contest prizes include 10 free undergraduate tuition prizes for the fall semester and two free full-year graduate thesis-based tuition prizes, with more prizes to be announced. The undergraduate tuition prizes will be equivalent to the tuition of an arts student with a full course load in the fall semester. Any non-arts student would have that amount deducted from their total tuition. Together, the prizes total a sum of approximately $40,000.
Students who are 18 or older and have received at least one dose of an approved COVID-19 vaccine can enter the contest, from August 27 to September 10, on the UASU Perks App. Those who enter the contest will not have to provide proof of their vaccination status at the time of entry, but they will have to provide proof in order to claim any prizes. The draw for prizes will occur on September 10, once the contest has closed.
Rowan Ley, president of the UASU, commented that the Get Your Shot vaccination contest is a chance to reward students who have gotten their vaccination shot, while encouraging more community members to join them.
"While it would be exciting to win any of our prizes, this is a contest that is impossible to lose," Ley said. "Because even if you don't get a prize, vaccination keeps our whole community safe. It moves us a step closer to the end of the pandemic and that, on its own, is a win."
Bill Flanagan, president of the University of Alberta, shared that the university was "delighted" to partner with the undergraduate and graduate student associations on campus to make the vaccine contest possible. He also shared that the university will be offering free vaccine clinics on University of Alberta campuses, to make it easier for students have access to vaccines.
"We know that increasing the vaccination rates amongst the age group of 21 to 29 is extremely important and we want to partner with the Students' Union and Graduate Students' Association to make vaccinations easily accessible to all of our students on campus," Flanagan said.
These mass vaccination clinics will be held at Augustana campus on August 31, and at the North Campus on September 1, 2, 7, and 8. These clinics will be free and available to anyone for drop-in service. The University of Alberta will announce the room and location information about the vaccine clinics at a later date. Additionally, vaccines remain available on campus through the University Health Centre (UHC).
"The most important objective here is to encourage people to be vaccinated and, in particular, our students," Flanagan said. "We know that is the most important way that we can assure a safe return to campus, and that return to campus life that we've all missed so much over the past year and a half."
Ley hopes that the vaccine contest, alongside the university's new public health measures, will help increase the number of vaccinated students on campus in the fall. According to a recent survey released by the University of Alberta, 91 per cent of students who responded will be fully vaccinated by August 30.
"Even if this only makes a five per cent difference, that is well worth the cost, given that we know the Delta variant can spread very rapidly," Ley said. "I hope that between providing both a positive, exciting incentive to make people happy about the chance to be vaccinated, but also having reasonable precautions in place if they aren't, we can get that 91 per cent to 96 per cent."