COVID-19
Institutional
News
U of A mandates masks indoors, requires unvaccinated to undergo rapid testing in fall semester
The new health measures are a coordinated safety effort between Alberta's three research-intensive universities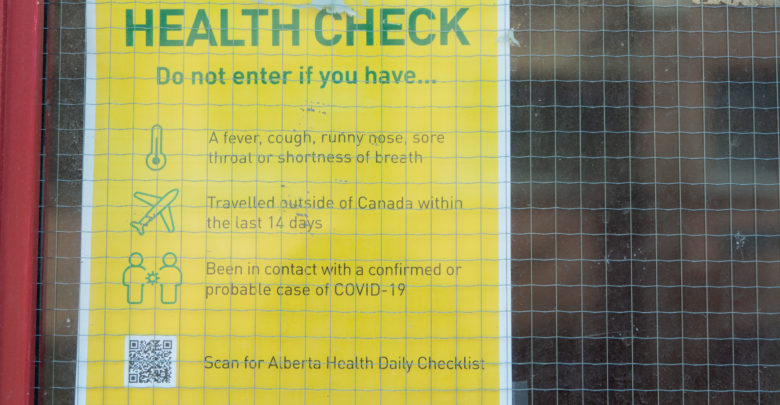 The University of Alberta will require unvaccinated students, staff, and faculty to undergo rapid testing for COVID-19 in the fall semester, in addition to mandating face masks for indoor areas.
In a joint statement released by the University of Alberta, University of Calgary, and University of Lethbridge on Tuesday, the post-secondary institutions updated their COVID-19 responses to include stricter health measures.
Amongst the new measures is a requirement for campus members who are not fully vaccinated, or would prefer not to disclose their vaccine status, to undergo regular rapid testing. The U of A will require students, faculty, and staff receive a negative test result prior to participating in in-person activities. Fully vaccinated individuals, however, will be exempt from this requirement.
Non-medical face masks will also be mandated in all public indoor areas at the University of Alberta, University of Calgary, and University of Lethbridge where physical distancing is not possible.
Certain areas on campus will be exempt from the mask mandate. These areas include solitary work in private offices, solitary work in a shared space working in a cubicle with an approved approved barrier between people and when not providing services, and in a classroom where there is a minimum of 2 metres distance between instructor or among students. 
The Albertan institutions will also require those who test positive for COVID-19, or present COVID-19 symptoms, to self-isolate for 10 days or until they receive a negative COVID-19 test result. These symptoms can include:
Fever
Cough
Shortness of breath
Loss of sense of smell or taste
Sore throat in adults only
Runny nose in adults only
According to the statement, each university will release more details in the coming days on how they will implement these measures on their respective campuses.
Bill Flanagan, president of the University of Alberta, said that in a rapidly changing situation, himself and the other post-secondary presidents recognize the need for additional measures within campus communities.
"I am pleased to cooperate with the University of Calgary and the University of Lethbridge on these policies," said Flanagan. "Our shared commitment is to our students, faculty and staff and to put in place the precautions necessary to ensure a safe environment for in-person teaching and learning."
The decision comes after many U of A campus members had called on administrators to put stronger public health measures in place. One open letter, which received over 1,000 signatures in 68 hours, specifically called on the university to mandate COVID-19 vaccinations, masking, and rapid testing on campus.