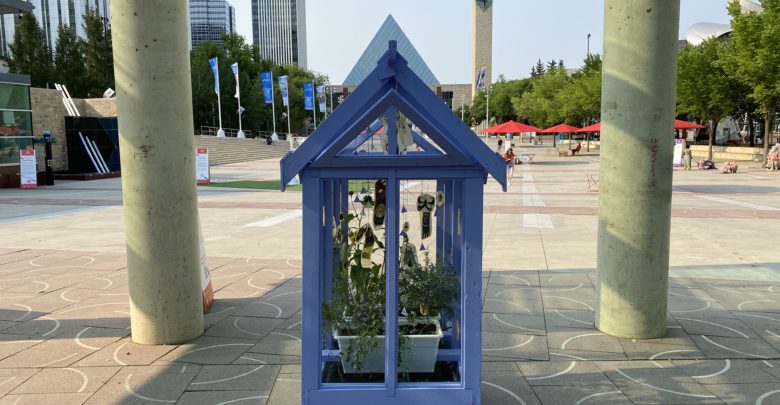 After the challenging year and a half that has seen many art events downsized or sent online, The Works: Activated! provided a great public art festival for in-person audiences. Organizers believe that the event, which ran from July 7 to 17, could act as a precursor for other art events in the future.
After Churchill Square was largely empty for the previous year and a half, the festival brought the location alive with activity. The venue was chosen by The Works organizers due to its spacious qualities, and a centralized location. The Works has previously had a strong year in 2018 in terms of artworks and has been a staple since its debut in 1986.
The Works: Activated! was a labour of love for volunteers and artists alike, with the COVID-19 pandemic creating unique challenges for organizers. There were fewer artworks in the main location to allow social distancing and online resources to allow for more access. There were also concerns about opening so close to expanded vaccination rollout for the province.
Amber Rooke, who has been manager of The Works since 2012, said that in each iteration of annual event, the abstract and engagement have been a focus in their main venues, and this year is no different.
"As organizers, we were attempting to plan something earlier on […] it takes time to plan something that would be able to happen even under tight restrictions and that really responds to the needs of a community coming hopefully out of a pandemic," Rooke said. "The call was really to artworks that [are] physically able to manage an outdoor open exhibition space. Specifically, the active portion of it … [is] what activated refers to — activating space in that way."
Why does Rooke, along with other organizers, feel strongly about opening the event this year, so close to changing regulations regarding vaccinations and public space? The Works: Activated! wants to showcase work that inspires energy after a long period of isolation, and invites the public back into public spaces.
"We want to also remain flexible and responsive to the needs of the public and what is healthy and good to be doing at this time," she said.
"So it's really important that we were active this year and that we produce something because we need artists making art. That's something that we need as a society and that's something that The Works is here to help support."
The immersive collection of art on display continues to embody this theme, encouraging participants to consider their own personal relation to space as we begin to emerge from the pandemic.
"We have a range of works… that offer a little bit of an intimate experience. For example, Taryn Walker's [piece] Since We Can't Dance Together, is a greenhouse," Rooke described. "You can't really see or touch the pieces inside and what we have in there is a number of plants as well as beautiful drawings of fingers and insects, dancing around in a certain way with the wind and the light inside there."
"Now, this interaction is happening and it's beautiful and it's organic, but it's also just out of reach. Most of the work that we have right now is looking at what is normal, and sort of [normal] — it takes just a little bit of a step away from what is."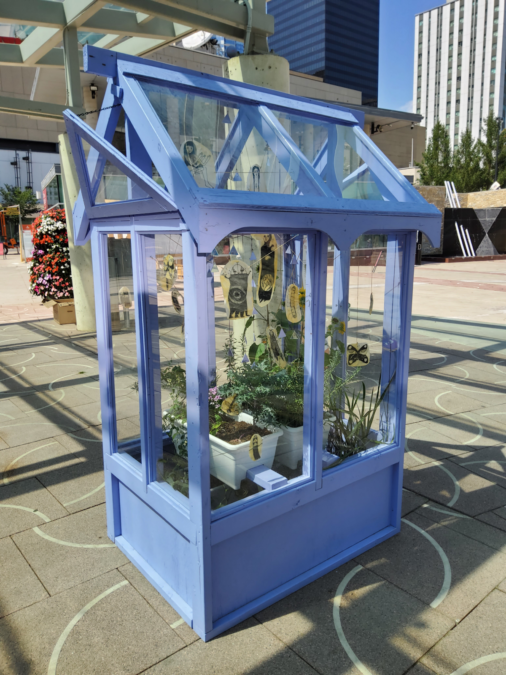 Taking a look at Since We Can't Dance Together from the artist's perspective, Taryn Walker focused on the structure of this multi-media sculpture and its embodiment of intimacy, healing in companionship, and social isolation.
Walker is a queer, Indigenous artist of Salish ancestry. She said that her work presents a joyous and meaningful conversation about the end to the pandemic.
"With the pandemic, I feel like there is kind of this need of collective process, greed, kind of hold ourselves, tenderly, that kind of leads for our community," Walker commented.
"A kind of collective feeling like we're moving — [growing] out of a period of [COVID-19 related] trauma, so I feel… we're moving on about this darker time [to times of] joy, of boldness and playfulness, maybe even humour," she said. "I feel like that is reflected in my installation but also all the other artists' [pieces] as well."
Art has an important place in managing crises. Rooke and Walker both discussed the healing properties art provides.
"Art also has a really important societal role in communicating and concretizing ideas and feelings," Rooke said. "That is something that we all really need right now. We need to, in some ways, look to the artists to describe our experience and to give you words or shape to what it is that we are feeling and experiencing and that will help to process it."
What Rooke would like the general public to take away from the event is to consider it a precursor to events returning after concerns over COVID-19 subside.
"We look forward to a more active festival experience in 2022. Certainly, we recognize that there are some possibilities that will continue to have some health restrictions going forward," Rooke said. "I'm very hopeful that we'll be able to produce an event with many sites, and really have a chance to gather and celebrate with the community."