Campus Life
News
Virtual words of encouragement: Project Postcard
Due to COVID-19, the U of A Alumni Relations had to move their physical post-card project online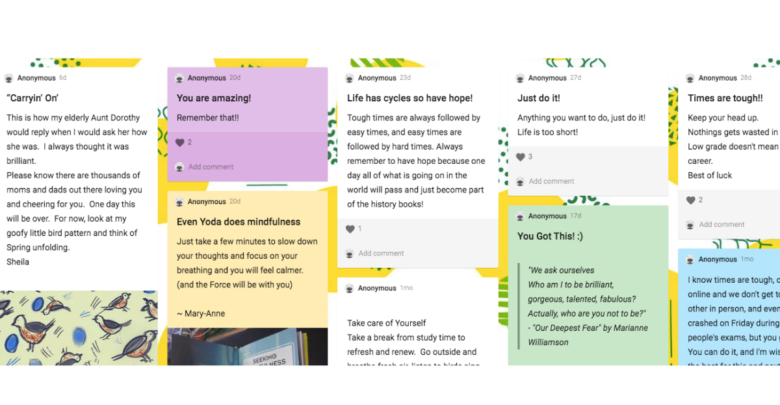 Although virtual, snail mail is having its comeback at the University of Alberta with Project Postcard
Project Postcard is an ongoing event ran by the U of A's Alumni Relations. Through the project, alumni are given the opportunity to keep in touch with current students by sending messages of support in the form of a postcard.
Vanessa Welz, the volunteer coordinator at the Office of Alumni Relations, and her team have been running this project since 2017. Project Postcard began after alumni continuously requested for some way to show their support for students at the U of A.
"We started this as a physical postcard," she explained. "The way that it was structured prior to COVID-19 is alumni could request a certain number of postcards that they were willing to write. We mail to them those postcards along with a postage paid return envelope that they could then mail the completed postcards back to us."
"We worked with the Healthy Campus Unit's Unwind Your Mind and would deliver the postcards in the libraries with healthy snacks when students were studying just to give them a little boost and little note of encouragement from someone who had been in their shoes, finished their exams, and graduated."
Since learning remotely, Project Postcard has also converted itself online, where now, alumni create a board, adding fun pictures or gifs, for all to see. It has also opened itself to other members of the University of Alberta community so now all are able to participate in this simple and fun activity.
"We found a tool called Padlet which is an online message board that's pretty easy to use. We're having alumni, but also all members of the university community are welcomed, post a message on this message board," Welz said, "It can be a note of encouragement, they can add a picture, a gif, and kind of whatever they want. They can keep it anonymous or sign off with their name."
This is highly promoted during exam season, but alumni and members of the U of A community are welcomed and encouraged to participate throughout the year. Alumni Relations partnership with Healthy Campus Unit's Unwind Your Mind aims to create awareness of student's mental health and create environments for them to de-stress.
Creating this supportive environment for students has also been rewarding for Welz and her team as well. This project has become so popular that it has made its way onto social media and has been the thing that has stood out for her during this project.
"There's been a few people who have posted about it on Reddit, but just when a student is really grateful about getting that message and then going on social media to say thank you, that's always awesome," Welz said, "It's really a simple way to build some community and share some good notes of encouragement."