Guest Columns
Meet an ISA Salute Award recipient: A Q&A with Kumarie Achaibar-Morrison
Get to know one of this year's ISA Salute Award receipts and their insightful thoughts on the international student community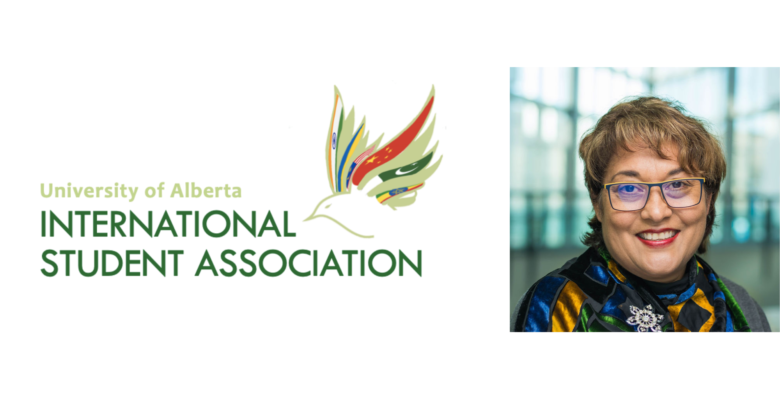 This guest column is written through a partnership with the University of Alberta International Students' Association and The Gateway.
Every year, the International Students' Association (ISA) awards its highest badge of honour — the Salute — to individuals who have had an exemplary impact on the ISA and who have gone above and beyond to support international student advocacy.
This year, the ISA has named Joel Agarwal and Kumarie Achaibar-Morrison as the recipients.
Read on to get to know these individuals and their insightful words of wisdom. This article covers Kumarie Achaibar-Morrison. After finishing this, head here to read about Joel Agarwal.
---
In addition to her normal role of supporting international students as part of International Student Services (ISS) for over a decade, Kumarie Achaibar-Morrison has been a backbone for the ISA since its revival two years ago.
Achaibar-Morrison has continuously provided invaluable guidance and mentorship to the ISA team. Her advice has been crucial for bringing many of ISA's programs to life. One notable example was Achaibar-Morrison's unwavering enthusiasm and work with the City of Edmonton to get international students included in the Ride Transit Program.
The ISA salutes and deeply thanks Achaibar-Morrison for her support of the ISA and her commitment for making a difference in students' lives.
We had a chance to talk to Achaibar-Morrison and get her thoughts on international students and the ISA from a personal, philosophical, and professional point of view.
This interview has been edited for brevity and clarity.
Q: How are you feeling or what does this award mean to you?
Kumarie Achaibar-Morrison: I feel humbled, because sometimes you don't know whether or not your work makes a difference. For the ISS team and myself, the authentic connection to students and having them tell you that your service made a difference is really what gives meaning to the work. All ISS advisors get very excited when they get feedback directly from students. The personalization of this award, I feel, gives my work validation. I believe this award belongs to the entire ISS team, not just me in particular.
I also believe that there is this symbiotic relationship between the ISA as a student-led group and the work of ISS. The authenticity and effectiveness of programs for international students stems from collaboration and from efforts that have been put in from both sides. It is extremely important to have a student-led group like the ISA with the ability to focus more on advocacy and on systemic change from the outside.
Q: What motivates you to work on international student issues? What is the moral imperative or what is behind your calling for working with international students?
Being an international student has been my lived experience. When I went to study in England, my experience there was fraught with lots of struggles. In addition to things like economic difficulties, and not having my family there, it was my first encounter with all these questions of identity, of how others perceive me, as well as being challenged by other values.
All of that brought into play some real dissonance. The whole space of dissonance that you experience when you move from one context to another led me to become very curious about what are ways of working with it and thinking about it, and that led to my education around intercultural communication. I learnt that there is always a third space. It's not about where you came from or assimilating to where you are, but the third space is one that you create to find value and meaning, which is informed by both your experiences of where you come from and the new context.
In addition to this on a very personal level, I am in an intercultural marriage with bicultural children, and so the ways in which I live my life daily is a constant interplay between cultures, locations, values, and adaptations. And I've realized that we need to have tangible ways of helping students solve their challenges from simpler pieces like immigration advising to more complex pieces of developing soft skills, and dealing with individual issues around race, ethnicity, sexuality and all of the ways in which a young person is adapting to the world and to a new environment. An example is the English Conversation Club, where in addition to being a space to practice spoken English, we discuss cross-cultural communication and value differences.
In every interaction there will be differences and the essence of what we struggle with are differences. How we connect to value, meaning, and what is important in those interactions is what really drives me in my personal and professional leanings.
Q: What do you think ISA should focus on in the next few years?
The ISA exists within a local context, a national context, and an international context and there are issues and advocacy to be done at all levels. On a local level, ISA can help keep the University accountable about what learning supports there are for international students. On a national level, ISA should connect with other institutions across Canada to advocate for systemic outcomes for the growing population of international students in Canada. This can include for example ensuring that we have diverse opportunities like research and internships for international students to accomplish their personal and professional goals.
At an international level, we need to have conversations around why it is that we are seeing this trend of students from around the world seeking spaces for education in other countries and conversations around, for example, neocolonialism, the export of education as a product, and post-secondary opportunities around the globe.
Where ISA make may the most difference is in focusing on the learning environment for international students at the U of A, on advocating for opportunities that international students have to realize their academic and professional goals at the U of A, and in engaging domestic students and domestic communities in conversations about international education and the mobility of students, both in and out of our institution, as vital for living in an interdependent world with problems like climate change and exacerbating inequities.
These conversations around equity, around differences in culture, and differences in learning styles need to be intentional. Having the presence of international students is the first step but merely having their presence does not spark these conversations.
More information about the award and the ISA can be found here.