Guest Columns
Meet an ISA Salute Award recipient: A Q&A with Joel Agarwal
Get to know one of this year's ISA Salute Award receipts and their insightful thoughts on the international student community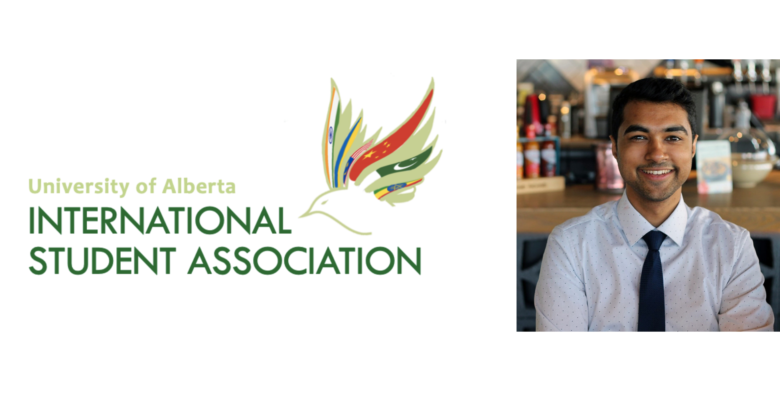 This guest column is written through a partnership with the University of Alberta International Students' Association and The Gateway.
Every year, the International Students' Association (ISA) awards its highest badge of honour — the Salute — to individuals who have had an exemplary impact on the ISA and who have gone above and beyond to support international student advocacy.
This year, the ISA has named Joel Agarwal and Kumarie Achaibar-Morrison as the recipients.
Read on to get to know these individuals and their insightful words of wisdom. This article covers Joel Agarwal. After finishing this, head here to read about Kumarie Achaibar-Morrison.
---
Joel Agarwal, the 2020-2021 president of the Student's Union, has continuously used his leadership and platform to bring the needs of international students into the foreground for action. Agarwal's extensive work played an instrumental role in helping to strengthen ISA's foundations and having ISA recognized as a Student Representative Association (SRA).
Agarwal's advocacy was also a key to get international students' online learning needs addressed. The ISA salutes Agarwal for his dedication and relentless pursuit to empowering the ISA and the international students' community.
We had a chance to talk with Agarwal and get his thoughts and feelings on international students issues and leadership.
This interview has been edited for clarity and brevity
Q: How are you feeling or what does this award mean to you?
Joel Agarwal: I am pleasantly surprised and deeply honoured to be a recipient of the 2020-2021 Salute award. None of us on the UASU Executive team knew the extensive challenges that would be presented to us this year from a global pandemic, sweeping budget cuts, massive academic and administrative restructuring — all of which have impacted all, including international students.
I am continuously humbled by the resiliency I have witnessed by everyone in the university community, and I could not have gotten through this year without the support of my team: David Draper, Rowan Ley, Alana Krahn, and Katie Kidd. It has been a privilege for me to lead the student body at such a time, one that I will greatly miss. I am truly grateful for this award.
Q: What motivates you to work on international student issues? What is the moral imperative or what is behind your calling for working with international students?
As the Students' Union President, it is my obligation and duty to represent and serve all undergraduate students at the University of Alberta, a large proportion of which are international students. International students often have unique challenges from adapting to living in a new country, learning about different cultures, being away from home often for the first time, among others.
This year, the COVID-19 pandemic imposed new concerns around the quality and accessibility of online learning which the majority of students and faculty needed to shift towards. Never before in the U of A's history had there ever been such a sudden and mass exodus to online learning.
With the shift to "zoom lectures" came the onset of additional unforeseeable challenges both on the student and faculty. Faculty were now required to turn their in-person lectures into an online compatible format, many of whom struggled greatly with online learning and technology. Students struggled to have the same kind of academic social life online as they do in person. Many students were without proper technology and internet access to be able to easily attend virtual lectures. In addition, many students with accessibility needs in their studies had great difficulty in these learning environments. International students who were stuck at home across the globe were often required to attend lectures at odd hours of the night.
Q: What do you think are near future goals the ISA and the University of Alberta Students Union (UASU) should focus on for international students?
It is important that we equip international students with the resources they need to be successful academically, socially, emotionally and mentally, and to ensure they feel welcome and at home here at the U of A. This needs to be done while we are studying online as well as when we're back to in-person learning. It is important to make the transition as smooth as possible.
The UASU has a long history of providing advocacy, businesses, services and space for students across campus, and our commitment to international students is strong. Our strategic plan currently has a commitment to developing stronger partnerships with cultural groups and the international student community, and I believe that this can be continued through a strong relationship with the ISA and other international focused groups on campus.
Q: As a leader how do you decide if you are on the right path and where you should focus your priorities?
I think a strong leader ought to spend time in solitude. Time alone, without distractions from everything going on around them — where one can be strategizing, thinking ahead, and planning. Once you get into the day, you get very busy with the many things of the day. Though I ran on a platform of goals, a major part of my time was spent dealing with the pandemic, and unexpected crisis situations.
Q: Does this affect your ability to maintain a work-life balance?
I find that the role of the UASU President can often be a 24 hour job where sometimes boundaries are challenging to create. But having a strong work-life balance is important to one's well being. I find that journaling and meditation are helpful in grounding me in the midst of a chaotic week.
More information about the award and the ISA can be found here.