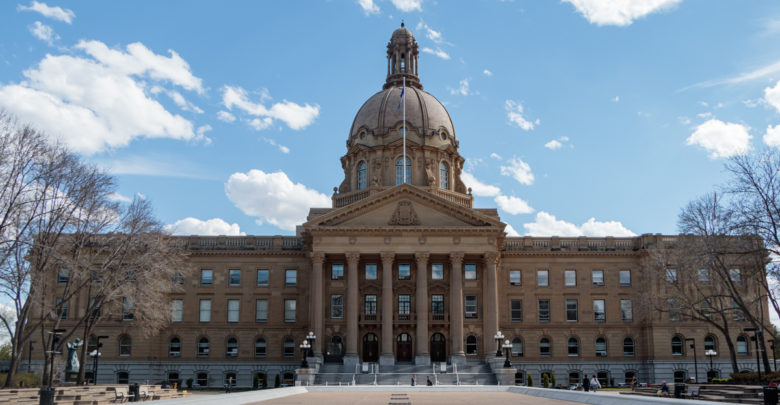 Alberta's provincial government has reintroduced COVID-19 restrictions in response to a surge in pandemic cases.
The Step 1 restrictions, announced at an April 6 press conference, prohibit in-person dining in restaurants (with the exception of patios), limit retail capacity to 15 per cent of fire code expectancy, and do not allow indoor gatherings. These adjustments follow an unprecedented rise in COVID-19 variants, where total active cases have risen by 27 per cent in the last week alone.
While the majority of updated restrictions came into effect April 7. Restaurants and pubs will offer indoor services until Friday, April 9, at noon. 
Alberta Premier Jason Kenney said that short-term projection modelling showed that Alberta is on track for an average of 2000 new COVID-19 cases per day at the end of April, a greater number of cases than the second wave in December, which at its peak did not exceed 1900 daily cases.
"To be blunt, this wave is here," he said. "These trends would threaten the maximum capacity of our healthcare system."
Kenney emphasized the need to follow the reintroduced restrictions, acknowledging that announcements "like the one today" have the capacity to disrupt "many people's lives."
"Our collective efforts will determine how fast this latest and last wave crests," he said. "Please make the right choices to buy us time to vaccinate more Albertans."
Variants now dominant strain in Alberta, Chief Medical Officer said
Dr. Deena Hinshaw, Alberta's Chief Medical Officer of Health, gave an additional update on April 8. Hinshaw said that Alberta Health Services (AHS) had identified 717 additional variants of concern in the last 24 hours, and that "variants of concern" now totaled 45% of active cases.
These three variants include the B.1.1.7 UK variant, the B.1.3.5.1. South African variant, and the P.1 Brazil variant.
"What we know from current evidence is that these three variants of concern are more transmissible than the earlier form of the virus," Hinshaw said.
Hinshaw noted that while the B.1.1.7 variant causes more severe illness, current COVID-19 are still effective against it. It is still unclear whether the B.1.3.5.1. variant, and P.1 variant cause more severe illness.
Hinshaw said COVID-19 vaccines have shown "lower effectiveness" with the B.1.3.5.1. variant, but that "[vaccines] still may provide protection against severe outcomes." For the P.1 variant it is unclear whether the vaccines will provide protection.
"Our knowledge and understanding is rapidly evolving, and we'll know a lot more in the time to come," she said. "That's one reason why we're keeping measures in place right now."
U of A's Public Health Response Team releases statement
The University of Alberta's Public Health Response Team (PHRT) sent out an email following the Premier's announcement, highlighting how only one-on-one training with an individual or household is now permitted for indoor fitness activities, and that retail services on campus will now be limited to 15 per cent of fire code occupancy.
The PHRT emphasized that the ramped-up restrictions do not affect the working remotely directive for U of A employees, nor the study spaces available for individuals to book in Cameron Library.
An update on the U of A's website said that eating and drinking in university residence lounges, common areas, and dining halls, is now prohibited.
Response to "concern" over Twitter announcement for outbreak of P.1 variant
Dr. Deena Hinshaw, Alberta's Chief Medical Officer of Health, began her portion of the update by addressing "concern" surrounding an outbreak of the P.1 variant identified over the weekend. In Hinshaw's Twitter announcement of the outbreak, the location was not originally specified.
"I know there has been concern that more information was not shared with Albertans," she said. "I want to be clear that while we are concerned about this outbreak, we should not lose sight of the fact that these P.1 cases are a tiny fraction of the thousands of cases reported over the weekend. We are still learning about the characteristics that the P.1 variant has."
She said that it is important to look at the "big picture" when considering the spread of variants in the province, and take actions to "prevent the spread of all strains of COVID-19."
Later in the announcement, Hinshaw added that the decision to disclose the outbreak over Twitter was made "out of the public interest to be transparent" but that the specific location was not announced because of lack of "general public risk."
"There was specific follow up with all of those who had been in close contact with individuals who were infectious," she said.
Kenney questioned about timing of updated measures
When asked whether the April 6 announcement was an "admission" that stricter measures should have been implemented before Easter weekend, Kenney disagreed, saying that the rise in cases has resulted from disobedience.
"If everybody were to comply with the public health measures that were in place over the past few weeks, we wouldn't be seeing the huge exponential growth that we are right now," he said.
He said that non-compliance is present because of "COVID-19 fatigue," adding that people have "let their guard down" by not remaining with their family cohort and "table hopping" when they go to restaurants and bars.
"The irony is that the sacrifices made by people that follow the rules, in a sense, is necessary for the minority of people who don't," he said.
When asked what the proper response for Albertans "openly cheering on civil disobedience," should be, Kenney said he has often "echoed the concerns of freedom loving Albertans."
"I'm glad to live in a province where there are a lot of people who jealously guard and protect their freedoms," he said. "But ultimately, what causes me to support measures like the ones we're announcing today is my belief in the sanctity of human life."
Updates on expanding the vaccine rollout
Kenney said the province plans to vaccinate 50 per cent of Albertans by the end of May. He said that beginning tomorrow, vaccine bookings will open for all those in the phase 2B category, meaning every Albertan over the age of 16 with an underlying health condition can book an appointment.
Additionally, Rapid Flow Through Clinics are being set up in Grand Prairie, Fort McMurray, Edmonton, Red Deer, Calgary Lethbridge and Medicine Hat to increase the speed of vaccination. Pharmacies will also soon be able to allow walk-in booking for the vaccine, rather than operating by appointment-only.
When asked about 347,000 doses of COVID-19 vaccines currently in inventory in Alberta despite a mounting waitlist, Kenney said that 175,000 of those doses were due to a shipment of AstraZeneca vaccines that arrived four days ahead of schedule.
"We are now having those sent out to pharmacies," he said.
Tyler Shandro, Alberta's health minister, said that the vaccines are "going to get into the arms of Albertans as quickly as possible."
More to come…