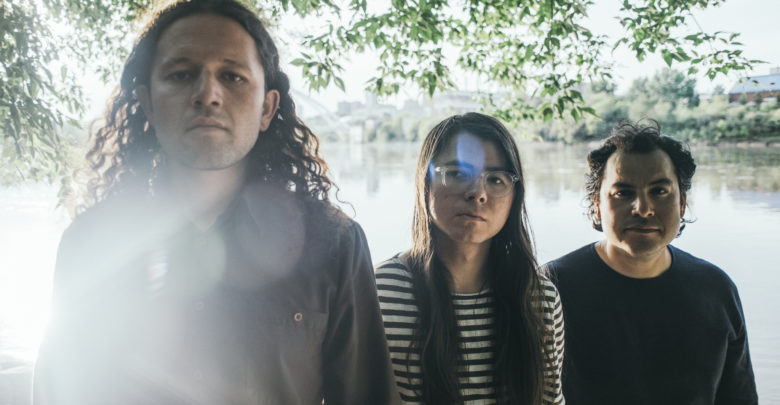 Despite closing out 2020 with nominations at the JUNOs and the Polaris Music Prize, it's never been about the awards for nêhiyawak. 
Singer and guitarist Kris Harper, bassist Matthew Cardinal, and drummer Marek Tyler only started recording as nêhiyawak in 2016, but the trio have all been regulars on their local scenes for years. Although the Edmonton-based rock band first came together to create the score for University of Alberta alum Conor McNally's 2017 documentary ôtênaw, Harper first had the idea to form an all-Indigenous rock band as far back as 2013.
Following the release of ôtênaw, the band decided to continue recording as nêhiyawak — Nehiyawak is an endonym of the Plains Cree people, to which all three band members trace their descent. After releasing a self-titled EP in 2017 and another EP in 2018, nêhiyawak fully announced themselves on the national stage in 2019 with their full-length debut, nipiy.
Deriving its name from the Cree word for "water," nipiy is an ambient, rummaging ode to the kisiskâciwanisîpiy, also known as the North Saskatchewan River. nipiy is also inspired by the ongoing Indigenous protest movement Idle No More, and across its 47-minute runtime it touches on topics like identity, addiction, residential schools, and the Sixties Scoop.
The band works those messages into a distinct blend of Indigenous influences and post-punk sounds that they've dubbed 'mocassin gaze,' and so far it has proved to be a winning combination with fans and critics alike.
The Gateway caught up with lead singer Kris Harper to talk about nipiy, nêhiyawak's recent success, and the band's plans for the future.
Responses have been edited for brevity and clarity.
The Gateway: Most bands' debut full-length albums don't get nominated for a Juno and the Polaris Music Prize. What do you think it is about nipiy that has caused it to receive the hugely positive response it's been getting?
Kris Harper: We just had the luck, the grace, and the honour of being able to be really honest about who we were, who we are, what we're bringing to this production, and then how it is that we can most truthfully speak to that. We were going in there with the expectation of making the best representation of what we were doing at the time and working with the best people that we could to make it happen.
But to answer your question, it's just been luck. It's been a lot of a lot of cool timing and just a huge honor for us. All of us have been making records and working in our own cities for years, so for any of these projects to get recognition, it's definitely not the kind of thing that any of us have been expecting. It's just an honor.
You've previously described your style of music as 'moccasin gaze.' What do you mean by that?
Take for the example the term 'jazz' being used to describe the American classical genre. It was never intended to be a foundational word upon which to build on the way that Western European 'classical' music was. That's the same with shoegaze. The only difference was if you were wearing shoes onstage with your pedalboard, as an Indigenous person you might wear moccasins. So it's a little thin [laughter].
It was more just tongue in cheek and a little bit of a joke, but at the same time it's kind of cool because other people can run with it. It's an interesting word. I do think it started initially about poking fun at some of the genre classification systems, but other people have now made it into something totally different and it just keeps growing.
You've mentioned before that the album is heavily inspired by the Idle No More movement, which really comes through on tracks like "open window." How else has the movement found its way into your music and your art?
I had to come at this writing in a conversational way. All of the lyrics are coming from this younger man from Edmonton who is an Indigenous person carrying an Indigenous experience. I was hoping to bring people's interest and awareness to these topics, and then they can do their own research.
The role of the musician can only be to spur an idea or start a conversation, but the conversation is only like two or three minutes. It's only the beginning, and then it's for others to continue to look into.
Being nominated at the Juno Awards and Polaris Music Prize is going to bring you to the attention of a whole new audience. To people who are just discovering nêhiyawak, what should they expect and are there any songs that would be a good entry point?
The nice thing about the first and last track on nipiy is that they are instrumental and they are timed to the tempo of the river. We tried to try to figure out how fast the water was moving, and both Marek and I came up to about 90 beats per minute. The measurement was done in the fall so I'm sure there are flow changes, but that seemed to be identical for both of us, so we decided to time the tracks like that.
That's a kind of a cool entrance point, just to imagine being here in Edmonton for those who aren't.
Is there anything in particular you want to do with all this recent exposure and your expanded platform? Are there any new items that have made their way onto the band's bucket list?
The bucket list is an interesting one because I feel like we already exceeded our bucket list. At this point, it's really about influencing the next generations and beyond.
This has always been about encouraging others to open up the platform. You don't have to sound one way to have an Indigenous perspective in your art. You can speak from your own experience.
Is there anything you would like to add?
I just think that it's always good for us as artists to recognize where it is that we're from, how it is that we got here, to have more knowledge of self, and to feel the honour of every day of life. It's truly a thing that we all have to give our thanks for every day.