Institutional
News
University of Alberta receives provincial funding to pilot Veteran Friendly Campus program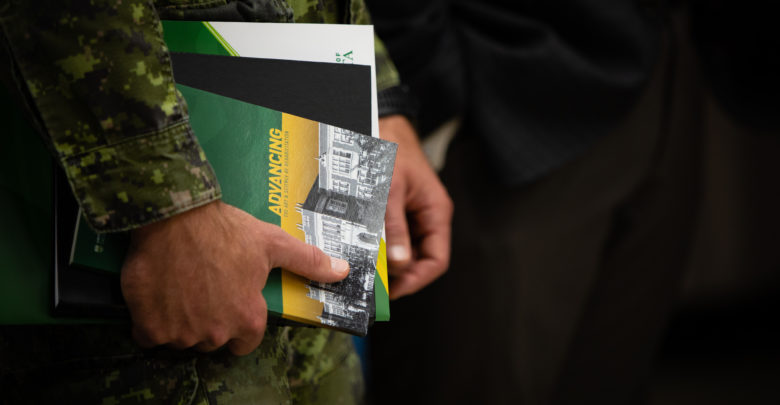 The University of Alberta is now home to the Veteran Friendly Campus program, which aims to support military veterans as they transition from service member to university student.
On February 4, it was announced the U of A will be piloting a Veteran Friendly Campus program, which provides specialized supports for Canadian veterans pursuing post-secondary education. The university will receive $714,000 from the provincial government over the two years of the program.
Specialized supports will include specialized mental health support, a campus-based resource centre, a veteran student peer mentorship program, enhanced ties with veteran organizations and a flexible enrolment schedule. These services will become available next academic year.
Brad Rutherford, MLA for Leduc-Beaumont and Military Liaison to the Canadian Armed Forces, announced the new program at a press conference, emphasizing the importance of giving back to veterans through this program.
"In addition to our upmost respect and gratitude for defending our freedoms at home and abroad, we also owe them the ability to seek out new, rewarding career paths as they continue to be assets to our community," he said. "Just as they have invested in our country, we are proud to invest in them."
Also at the press conference, the Minister of Advanced Education Demetrios Nicolaides echoed similar appreciation for veterans.
"There is no greater demonstration of public service than to risk ones own life in defence of our country," he said. "These brave men and women deserve the respect and gratitude of us all, including support for the next steps in their careers and lives."
For Nicolaides, an important part of the "next steps" for veterans is post-secondary education.
"As we know, post-secondary education is key to helping all Albertans [succeed] in new professions, and this is the case as well with our veterans," he said. "Many of our brave veterans require tailored solutions to help them… build new careers."
The two-year pilot will help post-secondary institutions better understand the type of support veterans require while acquiring degrees. Nicolaides also hopes to use the pilot as a "roadmap" for creating veteran-friendly Campuses in the future.
"It is our hope and goal that the lessons that are learned from this pilot can be made more widely accessible and applicable to other post-secondary institutions in the province."
U of A president reveals personal ties to Veteran Friendly Campus program
At the press conference, U of A president Bill Flanagan started by talking about his father, a WWII veteran who was able to attend university because of the support offered to veterans at the time.
"He was able to study at the University of Alberta, he became a teacher," Flanagan said. "It changed his life — it transformed his life and he went on to transform the lives of others as a teacher."
"This is a story that I grew up hearing about, that the university of Alberta was a welcoming campus for veterans … I am delighted to continue that tradition."
Flanagan called the Veteran Friendly Campus program a "natural fit" for the university given its history of working with the military. He referenced the university's first president, Henry Marshall Tory, who created the Khaki university for soldiers during World War I and World War II.
Flanagan also highlighted current military partnerships and initiatives such as the Civil-Military Leadership certificate in the faculty of arts, as well as the rehabilitation program for ill and injured service members run by the University of Alberta's hospital in partnership with Glenrose Rehabilitation hospital.
The program will be supported by the university's office of the dean of students alongside the Heroes in Mind, Advocacy and Research Consortium (HiMARC), a military and veteran research program within the faculty of rehabilitation medicine.
Flanagan thanked the Ministry of Advanced Education for their support in helping Canadian veterans transition to post-secondary education.
"We are enormously honoured to be welcoming more veterans to the U of A community, supporting them as they move through major life transitions and learning from their unique perspectives, skills, and experiences."
Suzette Brémault-Phillips, the director of HiMARC, said the university and the greater community will benefit from this program.
"Our university community, province, and entire society will be all the stronger for it, for serving those who serve us as they embark on their civilian lives."
As an occupational therapist working with service members and veterans, Brémault-Phillips shared how difficult the transition to civilian life can be.
"I've seen mental health challenges such as traumatic stress disorder and moral injury threaten to destroy their lives, their families, their passions and interests, and their futures," she said. "I've seen the challenges veterans face as they enter society and find their path forward in a civilian world — a world that can be so jarringly different."
Brémault-Phillips sees the Veteran Friendly Campus program and its services as a way to set up veterans for success in their civilian lives. She also believes that veterans won't be the only ones benefitting from this program.
"The University of Alberta community will also benefit from the exceptional leadership skills, character, expertise, and sense of community that veterans bring as veterans join conversations in classrooms, campus mess halls, students clubs and campus events."
"Their perspectives and commitment to service will undoubtedly inform and inspire Alberta's leaders of tomorrow."