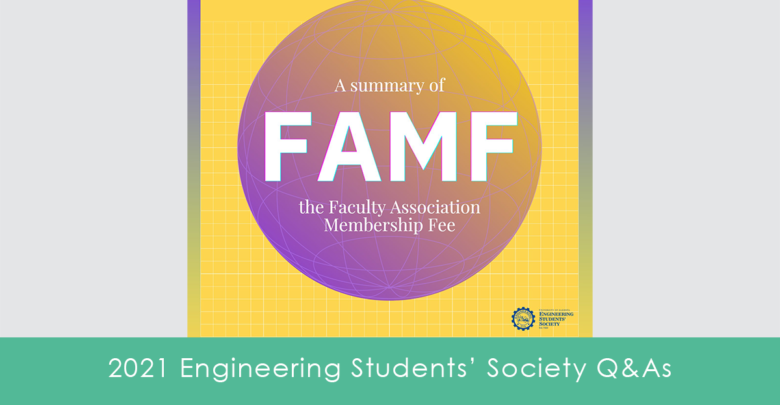 Alongside voting in a new Students' Union executive team, engineering students will also be voting to renew a faculty-wide fee.
On March 3 and 4, engineering students will vote on whether they would like to renew the Engineering Students' Society's (ESS) Faculty Association Membership Fee (FAMF). This fee will go towards the services the ESS provides to engineering students.
If the FAMF is renewed, full-time engineering student will pay $10 while part-time students will be exempt. The FAMF also has an opt-out mechanism for students who do not want to pay the fee. Representing the ESSS in this Q&A is Joey Mathieson, a fourth-year petroleum engineering student and president of the ESSS.
Follow this link to watch the ESS FAMF's pitch.
The following interview has been condensed and simplified for clarity.
---
What is this FAMF trying to accomplish?
Joey Mathieson: The ESS FAMF is trying to accomplish a lot of things. If you look at the FAMF — essentially a student membership fee — it's not paying into a specific set of events. It's paying into the mission and the mandate of the ESS. We're trying to build community, we're trying to engage our students, we're really trying to bring them services and opportunities that are beneficial to them, but also make them more prepared and competent for their careers.
A big part of that is giving back in terms of the social community, too. Outside of the work we do in terms of advocacy services, education and professional development, we do really try to tie it back into social life and really bring people into the organization. The end result is engineering students hopefully have a better degree, or have a better experience at this step in their career from being a part of this community.
For those who don't know, what is the ESS and what do you do for engineering students?
Mathieson: We represent students, and not only in student governance, but we have a great relationship with our faculty. A lot of what we do is advocacy, on academic and operational things within our faculty. We specifically advocate for undergraduate students, but outside of that, we do have a lot of overlap with graduate students because we think that those interactions are beneficial for both parties.
For services, we do different things. We have different types of workshops: we'll bring in people from the Sexual Assault Centre (SAC), and we'll do things like Excel workshops to build technical skills. We also have programs to match student friend groups based on hobbies, interests, or a big thing right now, common time zones. We have a mentorship program that matches upper-year students with lower-year students, and we build study groups based on people sharing common courses in their first and second year. We also have a public speaking program.
In terms of the mental health and wellness side, we do workout challenges and different take-a-break events. On the social end, it's really anything where we can get our community to interact together, or with external parties. So, bringing in industry for students to learn about engineering and learn what it takes to branch out from being a student to an engineer. We create networking opportunities where students can learn how to communicate with professionals.
One of our biggest events and traditions is Gear Week, and that's really focused around competition. It's a fun way where students can just forget about academics for a week, and just focus on some stress relievers, getting together with friends, doing some light-hearted competitions, and meet new people.
The biggest thing I'd like to highlight is that we try and reflect what it means to be an engineer and share with people that engineers care about the greater community. We do as much philanthropy as we physically can. For example, our engineering carnival, which is an outreach event that brings all engineering student groups into one spot and introduces them to the student body, specifically, the first years at the beginning of the year. We'll do a charity dunk tank there, or we have our annual head shave. This year, we had some great success; we raised just under $50,000 for that. We try and give back to the outward community as often as we can and get students engaged in that kind of activity because it's beneficial to start that early. We can unite as a bunch of students who might not have a ton of money, but we have a ton of time and energy and commitment to that kind of stuff.
How much will engineering students be paying if this FAMF passes and how was this cost determined?
Engineering students will be paying $10 if they're a full time student. If they're a part time student, they're exempt from paying. The cost was determined — not by us — but rather by trial and error. The ESS FAMF used to be $7 and a few years back, the ESS proposed it increase to $20. That failed, so they went to $10, and that passed. That was seen as a good agreement between the community and the people that are deciding what to do with those funds.
The money doesn't add up to specifically XYZ projects. That's kind of impossible. For us, it seems like a reasonable amount to pay for a student because at the end of the day, the ESS doesn't get a majority of that money. In fact, project groups and student groups seek to benefit the most.
Roughly 30 per cent goes to our discipline clubs, which is like our departmental associations — they're kind of our feet on the ground. That's for them to provide similar services and events and connect with their students. Another third goes to our funding account, which funds individual students doing different activities, like workshops, seminars, anything that benefits their education, and they can give back to the community from what they've learned. As well, a variety of student groups can apply for funds through the engineering student group fund. Then we have the engineering public good fund, where an informal group of students have some kind of project that benefits the entire engineering community, and they can apply for funding there. We previously had an intramural fund that's been super underutilized in years, but there's been money allocated towards it and the funding there hits every student group, and individual if they so choose.
Then the remainder does go to the ESS to provide a lot of the services and events that I spoke about, and hopefully, set up future years. If we play it smart with funding, say one year there is really high demand for funding there's nothing that's really stopping the ESS from going 'okay this year we'll give more to our student groups that are really flourishing.'
Why should engineering students care about this FAMF?
If you look at the FAMF and you look at all the other student fees you might pay, you only seek to gain from those services if you utilize them. I truly believe that if engineering students pay into this organization — whether they come to an event to get free pizza or not — are all going to benefit from it in some way. Maybe you don't come to any single event, maybe you're a student where this isn't your priority. [In that case], the ESS has the ability and influence to improve your student experience in a multitude of indirect ways, and I think over the more than 100 years that [ESS] has been around, it has done so.
From the advocacy standpoint, if we can use some of that funding to incentivize people to fill out surveys or to do their USRIs and make an impact on [students'] direct learning, that's great. If it's on the health and wellness side, say we need some kind of workshop where we're teaching leaders how to address things, like an overdose. A student group last year, the FentaNIL project, taught Naloxone training to various student groups. The ESS collaborated, paid for the supplies for the Naloxone training, and we had a bunch of student leaders learn this. Then say at an engineering event, someone has an overdose and one of those students leaders we taught now knows how to address that. Awesome.
Then [the FAMF] also comes to anything else, like if we're bringing in an industry [representative] to teach people things, those students can spread [what they learn] throughout the community. Same thing with any kind of event or service where a student can see the benefit to either their experience or gain something tangible, like food. It's just going to generate a ripple effect. If we can make 10 per cent of our population happy, it might make the other 90 per cent marginally better off. If we can make 90 per cent of the population better, those other 10 per cent are getting hit either way, they're gonna get a better experience. We do have an opt-out mechanism too, but whether you seek the benefits out directly or not, you're going to be able to access the resources that ESS has that isn't really monetary. That money is going to be used wisely and will hopefully benefit your four or five-year degree.